Dracula erythrochaete, The Red Tufted Dracula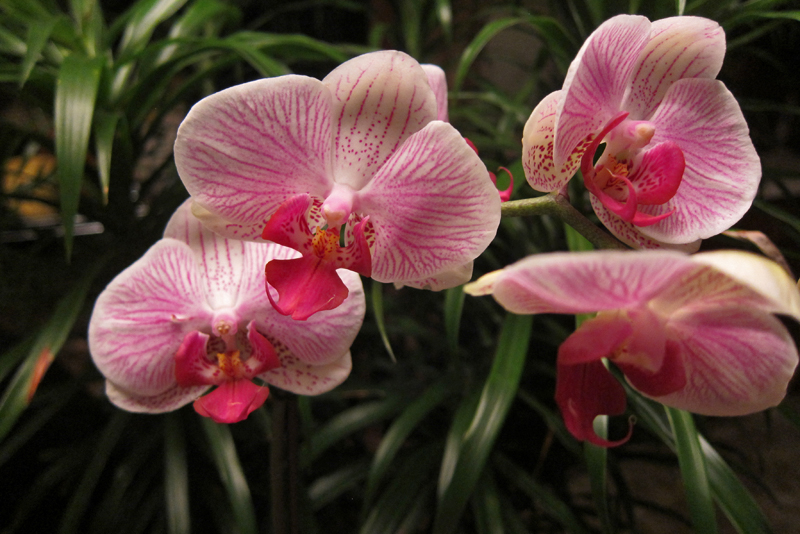 Dracula erythrochaete
is one of the most interesting of the Draculas and one of the easiest to grow. It is endemic to Costa Rica and Panama where it is rapidly disappearing in the wild. They grow at altitudes of approximately 1000 to 2100 meters in cloud forests. Making sure that you buy seed grown plants will help ensure that this great species does not go extinct. The name refers to the shape of the flowers which some think resembles a little monster face in the center. It is from the Latin, little dragon.
The genus of approximately 100 species is a member of the Pleurothallid family found in South and Central America generally growing as epiphytes at high elevations in cool humid conditions. Draculas and Masdevallias both belong to this family and many of them are small enough to be labeled miniatures. They have thin leaves, no pseudobulbs and grow by sending out rhizomes to make thick clusters. They prefer cool conditions and need almost constant moisture, both at their roots and as humidity.
Dracula erythrochaete
is mostly grown in baskets to accommodate the almost 10 inch or 24 centimeter inflorescences which arch from the little plant. They will bloom year round with 2 inch flowers with long tails trailing from the sides of the flowers and a long tuft at the top. The effect is of a triangle with three long tails, one at the top and two at the bottom with a little face in the middle of the slightly pink spotted flower. Some cultivars are more spotted than others and the amount of pick also varies widely. Flowers will open sequentially with two or three to an inflorescence.
These plants are an intermediate grower requiring temperatures in the 55 degree Fahrenheit, or 13 degrees Celsius, to 85 degrees Fahrenheit or 30 degrees Celsius. They need bright light to induce flowering. Watering is recommended 5 to 7 days per week to keep them moist and high humidity is a necessity.
Here is a listing of some vendors who provide seed grown species. Of course, not all species are always available. If you're interested in something, talk to some of these vendors to see if there's another variety that is close. Often the only difference would be 8 inches tall versus 6 inches or a different colored flower. Also, please mention that you are calling as a result of seeing them recommended on BellaOnline Orchids.
Andy's Orchids
Bergstrom Orchids
Carter and Holmes
First Ray's Orchids
Miranda Orchids
Norman's Orchids
Oak Hill Farm
Parkside Orchids Nursery
Tropical Orchid Farm
You Should Also Read:
How to Make an Orchid Tree
Sophronitis cernua
Orchid Growing Tips #15


Related Articles
Editor's Picks Articles
Top Ten Articles
Previous Features
Site Map





Content copyright © 2021 by Susan Taylor. All rights reserved.
This content was written by Susan Taylor. If you wish to use this content in any manner, you need written permission. Contact Anu Dharmani for details.