Sophronitis cernua, The Nodding Sophronitis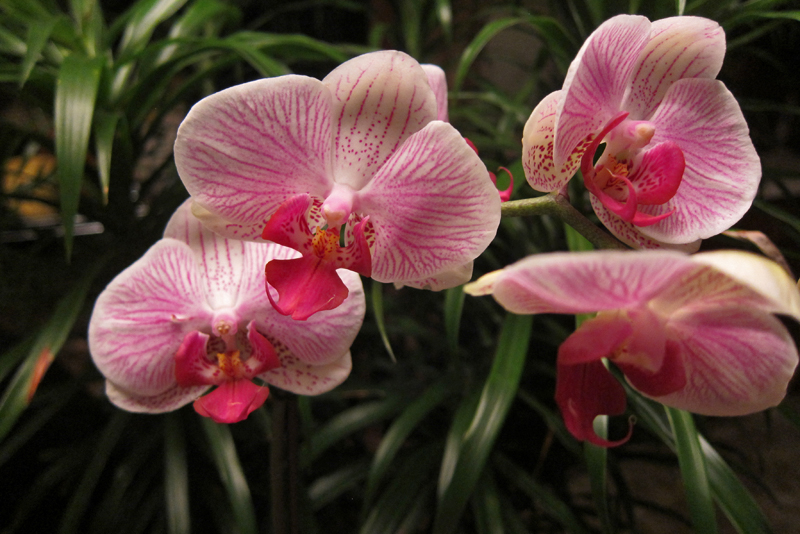 Sophronitis cernua
is the smallest of the genus Sophronitis. They are prized for their deep red, orange or pink star-shaped flowers which are clustered at the end of short inflorescences. Yellow varieties have been bred, but are harder to grow than the original colors. The flowers are approximately one inch or three centimeters across and can be up to 10 flowers per inflorescence. They are presented somewhat downwards giving the species the name "Nodding Sophronitis.". The whole plant rarely gets to be more than two inches or six centimeters tall. The leathery leaves and roots will and grow in a mat-like manner over their mounting to form a dense covering. They flower in the fall and winter and really provide a great show when the plants mature.
S. cernua
was first discovered and documented in 1828 and is the type species for the genus. This means that it was the first discovered and the others were deemed to be the same species due to their similarity to them. This particular species is one of the only Sophronitis which will tolerate warm temperatures. It is very temperature tolerant from 50 to 110 degrees Fahrenheit in nature, or 10 to 43 degrees Celsius. They prefer to be mounted but can also be grown in pots in very well draining medium. They occur naturally near the sea, often within distance of wind borne spray, growing on small to medium trees or below them on rocks. The species needs high light and very good air movement
The genus is composed of approximately ten dwarf species which grow as epiphytes (growing on trees) or lithophytes (growing on rock) in Paraguay and Brazil. Most grow high in the mountains and require cool temperatures in order to thrive. They are prized for their small but brightly colored red, orange or scarlet flowers and are used extensively in breeding with Cattleya Alliance plants to produce these colors and miniature size. Most of the bright red miniature and compact size Cattleyas in existence today can be traced back to one of the Sophronitis species.
Here is a listing of some vendors who provide seed grown species. Of course, not all species are always available. If you're interested in something, talk to some of these vendors to see if there's another variety that is close. Often the only difference would be 8 inches tall versus 6 inches or a different colored flower. Also, please mention that you are calling as a result of seeing them recommended on BellaOnline Orchids.
Andy's Orchids
Bergstrom Orchids
Carter and Holmes
First Ray's Orchids
Miranda Orchids
Neptune Orchids
Norman's Orchids
Oak Hill Farm
Parkside Orchids Nursery
Tropical Orchid Farm
You Should Also Read:
Epidendrum longipetalum
How to Make an Orchid Tree
Enough Light for Orchids


Related Articles
Editor's Picks Articles
Top Ten Articles
Previous Features
Site Map





Content copyright © 2022 by Susan Taylor. All rights reserved.
This content was written by Susan Taylor. If you wish to use this content in any manner, you need written permission. Contact Anu Dharmani for details.