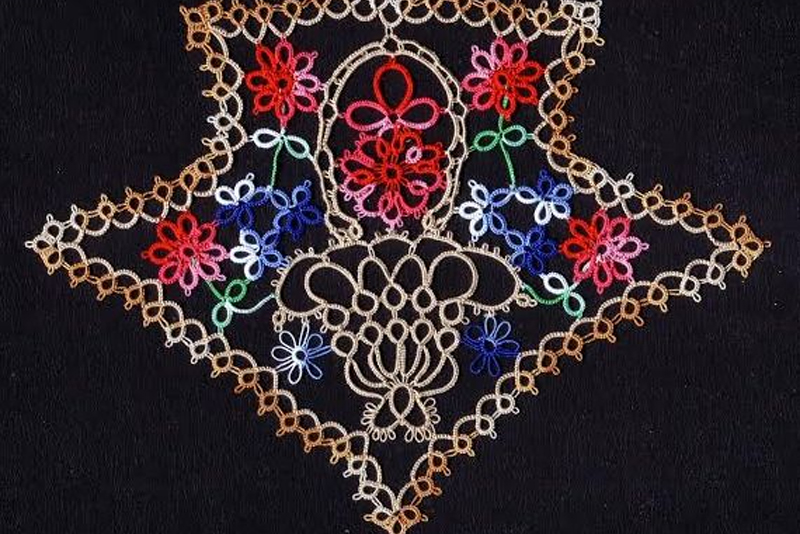 I remember reading many decades ago that one should not mix media when creating needlework. I happily ignored that stricture. As I have continued my study of tatting, I have found that many other needle workers, especially tatters, have ignored it, too. In the files of the Online Tatting Class (which I have led for 14 years now) there are many examples of tatting mixed with other needlework types.



Tatting has been combined with rickrack with excellent results.




The February issue of Needlecraft Magazine 1927 featured several tatted motifs combined with tatting. Gina Brummet reproduced one example in brightly colored variegated thread and paired it with brilliant red rickrack. The ends of the rickrack were sewn together. Unfortunately the white thread used for the sewing shows. When this happens consider taking a marking pen in the appropriate color and "dye" the offending stitches. Note that the pattern begins with a tatted round center ring with one picot short. Make the last picot a mock picot and use that to climb into the next round with a split ring.





The pattern booklet Corticelli Lessons in Tatting was published in 1916. It is available as a free download. (See the list of free tatting books online here on BellaOnline.com, https://www.bellaonline.com/subjects/3137.asp ) Shown on page 4 is Insertion #104. The instructions are easy. Size 60 thread is suggested but choose a thread that would work well with the size and thickness of the rickrack selected.



Join to the points on the rickrack. Using a pattern pricker to make a hole on the points first will make the joining easier.

R 3 + 2 + 2 + 2 + 2 + 3 close ring. Do not reverse work.

CH 4 shuttle lock join to two points at the same time.




The original directions then call for cut and tie and sewing the ends to the back of the rickrack. However, I think that after joining the two points with the chain, why not pull both threads to the back of the rickrack and join them to the next point of rickrack to the right. Then using a split ring tat the next repeat and continue.



Split Ring 3 / 2 + 2 + 2 + 2 + 3 close ring Do not reverse work.

CH 4 shuttle lock join to two points, etc.





Here is a vintage example of the Corticelli Lessons in Tatting pattern #104. It seems to be several yards long and leads me to speculate on its eventual purpose. A vintage celluloid shuttle is in the photo but I cannot see if it is actually attached to the tatting.



Experiment with your tatting!

You Should Also Read:
Tatting Plus Crochet


Related Articles
Editor's Picks Articles
Top Ten Articles
Previous Features
Site Map





Content copyright © 2021 by Georgia Seitz. All rights reserved.
This content was written by Georgia Seitz. If you wish to use this content in any manner, you need written permission. Contact Georgia Seitz for details.