Artist's Self Portrait In Religious Works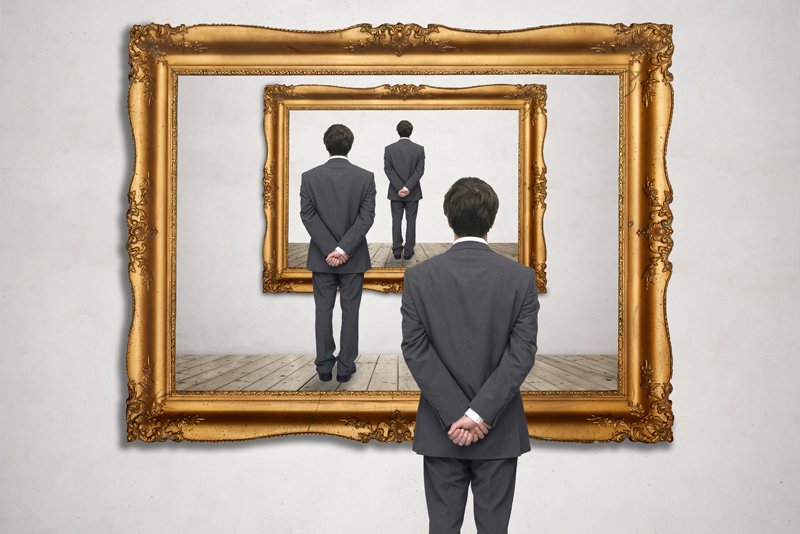 Most artists may have looked in a mirror and became their own models. There are those artists who have painted themselves literally into religious works. Namely, Michelangelo, Caravaggio, Leonardo, and Rembrandt.

Michelangelo's "Last Judgement" is said to have the artist's face in the flayed St. Bartholomew, who was martyred by having been skinned alive. He holds his own skin in his hand. It makes you wonder what would bring someone to the depths of Hell by portraying themselves in such a lowly fashion.

Caravaggio, in "The Taking of Christ" (1602), appears on the far right, holding a lantern. The painting represents Jesus being captured in the Garden of Gethsemane. Soldiers were led to Him by His disciple, Judas Iscariot. Hoping for financial reward, Judas agreed to identify his master by kissing him. The scene is based on the New Testament - Mark - 14:44: "The one I shall kiss is the man; seize him and lead him away safely."

This painting by Caravaggio was thought a copy for many centuries until it was rediscovered in 1990 at a Jesuit rectory in Dublin, Ireland and its authenticity established.

This Caravaggio painting is the subject of another of my articles, "The Taking of Christ - And Other Lost Religious Paintings." I was fortunate enough to see this exceptional painting twice (I actually did make two visits) at Boston College in 1999. It is also the subject of a bestselling book by Jonathan Harr, "The Lost Painting."

In Leonardo's "The Last Supper," when the image is superimposed over a mirror image, some say the face of Leonardo is revealed on the far right of the painting.

Rembrandt may hold the record for painting the most self portraits (90+). In his only seascape painting, "The Storm on the Sea of Galilee" (1633), Rembrandt is seen in the foreground looking directly at the viewer.
Unfortunately, this religious painting based on the First Testament - Luke - Chapters 8:22-25 was stolen from the Isabella Stewart Gardner Museum in 1990. Sadly, I never saw this painting.

Why do artists paint themselves into religious works? Is it driven by ego or does it help to vindicate themselves from some aweful misdeed that occurred in their life?

I think it is a little of both worlds. On the one hand, the artist paints a scene from the Bible and just by "being there" he becomes a "witness" to the incident. So why not paint yourself as one of the models? Hopefully history will favorably remember your face as well as your name.

On the other hand, maybe by identifying himself with Jesus, the artist elevates himself beyond humanity, closer to God Himself. The artist realizes his own mortality and attempts to appease Him by making a cameo appearance with Jesus.

If these artists intended for their face and names to live in perpetuity, they have truly succeeded. From an art history perspective, the art world is eternally grateful for the artists' contribution in supplying so much biographical information on themselves.

Note: In every newsletter I recommend a product from Amazon. Simply click on the item below, shop the Amazon site as you normally would to purchase your favorite products. It's that easy!

Jonathan Harr's book, "The Lost Painting" is available here from Amazon.com.






Related Articles
Editor's Picks Articles
Top Ten Articles
Previous Features
Site Map





Content copyright © 2022 by Camille Gizzarelli. All rights reserved.
This content was written by Camille Gizzarelli. If you wish to use this content in any manner, you need written permission. Contact Camille Gizzarelli for details.