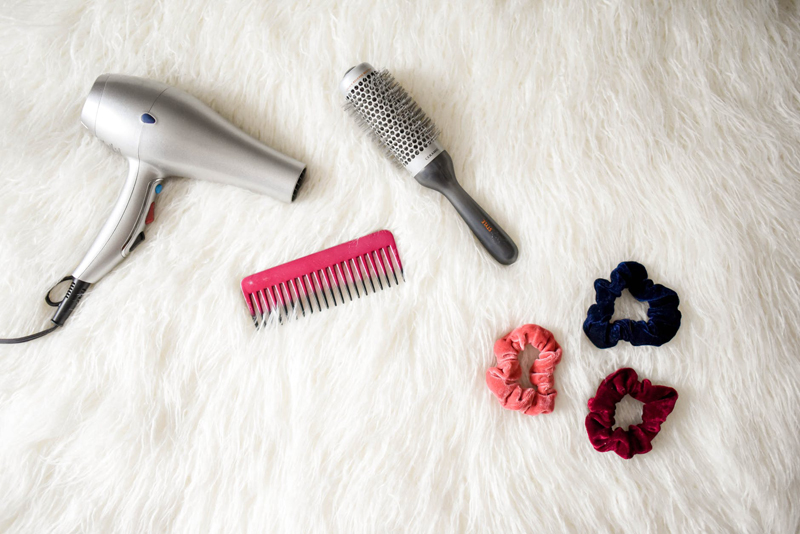 Sometimes it shows up in the form of little short hairs that stick up around your hairline and don't blend with the rest of your hairstyle. Sometimes it looks like an extra layer with frizzy uneven ends. Your hair sometimes feels thick close to your head but thin on the ends. Whatever form it takes, it is broken hair and it is not attractive.
What causes hair to break? There can be many causes and it may involve some detective work to discover the true cause. Hair breaks because it is weakened from poor health, or because of excessive chemical use or because of mechanical abuse or from too much heat.
There are many variables here. Read through these to see if any of them may be the culprit.
Chemical stress
Permanent waves
Over-processing
Weakness caused by the band of the permanent wave roller If the roller is wrapped very tight and the rubber band that is used to keep the roller in place is against the hair, the strand may break at that point. The pressure, combined with the action of the chemicals, will cause a weakened area in the hair which may break at that time or sometime later.

Hair Color
Weakness in the hair shaft can be caused by over lightening. Bleach or high-lift hair color that lightens the hair, can weaken the internal bonds that hold the hair together. When hair is overly lightened, these bonds are weakened to an extent to cause breaking.
The sun, combined with any of the above will add to the damage.
Mechanical stress
Curing irons that are very hot and left on the hair too long weaken the fiber. If you are forming a curl, leave the iron in the hair only until the hair on the outside of the curl is hot, then remove the iron carefully.
Flat irons or Straightening irons that are too hot or left on the hair for too long cause over heating resulting in enough stress to cause breakage.
Brushes
Brushing your hair when it is wet will cause damage. When hair is wet, it stretches easily. Never use a hairbrush to remove tangles after you wash your hair. Vigorous brushing can cause individual hairs to snap even in dry hair. When your hair is wet, always use a large toothed comb to gently remove tangles.
Hair accessories
Pony tails:
When the hair is kept tightly in place, it can break. Friction is produced as your body moves causing the hair to move against the band. Regular rubber bands offer no cushioning or protection for the hair. Covered bands offer more protection but can still cause breakage.
Barrettes and headbands that hold the hair tightly in place produce the same effect as do ponytail bands.
Hair Extensions that are improperly applied can cause hair to break. The extra weight of the hair can cause stress to your hair. Be sure that your extensions are applied be an experienced professional.
Health
you are experiencing breakage and you have ruled out the above reasons, look into your health. Visit a doctor. Lack of proper nutrition produces weakened hair as do some illnesses.

Hair Color EBook
Learn to do your own hair color or to make educated choices at the salon! This book contains all you need to know, from choosing a color to putting it on and avoiding problems.
This site needs an editor - click to learn more!

You Should Also Read:
Split Ends
10 Tips for Fuller Hair
Perfect Haircolor for You




Related Articles
Editor's Picks Articles
Top Ten Articles
Previous Features
Site Map





Content copyright © 2022 by Lynne Chapman. All rights reserved.
This content was written by Lynne Chapman. If you wish to use this content in any manner, you need written permission. Contact BellaOnline Administration for details.