Interview with Crochet Designer and Blogger - Pam Gillette 2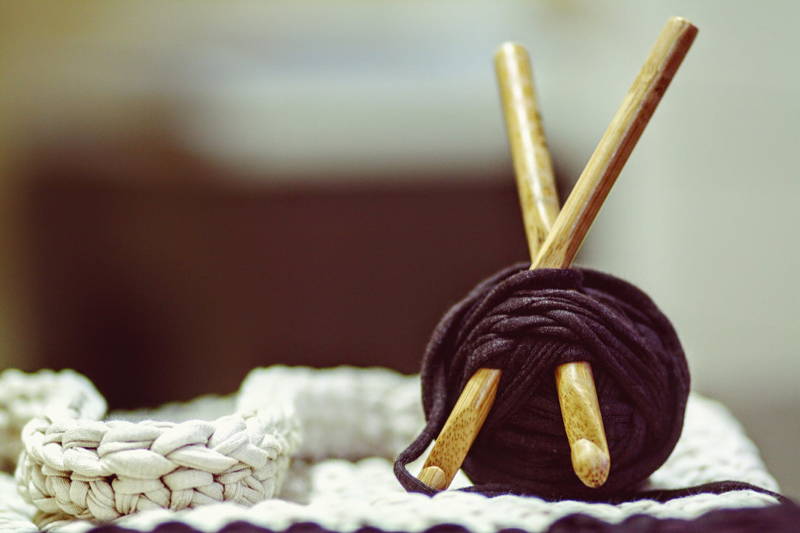 Interview with Pam Gillette Part One
...Continued
KP: How would you describe your own personal style and is this reflected in your designs?
PG: My tag line is "Funky, Cool, New and Knotty" and I hope that the inner geek that I truly am comes across like a cool, confident designer with a flair for style that is easily recognizable.
KP: You are currently planning a book – how far along the process are you?
PG: I've revamped my book proposal and will focus exclusively on my sweater set collection. I felt that my original book idea was too general, too much like a lot of other crochet books out there. I'm trying to find my edge and where I can fit in the crochet design industry and clothing design is my passion, therefore it will be my sole focus.

Together or separate, the sweater set has maintained its place in a woman's wardrobe for decades. That is why I've chosen this ultimate woman's garment for my debut crochet design collection. Everyday life has inspired my designs; the sweater set answers the question "what should I wear today?" The sweater sets makes a flawless transition from day to night, with incredible versatility. The sweater set has proven to be the ultimate travel garment and ideal for days with unpredictable weather.

This is not your 1950's sweater sets. I've used unique twists with a dash of funky elegance. For example, I've incorporated a suede insert in "The Renaissance Sweater Set", cowrie shells are crocheted into the bust line of The Seaside Sweater Set, and jewel toned glass beads are crocheted in the neckline of The Gem Sweater Set. The Office Sweater set is, well, perfect for an office setting. With names like The Romantic Sweater Set, Sunday Afternoon Sweater Set, The Country Club, the name says it all. The Night Club Sweater Set would not be worn to church, but The Snuggle Sweater Set could be. The Hippie Sweater Set and Flow you might wear at the Farmer's Market or an art gallery. My favourite is Jet Set Sweater Set, (besides the tongue twister name) this is crocheted with metallic yarn, very chic and sophisticated AND I could wear it with my jeans. I wanted to cover several tastes and styles, adding my own distinctive spin on the old fashion sweater set, these are funky, cool, new and knotty!

I will be submitting my revamped crochet pattern book proposal to a publisher the end of March.
KP: If you were to crochet something for yourself for this spring, what would it be?
PG: 1. A metallic tank top
2. A cream color mohair cardi/shrug
3. Tie Dye colored beach cover-up
At the stage door!
KP: You appeared on Uncommon Threads (DIY Channel) – what was the experience like, what projects were you doing?
PG: Being on Uncommon Threads was a dream come true. I'm an 'at home mom' in Minnesota pursuing a career in crochet design and I got a huge break with this "gig". The first episode that aired I crocheted a cowgirl hat out of seagrass. This was a tough project, material wise. The seagrass ripped my skin, but the end product was pretty funky. I had a project totally cut out of an episode, but I was OK with that. The last episode I demonstrated a surface crochet technique to mimic twisting cables.

I was honoured to be there with Amie Hertes of NexStitch and Drew Emborsky AKA The Crochet Dude. Meeting the host of the show, Allison Whitlock was so fun, because she IS fun, she's got a great sense of humor.
KP: Who are your favorite designers?
PG: Kaffe Fassett
Stefanie Japel
Melissa Leapman
KP: If you had a message for a beginner crocheter, what would it be?
PG: Don't get frustrated, try all types of yarn and different size hooks. Start with the basics, learn about symbols if reading a pattern doesn't work. If you can't follow patterns (or symbols) try your hand at freeform crochet.

Thanks Kate for this opportunity, and to all crocheters, may the sun shine on your garden and may your yarn never tangle.
More information about Pam, her story and designs can be found on her website
knottygeneration.com
PG working on flag aghanfor Warm Up America which was given to the Veterans Home in Minneapolis
You Should Also Read:
The Knotty Generation
BellaOnline Crochet Interviews
BellaOnline Exclusive Crochet Projects


Related Articles
Editor's Picks Articles
Top Ten Articles
Previous Features
Site Map





Content copyright © 2019 by Kate Pullen. All rights reserved.
This content was written by Kate Pullen. If you wish to use this content in any manner, you need written permission. Contact Holly Messenger Aamot for details.