Interview with Crochet Designer and Blogger - Pam Gillette.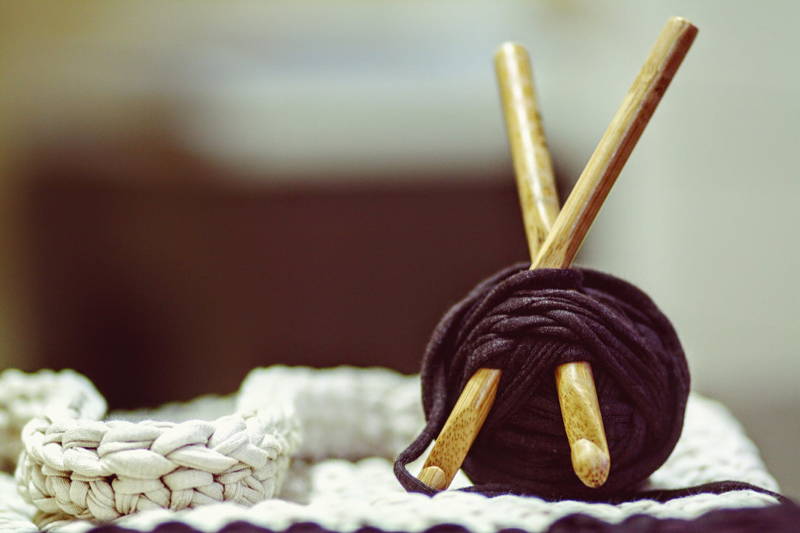 Pam Gillette - Favorite Designs
For many people being able to forge a career from a passion is something that we just dream about – however Pam Gillette (
knottygeneration.com
) has done just that, and is becoming increasingly well known as a crochet designer.
Having crocheted for many years (during some of which Pam was a closet crocheter!) Pam is now combining her passion for crochet with a flare for design. I have been pleased to ask Pam some questions and share the answers here.
Kate Pullen: How long have you been crocheting and who taught you?
Pam Gillette: First I'd like to thank you Kate for including me, I'm a big fan of BellaOnline Crochet and thoroughly enjoy your articles and insight into all things crochet!

I started crocheting in 1975 when I was 10 years old. My mother, who is an expert knitter, taught me to knit, which I was miserable at. When she gave me an old worn crochet hook from my grandmother, my world changed.
KP: What 'type' of crochet do you particularly enjoy?
PG: I love all types of crochet, I excel in the plain old standard crochet, but also enjoy filet crochet, finger crochet, (without a hook) freeform, tunisian, surface crochet, tapestry crochet, wire crochet for jewelry, and crocheting with beads.
Pam Gillette & Evie Rosen
KP: What role has your blog played in your crochet life?
PG: Through my blog, I've connected to the crochet community worldwide, literally. I've made friends all over the world and some just the next town over. My life has opened up in such a way that I can talk with other crocheters, about our obsession with crochet. That connection is strong, even if we aren't face to face.

I had the opportunity to be on TV, via a fantastic crochet designer I met on-line, through Crochetville. Her name is Amie Hirtes and she runs NexStitch. She is fantastic.

Through my blog, I've been able to share with others my commitment to Warm Up America. I first met my Warm Up America group in Apple Valley, Minnesota, in 2003, I didn't know much about them. Once I read the story on-line I made a lifetime commitment to Warm Up America. This year I had the opportunity to met Evie Rosen, the woman who founded Warm Up America. I was thrilled; she is an inspiration and my personal hero.
KP: Your blog is a pleasure to read with lots of photos and interesting information, what do you feel makes a good crochet blog.
PG: Photos – I'd like folks to feel like they could be right there with me, having a cup of coffee, or a glass of wine, knottin our yarn, chatting like old friends.

Sharing – Sharing of ideas, thoughts, patterns, tips and tricks.

Keeping it positive - Life is too short for anything less than that. Negative thoughts, comments, or actions are so counter productive. I believe "what goes around comes around" and I also believe in the Golden Rule.
KP: When did you realise that you had a flair for design and decide to develop further as a designer?
PG: It started when I was crocheting a baby hat but the pattern I purchased had an error in it and in complete frustration, I looked at my husband and said "I could do better that this…" and he asked me to repeat myself, and then he said, "well…why don't you!" So it was my husband who really saw my talent for crochet design before I did.

I decided to develop it further when I remember reading once that if you can combine your hobby and make it a career, you'll be forever happy. Well I can't keep the smile off my face because I'm doing what I love.
KP: What makes a good crochet design?
PG: Wearability - For clothing it has to have "wearability". I need to be able to actually wear it. A driving force has been "can I wear it with jeans AND can I wear it with a skirt or dress?"

Figure Flatting - Find that waist! Accenting a woman's shape whether she's a size Small or 2X is my mission. Designing face framing necklines is also a favourite design technique.

Schematics – I can't tell you how many times I've looked at a pattern and wished that it had schematics, instead of taking _ hour to translate the written design. Those visuals can make or break a pattern for a lot of crocheters.
Continued - click HERE for next page


Related Articles
Editor's Picks Articles
Top Ten Articles
Previous Features
Site Map





Content copyright © 2022 by Kate Pullen. All rights reserved.
This content was written by Kate Pullen. If you wish to use this content in any manner, you need written permission. Contact Holly Messenger Aamot for details.