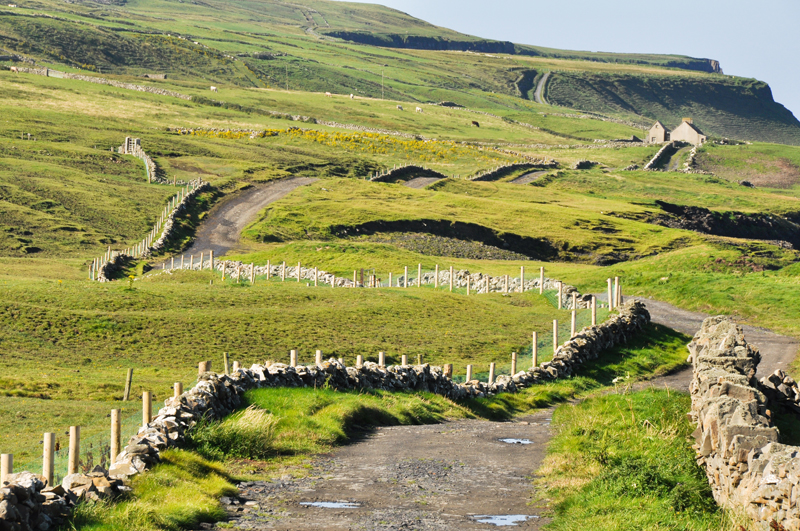 William Butler Yeats was born on June 13, 1865 in Sandymount, Dublin. Throughout 2015, a series of events are celebrating this Irish literary giant's 150th birthday. But Yeats' Day on the 13th June will be an especial focus in Sligo and Galway.

W.B. Yeats was part of the an Irish Renaissance in the 19th century. Many of the leading lights of this age were 'Anglo-Irish' - Protestants born in Ireland who had family roots in England. They were colonials who began to define themselves as more Irish than Anglo and began to research and record Irish folklore, language and customs. Augusta, Lady Gregory, of Coole Castle in Galway, was at the forefront of this movement. So, too, was W. B. Yeats, who spent many summers in Co. Sligo and was friendly with the Gore-Booth family of Lissadell. One of the daughters of the house, Constance Gore-Booth, also known as Countess Markievicz, was a political activist for the Irish nationalist cause. The 19th century Irish Renaissance was an artistic movement that was strongly influenced by Irish nationalism, as well as other progressive political causes such as socialism and women's suffrage.

Dublin, Sligo and Galway are hosting many celebration events for Yeats' 150th birthday. The National Library in Dublin is hosting an exhibit of paintings by his father, John, as well as his brother, Jack B. Yeats. The Hugh Lane Gallery hosts a 'Harp Festival of the Moons' recital each month on the full moon. Although this is ostensibly about 'keeping the harp as Ireland's national symbol', it echoes Yeats' mysticism. While he is best known for his poetry and plays, he was deeply interested in spiritualism and was deeply involved with the Hermetic Order of the Golden Dawn; his spiritual philosophy was outlined in his book "A Vision," first published in 1925.

But the days just prior to Yeats' Day 150 itself offer a massive choice of events to celebrate this multi-faceted Irishman. In Dublin, he National Library is also hosting an "History Ireland Hedge School" panel discussion on the eve of Yeats' birthday, 12th June, to discuss Yeats' literary contribution. (Hedge Schools were informal educational establishments during the years before Catholic emancipation in 1829.)

County Sligo is hosting exhibits and talks and a candlelit salon at the Model Arts museum on 11th and 12th June. The salon hopes to recreate the atmostphere of artistic and political cultured evenings that were all the rage in the 19th century. Author Eimear McBride, winner of the Bailey's Women's Prize for Fiction ("A Girl Is a Half-Formed Thing") will be among the distinguished guests contributed to the salon.

The ancestral home of the Gore-Booths,Lissadell House, will open its doors on 13th June to all manner of events for the Big Birthday - poetry recitations, woodland walks with poetry, music, automatic writing, séan nos singing and a cycle race! Nearby Drumcliffe Church, where W. B. Yeats and his wife Georgie Hyde are buried, will also have poetry readings.

Just over the border in Co. Leitrim you could board a boat and sail out at breakfast time to see Yeats' isle of Inishfree (the island of heather) on Yeats' Day 150.

W.B. Yeats was a complex man - a gifted poet strongly influenced by mysticism and arcane subjects, as well as Celtic folklore; a man at the center of the the country's political and artistic progressive and revolutionary movements; a romantic most famous for his doomed pursuit of Maud Gonne; a playwright who co-founded the Abbey Theatre; Senator of the Irish Free State; Nobel literary laureate. Yeats was not so much part of the Irish Renaissance as 19th century Renaissance Man.
You Should Also Read:
W. B. Yeats Sesquicentennial


Related Articles
Editor's Picks Articles
Top Ten Articles
Previous Features
Site Map





Content copyright © 2021 by Bee Smith. All rights reserved.
This content was written by Bee Smith. If you wish to use this content in any manner, you need written permission. Contact Bee Smith for details.