Official Name:
Republic of Liberia
Alternate Names:
Liberia
Capital City:
Monrovia
Flag:
The Liberian flag is based on the US flag. The eleven stripes stand for the eleven signatories of the Liberian declaration of independence. The five points on the white star signifies that Liberia is the first independent republic in Africa. The colors red, white, and blue signify valor, purity, fidelity.
Date of Independence:
July 26, 1847
National Anthem:
All Hail, Liberia, Hail!
Population:
3,441,790
Size/Area:
111,370 sq km
Land Locked:
No
Coastline:
579 km
Bordering Countries:
Sierra Leone, Guinea, and Côte d'Ivoire
Administrative Divisions:
15 counties which are divided into districts and then into clans.
Major Cities:
Arthington, Barclayville, Bensonville, Bopolu, Buchanan, Buutuo, Careysburg, Clay-Ashland, Edina, Fish Town, Ganta, Gbarnga, Greenville, Harbel, Harper, Kakata, Monrovia, Paynesville, Pleebo, River Cess, Robertsport, Sacleipea, Sanniquellie, Tubmanburg, Tuzon, Virginia, Voinjama, Yekepa, Zorzor, Zwedru
Languages:
Bassa, Dan, Dewoin, English, Gbii, Glio-Oubi, Grebo, Jabo, Kissi, Klao, Kpelle, Kru, Kuwaa, Liberian English, Liberian Kreyol, Maninka, Manya, Mende, Sapo, Tajuasohn, Vai
Religions:
Christian (40%), Indigenous Beliefs (40%), Muslim (20%)
Major Holidays:
Independence Day (July 26), New Year's Day (Jan 1), Armed Forces' Day, (Feb 11), Decoration Day (Mar 11), J J Roberts' Birthday (Mar 15), National Redemption Day (Apr 12), Fast and Prayer Day (Apr 14), National Unification Day (May 14), Africa Day (May 25), Independence Day (Jul 26), Flag Day (Aug 24), Thanksgiving Day (Nov 5), President Tubman's Birthday (Nov 29), Christmas Day (Dec 25)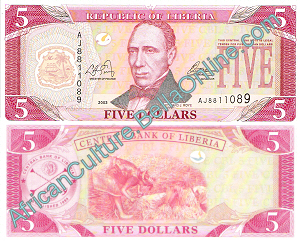 Currency:
Liberian Dollar
Currency Code:
LRD
Highest Point:
Mount Wuteve 1,380 m (4,500 ft)
Lowest Point:
Atlantic Ocean
Bordering Bodies of Water:
Cavalla River
Bodies of Water:
Mano River, Lofa River, St Paul River, Cestos River, Lawa River, Mesurado River, Sinoe River, Lake Piso (Pisu Lake)
Climate:
Hot, tropical climate with little variation in temperature. The wet season runs from May to October. The dry harmattan wind blows from the Sahara Desert from December to March, making the coastal belt particularly arid.
Major Agricultural Products:
pigs, goats, cattle, rice
Natural Resources:
iron ore, timber, diamonds, gold, and hydropower
Time Zone:
UTC 0

Tribes of Africa eBook
This eBook is the most complete listing of African tribes available on the internet. The first section of this book is the tribes sorted alphabetically by country. The second section is the tribes sorted alphabetically by tribe name.
This site needs an editor - click to learn more!

You Should Also Read:
Kenya Country Facts
Mali Country Facts
Nigeria Country Facts




Related Articles
Editor's Picks Articles
Top Ten Articles
Previous Features
Site Map





Content copyright © 2021 by Jeanne Egbosiuba Ukwendu. All rights reserved.
This content was written by Jeanne Egbosiuba Ukwendu. If you wish to use this content in any manner, you need written permission. Contact BellaOnline Administration for details.