Integrated Pest Management and Orchids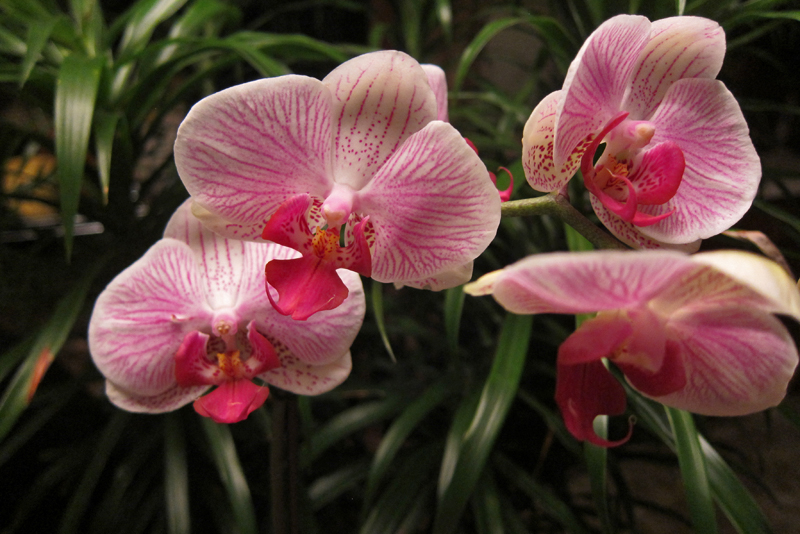 Integrated Pest Management (IPM) was developed in the 1950s mainly as an agricultural solution to the escalating use of chemical pesticides which killed both good and bad insects. IPM uses a variety of different approaches to manage pests at what is determined to be an acceptable level.

It is difficult to use this concept of acceptable levels of pests with orchids because even a small infestation of say spider mites or scale will damage a plant for years – the signs of the damage will remain on the leaves until they fall. But we can still take many of the ideas developed to better grow and attack the pests that hard our plants.

IPM encourages the use of mechanical devices, such as traps; physical devices such as hand plucking of slugs; genetic interventions, such as Enstar; biological controls, such as lizards; cultural management, such as increase or decrease in humidity; and chemical management, such as systemic insecticides.

The first step in an IPM program is prevention. And the most important step you can take is to quarantine any new plant you purchase for at least a month. Keep it away from all your other plants and use a chemical insecticide such as Bayer's to kill any pests residing on the plant. The month is to give any resident eggs time to hatch and the live pests to be killed. The vendor you purchased the plant from may have a sterling reputation and keep his or her plants clean, but at any point in the transportation of that plant either to or from the vendor, pests can hitch a ride.

The second step is observation. There is an old adage that the most successful gardeners talk to their plants. If you think about it, when you're talking to your plants you are taking the time to observe how they're doing. This step means take the time to look over your plants for rots, insects, problems so that you can catch any problems early when it is possible to do something about them. And then act promptly. Don't put it off or you will forget and your plants will suffer.

The last step in an IPM program is intervention. This is when you start fighting the problem in earnest. When the problem is small use mechanical means such as slug traps, killing small infestations with soapy water or a cotton swab. Use the non-chemical alternatives first and then ramp up your efforts to include chemicals if the infestation cannot be controlled by better means.

You Should Also Read:
Scale--A Grower's Nightmare
Snails and Slugs
Pest Bugs on Orchids


Related Articles
Editor's Picks Articles
Top Ten Articles
Previous Features
Site Map





Content copyright © 2021 by Susan Taylor. All rights reserved.
This content was written by Susan Taylor. If you wish to use this content in any manner, you need written permission. Contact Anu Dharmani for details.