December In Door County Wisconsin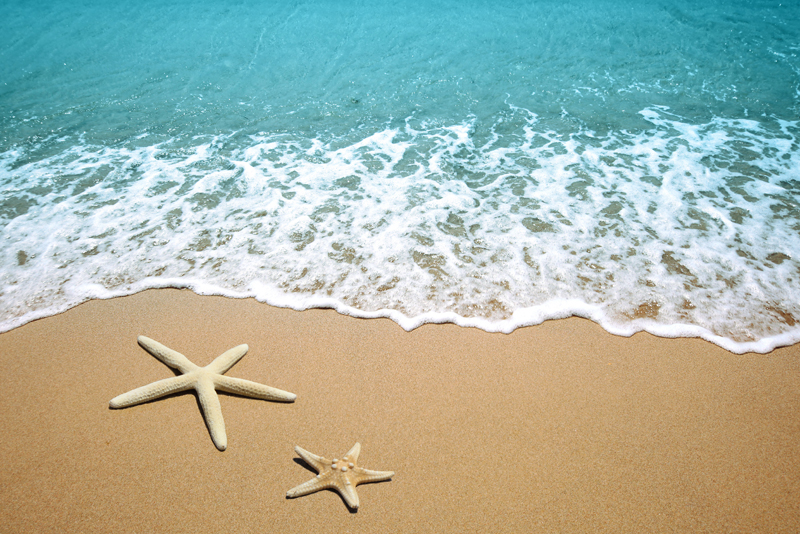 Forget those big box stores, and shopping for the same old things year after year. Give yourself a special Christmas gift by doing your holiday shopping in the winter wonderland that is Door County, Wisconsin. Not even Scrooge could have resisted getting into the Christmas spirit if he were immersed in the splendor of the season on the Door Peninsula.
Often called "The Cape Cod of the Midwest," the Door Peninsula is a 75-mile point of land that extends out between Lake Michigan and the Bay of Green Bay.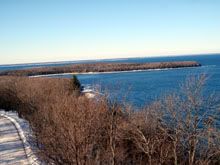 At about 18 miles wide at the widest point it narrows to less than 2 miles at the tip. With its over 300 miles of scenic shoreline, historic lighthouses, and over 10,000 acres of state and county parks, Door County has much to offer in the way of its stunning natural beauty.
Although the warmer months are the busiest for tourists, December is filled with the beauty and joy, of the holiday season. With a fresh blanket of snow on the ground, quaint little towns such as Fish Creek, Egg Harbor, Ephraim, Sister Bay, and Baileys Harbor, look as though they were taken right from a Christmas card.
One of the many things that make Door County unique is the lack of chain stores. As you leave Sturgeon Bay and head out onto the peninsula you won't find a-one. Businesses, shops, galleries, eateries, and lodging are all independently owned establishments each having its own charm and personality.
The county is a haven for the artistic, art galleries, pottery studios, jewelers, and more fill quaint little shops tucked here and there around the county. When you explore the Door in December you're in for a fun-filled shopping spree where you can find the most beautiful creations. You'll find the most unique gifts including items like hand-made moccasins at Fish Creek Moccasin. Owner and moccasin maker Garrett Doubleday stitches beautiful, one-of-a-kind deerskin moccasins.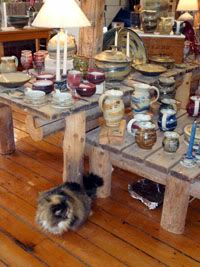 At Ellison Bay Pottery Studios and Gallery you can watch as artistic pottery pieces are created. The gallery showroom is full of stunning pottery, bowls, dishes, mugs and more.
In the village of Fish Creek, you'll find the Peninsula School of Art campus where they help students of all ages turn inspiration into fine art. For 50 years PenArt has been the centerpiece of the thriving art community that helps make Door County, so unique. Open year-round, the spacious, warm, well equipped and creative studios host artist-educators of the highest caliber. Students young and old can explore their artistic self whether it's painting, jewelry making, sculpture, drawing, printmaking, paper or book arts, photo & video, digital arts, hot & cold wax, clay, or metals. PenArt seasons all include exciting workshops, exhibitions, events, open-studios, and family programs. For more info visit: www.PeninsulaSchoolofArt.org.
If you're in the mood to put your own creativity to work and make presents for all those on your Christmas list, then you'll enjoy a day at the Hands-On Art Studio, in Fish Creek. With 4,000 square feet of work areas you can choose from: tile mosaics, fuse, blow, and paint glass, throw and paint ceramics, weld metal sculptures and try your hand at several other art forms.
At Renard's Cheese & Factory Tours you can take a tour of Door County's only cheese factory. Renard's is a family-owned and operated, third generation of cheesemakers. Renard's Cheese features a wide variety of handcrafted artisan cheese, cheese curds, homemade sausage and specialty foods from the Door County Area. They offer free cheese and wine tastings daily. During the winter months, factory tours are by appointment only.
From Thanksgiving through the New Year special events like the Holiday Home Tours, Festival of Trees, Christmas By The Bay, and New Year's Eve Fireworks keep the holiday spirit in full swing. Of course, you can always just enjoy the quiet serenity of the winter landscape with hiking, snowshoeing, ice skating, sitting by the fire and more winter activities. Shop around before you go to find special holiday packages offered by local B & B's, inns and resorts.
For a scenic tour of some of Door County's most beautiful locales, you can board the heated Door County Trolley in Fish Creek. The trolley makes stops at some of the peninsula's finest wineries for tours, tasting, and shopping.
One such winery is the Orchard Country Winery & Market, where the wine shop and market are jam-packed with specialty Door County goodies.
Of course, a visit to Door County wouldn't be complete without experiencing a traditional fish Boil. Several Door County restaurants have the fish boil perfected.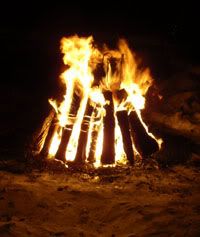 This unique culinary delight features freshly caught Lake Michigan whitefish that is cooked outside over an open fire. The Scandinavian settlers to the Peninsula brought this tradition with them. You can enjoy a fish boil at five locations in Door County including the historic White Gull Inn in Fish Creek and Rowley's Bay Resort in Ellison Bay. For more on the White Gull Inn and Rowley's Bay Resort, and two delicious Door County recipes, visit the links at the bottom of the page.
If you're looking for a winter get-away to get into the spirit of the holidays and find a unique and beautiful gift for everyone on your Christmas list give Door County a try.
For more info on Door County visit: www.doorcounty.com or call 800-52-RELAX
You Should Also Read:
Grandma's Swedish Bakery Recipe
White Gull Inn Cherry Coffeecake Recipe
Hands On Art Studio Is A Creative Getaway


Related Articles
Editor's Picks Articles
Top Ten Articles
Previous Features
Site Map





Content copyright © 2023 by Hazel M. Freeman. All rights reserved.
This content was written by Hazel M. Freeman. If you wish to use this content in any manner, you need written permission. Contact Hazel M. Freeman for details.