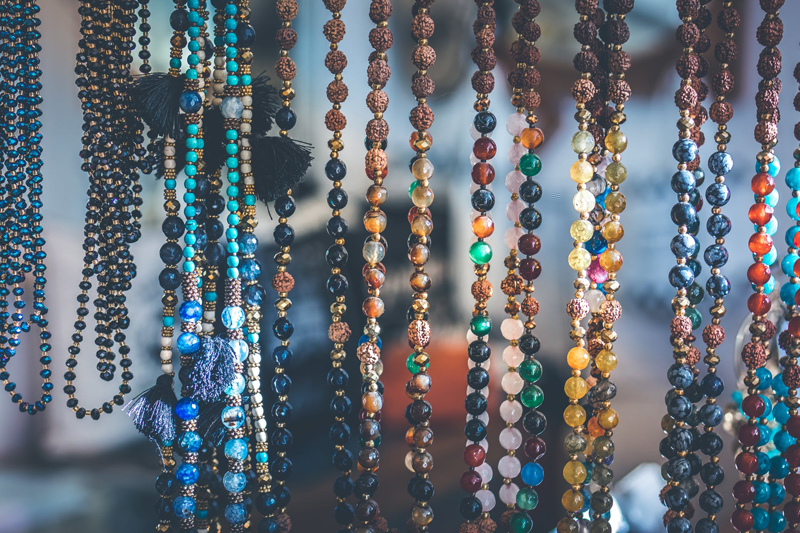 When I got a strand of very cool stone skull beads as a gift, my daughter informed me that she wanted a blue one on a necklace. I could have just put it on a headpin, but after consideration, I decided something a little fancier was in order. So I started making a tassel necklace. After getting the tassel done, the blue skull didn't look right with it so I used a green one instead. She loves the design. These tassels are perfect for showcasing 1 special bead that's not quite big enough to be a focal point on its own.
You will need:
Needle
Thread
Seed beads
accent beads and a focal bead
fringe beads if you want them
bead cap or bead cone - needs to be deep enough and big enough to accommodate the loop and beads on the tassel
wire cutter
5 inches of wire- a gauge that will work with the beads and bead cap- my example uses a doubled 24 gauge-
pliers- round nose and needle nose
This is a very easy, very fast technique for making beaded tassels.
Start by making a wrapped loop at one end of the wire. Then thread your needle and tie the end of the thread securely to the loop with a long enough tail for weaving in. Make one fringe.
Now for the only tricky part. To start the next fringe, you'll make a half hitch on the wire loop. Wrap your thread around the wire, and pass your needle and thread through the loop you made around your wire.
Start your next fringe. Keep adding fringe this way until you have the tassel as full as you'd like but still able to fit in the bead cap/cone.
This is a great chance to play with different types of fringe for different looks. I used a simple loop fringe, and passed the needle and thread back up through the last couple of beads at the top of each fringe so the doubled beads started right under the bead cap. If you are using a bead cone, you can string seed beads on the wire over the loop to position the loop just where you want it in the bead cone.
After you finish with your fringed tassel, weave in all the ends.
Put the bead cap on the wire, or if you're using a bead cone, string seeds on the wire until you can position the loop where you want it in the bead cone, and put the bead cone on it. Add your accent and focal beads on top of the bead cap.
Do a wrapped loop on top. This will be the bail to put the pendant on a chain or cord, or to use a hanger to create a decoration.
These are very simple to make, and have limitless possibilities for colors, beads, and style. Using branch fringe will change the look considerably, so would using twisted fringe. It's a great way to play with color palettes.
You Should Also Read:
Beaded Open Daisy Chains
Basic Beading- Brick Stitch
Silver Rose Necklace


Related Articles
Editor's Picks Articles
Top Ten Articles
Previous Features
Site Map



Follow @shala%5Fbeads
Tweet





Content copyright © 2023 by Shala Kerrigan. All rights reserved.
This content was written by Shala Kerrigan. If you wish to use this content in any manner, you need written permission. Contact Shala Kerrigan for details.