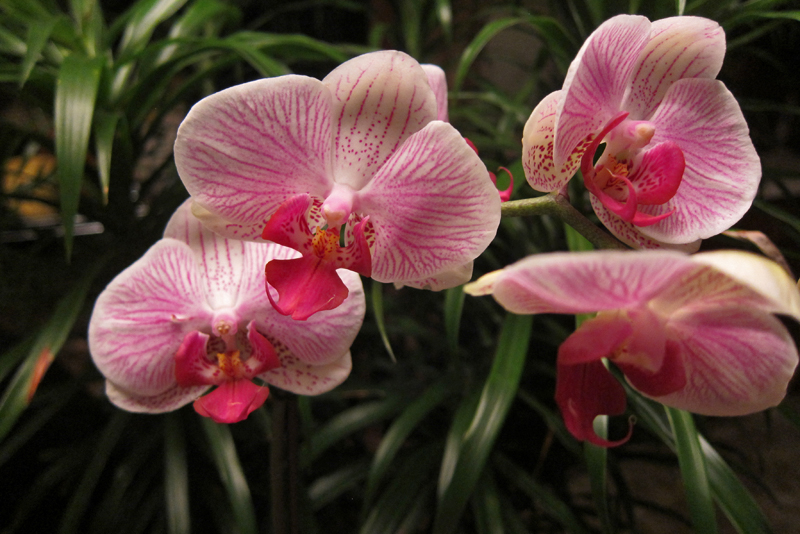 I've been experimenting with semi-hydroponics for about a year now and have had quite good luck with most kinds of orchids. Cattleyas particularly seem to like this form of culture, especially in hot weather. The more consistent moisture seems to allow them to survive the summers in much better shape than those grown in other media. Phals also seem to appreciate the medium, although to a lesser extent, but still better than most others. This technique was originated by
Ray Barkalow
, who maintains a wonderful website with a great deal of information on both orchid culture in general and S/H.
Semi-hydroponics is the use of a porous medium in a pot with a reservoir of water at the bottom of the pot which wicks moisture up through the media allowing for constant moisture as the plant uses up the water. Most pots sold for this culture are plastic with drainage holes approximately one inch or three centimeters up the side of the container. Water is poured into the pot to flush all the media at the time of watering so that there is less chance of mineral buildup. Since the plant has a reservoir to draw from it is necessary to water less often, usually when all the water at the bottom of the pot is gone. Fertilizing is recommended at each watering using approximately one-quarter recommended strength or you can use timed release fertilizer to save time.
The small, short pots have not worked well for me and I don't recommend them. The media stays wet all the time and I found a lot of rot on the roots of plants grown in them. Even with additional holes to reduce the water level failed to dry out the media adequately. Taller pots will dry toward the top and the plant roots will grow down to the bottom. The roots that grow naturally down into the water do not seem to have a problem with being wetter since they will dry out as the water evaporates between waterings.
Repotting is very simple with this method and the plants will come out of the pots without a great deal of trouble. The media is inert so there is no waste of materials that might have started to decompose. All you have to do is pour half the old media into the new, larger pot position the plant and pour in the rest of the old media. Fill in the top with new media. This is much less time-consuming than repotting with media which has to be discarded.
You Should Also Read:
Miniature Cattleyas
Orchid Growing Tips
Orchid Supplies


Related Articles
Editor's Picks Articles
Top Ten Articles
Previous Features
Site Map





Content copyright © 2022 by Susan Taylor. All rights reserved.
This content was written by Susan Taylor. If you wish to use this content in any manner, you need written permission. Contact Anu Dharmani for details.