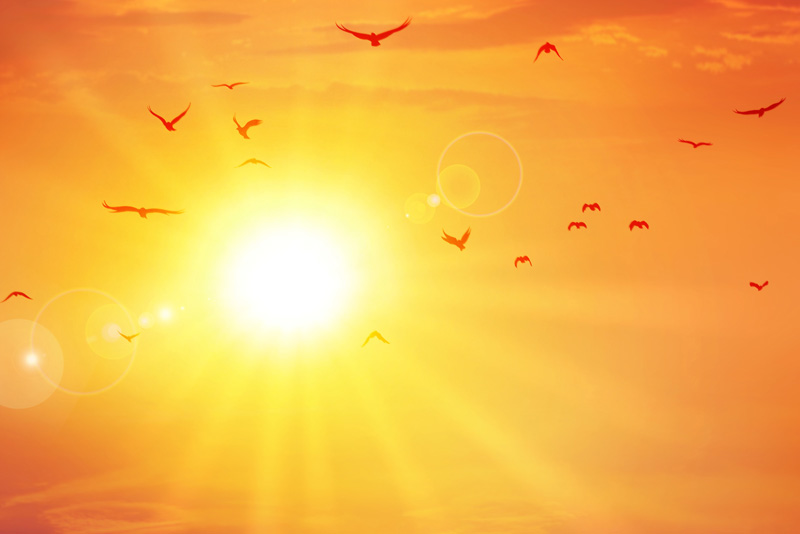 Fear is a feeling that I experience more than I like to admit. It can come from knowing that there is crime in the neighborhood, or terrorist threats in the country. I have fear of unknown dangers or of attempting something that I have never done before, taking on new responsibility or being held accountable for how things will turn out.
A story from the Old Testament:
Moses had led the nation of Israel through the dessert for 40 years. The people had depended on Moses for everything, to make all their decisions, to fight for them and to speak to God for them. The nation was finally going to cross the Jordan and enter into the land promised to them, but it wouldn't be an easy transition. There were already kingdoms in their new home that would have to destroyed in order to take the land. God revealed to Moses that he would not be allowed to go with them. Joshua would take over leading the people.
As he broke the news to them, he said.
"Be strong and courageous. Do not be afraid or terrified because of them (the armies in the Promised Land) for the Lord your God goes with you; He will never leave you nor forsake you." Deuteronomy 31:6
They were not to be afraid of the armies or depend on him or any man to save them; they had God with them and He had promised that He would never leave them. They had only to depend on His power.

Moses summoned Joshua to stand in front of the people. As Moses gave him the responsibility of leadership, he told him, "The Lord Himself goes before you. He will never leave you nor forsake you. Do not be afraid; do not be discouraged." Joshua was not to be afraid of the wars he would be in. He would have the great responsibility leading the nation of Israel but he was not to be afraid or become discouraged because the Lord Himself would lead and He would never leave him.
BE: Strong -
firm and uncompromising, unfaltering
BE: Courageous -
having the quality of mind or spirit that enables a person to face difficulty, It permits a person to face extreme dangers and difficulties without fear.
DO NOT BE: Afraid -
inner apprehension, disquiet
DO NOT BE: Terrified -
the emotional reaction when one is struck with a violent, overwhelming fear
Yes, it sounds easy to say " be strong and courageous or don't be afraid.
In the middle of danger or struggles, in the stress of responsibility, and in the face of financial ruin, I don't feel very strong or courageous. I feel weak and sometimes terrified.
God gives us a reason for feeling strong. He gave us a promise and it is one that I need to be reminded of often and to hold on to everyday.
GOD WILL NOT: Leave -
to go away or depart from
GOD WILL NOT: Forsake -
to quit or leave entirely; to desert; to renounce, to deny; to reject
God has promised that He will always be with me. He will never leave me. He is Almighty God, Creator of heaven and of earth and of me. There is more peace in that than any army can provide, and more security than any amount of money can provide.
When I believe and have confidence in His promise, I can say,
"God Almighty is my helper. I will not be afraid. What can anyone do to me?"
Hebrews 13:6
You Should Also Read:
Stress Relief - A Lesson From the Bible
Charity - Love Your Neighbor


Related Articles
Editor's Picks Articles
Top Ten Articles
Previous Features
Site Map



Follow @LynneChapman
Tweet





Content copyright © 2021 by Lynne Chapman. All rights reserved.
This content was written by Lynne Chapman. If you wish to use this content in any manner, you need written permission. Contact Lynne Chapman for details.