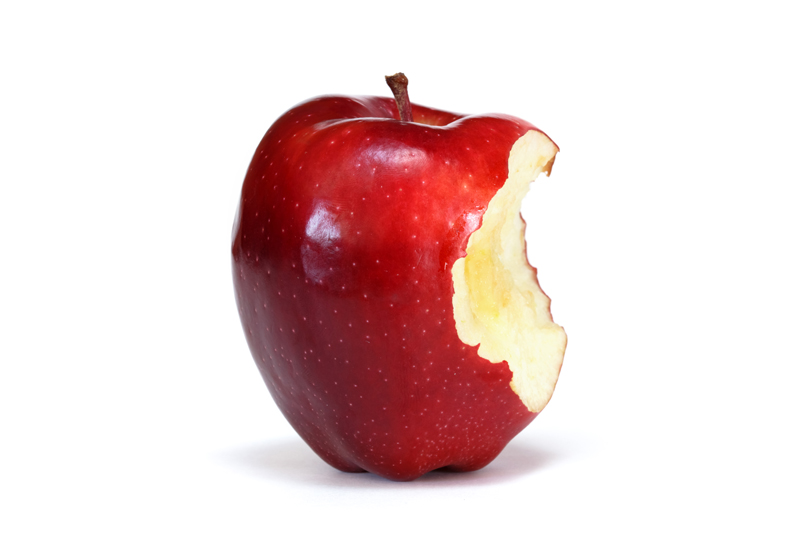 I am sure we have all heard the old saying , "An apple a day keeps the doctor away." This could well have a lot of merit. Apples are among the most health-giving fruits available to us. They contain a host of beneficial vitamins and minerals, such as phosphorous, potassium, magnesium, calcium, iron, and many trace elements as well. And, they are the central ingredient in apple cider vinegar.
Cider vinegar is a powerful detoxifying and purifying agent. It breaks down fatty, mucous and phlegm deposits within the body. By breaking down these substances it improves the health and function of the vital organs of the body, such as the kidneys, bladder and liver, by preventing excessively alkaline urine. It also oxidizes and thins the blood, which is important in preventing high blood pressure. This powerful potion also promotes digestion, assimilation and elimination, all the while neutralizing any toxic substances that enter the body. Cider vinegar has been found to neutralize any harmful bacteria that may be found in certain foods. When a mixture of cider vinegar and water is taken before a meal (particularly food served in restaurants or at picnics where the preparation or duration of food left uncovered and not refrigerated is questionable), it seems to prevent diarrhea or digestive upsets.
Apple cider vinegar contains a potent supply of potassium which researchers feel is helpful in easing the effects of common colds and allergies, including mucous formation, watery eyes, sinus and catarrhal problems. Cider vinegar can also be beneficial for symptoms such as tooth decay and splitting of the fingernails, which are symptoms of potassium deficiency. Potassium is essential for the replacement of worn-out tissues within the body. This mineral is also important to soft tissue repair, as calcium is to the bones and teeth. A deficiency of potassium within the body can produce callous formations on the souls of the feet, insufficient replacement of worn tissue, and hair loss.
Tests have proven that soil deficient in potassium will produce anemic and undersized plants, but when potassium is introduced into the soil, the plant becomes healthier and increases in size. When potassium, in the form of cider vinegar is fed to livestock their appearance improves and their stamina increases. This can also prove true on a human level for those who have potassium deficiency. A few teaspoons of cider vinegar taken with water each day has been known to produce amazing results. Cider vinegar can be taken alone or used in cooking. It can be used as a salad dressing, for pickling, in making mayonnaise or sprinkled on potato chips or French fries. It can used as a hot or cold beverage sweetened with honey. The best method of using apple cider vinegar is in its natural liquid form.
When the body is lacking certain minerals or salts, ill health can be the result. Toxic build-ups with the body can cause boils, blisters, acne, etc. Cider vinegar detoxifies and helps with the cleansing and clotting processes of the blood, by helping along the blood oxidation process.
Cider vinegar is thought to be beneficial in the treatment of arthritis, as a beverage or with compresses soaked in hot vinegar applied directly to the joints. It is also thought to be helpful when used to treat asthma, nose bleeds, osteoporosis, cancer, candida, high cholesterol, colds, constipation, muscle cramps, colitis, diabetes, diarrhea, depression, dizziness, ear discharge, eczema, fatigue, gallstones, kidney stones, hay fever, headaches, heartburn, hiccups, indigestion, insomnia, kidney and bladder problems, metabolism, nasal congestion, sore throats, stiff joints, ulcers and weight loss.
Please check with your physician before starting any new treatments, including dietary changes. Alternative or holistic health procedures are meant to be complimentary process to traditional medical practices, and not used in place of them.
Making Cider Vinegar at Home
Two factors require special attention when making vinegar at home: oxygen supply and temperature. Oxygen is spread throughout the mixture by stirring it daily and by letting air reach the fluid through a cheesecloth filter, which is used in place of a regular lid. The temperature of fermenting cider should be kept between 60 and 80 degrees Fahrenheit (F). Lower temperatures do not always produce a usable vinegar, and higher ones interfere with the formation of the "mother of vinegar." Mother of vinegar is a mat that forms on the bottom of fermenting wine that has gone bad.
Do not use a metal container when making vinegar; acid in the mixture will corrode metal or aluminum objects. Glass, plastic, wood, enamel, or stainless steel containers should be used for making or storing vinegar. The same holds true for making or storing foods that have more than 1 Tablespoon of vinegar in the recipe.
Steps for Making Cider Vinegar
The following steps must be followed to make a high-quality cider vinegar:
Make a clean cider from ripe apples.
Change all of the fruit sugar to alcohol. This is called "yeast fermentation."
Change all of the alcohol to acetic acid. This is called "acetic acid fermentation."
Clarify the acetic acid to prevent further fermentation and decomposition.
Step 1--Making Cider
Cider is made from the winter and fall varieties of apples (summer and green apples do not contain enough sugar). Fruit should be gathered, then washed well to remove debris. Crush the fruit to produce apple pulp and strain off the juice. Use a press or cheesecloth for straining.
Adding yeast to activate fermentation is not essential, but will speed up the process. Special cultivated yeasts are available for this purpose at wine-making shops and biological labs--bread yeasts are not recommended. To make a starter, crumble one cake of yeast into one quart of cider. This makes enough starter for 5 gallons of cider; double the recipe proportionately when making more.
Steps 2 and 3--Making Alcohol and Acetic Acid
Pour all of the liquid into one or more containers to about three-quarters capacity; do not close the lids on the containers. Stir the mixtures daily. Keep the containers away from direct sunlight and maintain the temperature at 60 to 80 degrees F. Full fermentation will take about 3 to 4 weeks. Near the end of this period, you should notice a vinegar-like smell. Taste samples daily until the desired strength is reached.
Step 4--Filtering
When the vinegar is fully fermented, filter the liquid through several layers of fine cheesecloth or filter paper--a coffee filter works well for this. This removes the mother of vinegar, preventing further fermentation or spoilage of the product.
Storing Your Vinegar
The vinegar is now ready for storage in separate, capped containers. Stored vinegar will stay in excellent condition almost indefinitely if it is pasteurized. To pasteurize, heat the vinegar before pouring it into sterilized bottles, or bottle, then place in a hot water bath. In both cases, the temperature of the vinegar must reach at least 140 degrees F to sterilize the product, and should not exceed 160 degrees F. Use a cooking thermometer to ensure the correct temperature is met. Cool the containers and store at room temperature out of direct sunlight.
Flavored Vinegar
Flavoring can be added to homemade vinegar just before bottling. Good examples of additives include green onion, garlic, ginger, or any combination of dried or fresh herbs. To make flavoring, place material in a small cheesecloth bag and suspend in the vinegar until desired strength is reached. This will take about 4 days, except for garlic, which takes only 1 day. For every 2 cups of vinegar, use one of the following: 1/2 cup crushed fresh herbs, 1 tablespoon of dried herbs, 2 large cloves of garlic, or 8 small green onions. Other good flavorings include tarragon, basil, nasturtium, chives, mint, chervil, borage, hot chilies, and raspberries. Adjust the amounts to taste, but be careful not to overload the vinegar. Too much vegetable matter can destroy the acid and ruin the preservative quality of the vinegar.
Some flavorings may not go well with cider vinegar's distinct taste and color. When flavoring store-bought vinegar, use more delicate or decorative flavors. When flavoring store-bought vinegar, you will still need to pasteurize it and use sterile bottles.
Flavored vinegars taste great and have a beautiful color, making them excellent for use in salads. You will be tempted to display flavored vinegar; however, be sure to keep your bottles out of direct sunlight, which will destroy the flavor, acidity, and color of the vinegar.
Uses for Homemade Cider Vinegar
Because the acidity of homemade vinegars will vary, do not use them in foods to be canned or stored at room temperature. Homemade vinegar is, however, excellent in salads, cooking, or freezer and refrigerator pickled products.
Recipe for Apple Cider Vinegar prepared by
Christine Nicholas, Intern
Doris Herringshaw, Extension Agent, Family and Consumer Sciences
Ulcers
Apple Cider Vinegar Usage And Dosage
You Should Also Read:
Zarif Fitness
Apple Cider Vinegar Weight Loss


Editor's Picks Articles
Top Ten Articles
Previous Features
Site Map





Content copyright © 2021 by Linda Paul. All rights reserved.
This content was written by Linda Paul. If you wish to use this content in any manner, you need written permission. Contact Victoria Abreo for details.