Welcome to the BellaOnline Distance Learning site.
Patricia Pedraza-Nafziger is a Doctoral Candidate in Information Technology Education, an Information Systems Team Lead for the Boeing Company, and an award winning author. As the Distance Learning Contributing Editor for BellaOnline, Patricia´s goal is to share the diverse experience and knowledge she has gained in education, technology, and virtual collaboration.
In 2014,
Distance Learning: Is it Right for You?
was honored with a USA Best Book Award for College Guides and a Silver Medal Award in Self Help and Improvement category of the BellaOnline eBook Awards.
Distance Learning - Is it Right for You?
is available in paperback and ebook at
Amazon.com
, or pdf version on
BellaOnline eBook Store
.
Libraries and Academic Institutions
please visit
Distance Learning Books
for discounts on bulk orders.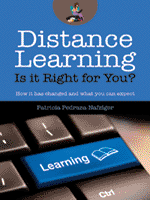 Please join or subscribe to any of the following:
Twitter

You can also contact me by joining our forum if you have any Distance Learning questions, comments or would like to suggest topics for future articles.


Thank you for visiting the Bella Online Distance Learning site.


Patricia Pedraza-Nafziger
BellaOnline - Distance Learning Editor

+Patricia Pedraza-Nafziger



Submit a Comment - Suggestion - Request to this Editor



NOTE: If you want a response, please make sure to include your email address so we can write back. Also, make sure that any anti-spam blockers you have are set up to allow mail from bellaonline.com! Otherwise our response won't be able to get to you.