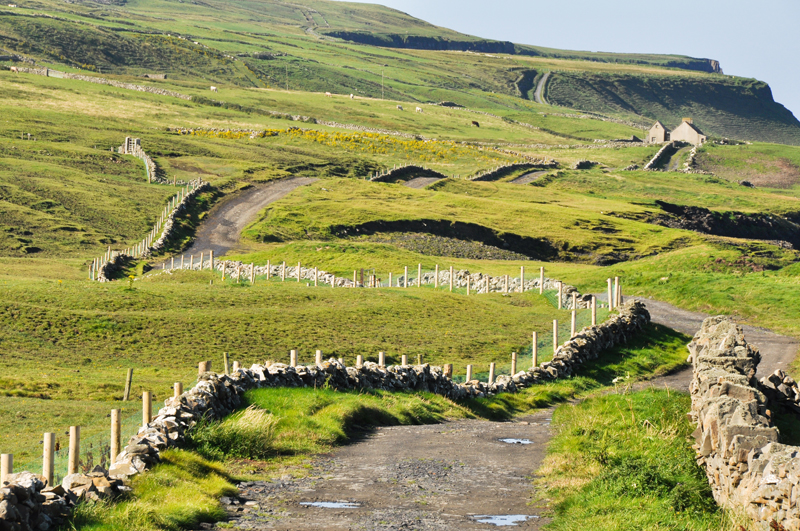 Every culture has its own traditions for uniting lovers in matrimony. The Irish are no exception. Everyone looks forward to "a day out," which is Celt-speak for the wedding reception.
The Proposal
"Would you like to be buried with my people?"
"Would you like to hang your washing next to mine."
The Bride
It's good luck if it rains on your wedding. That's true! (Of course, in Ireland, it would be a rare day when a little rain didn't fall...)
A man should be the first to congratulate the bride. It's bad luck if a woman gets there first.
It's good luck to rise with to the song of birds on your wedding day.
It's bad luck to put on your own veil; have a well-married woman do the honors.
A bride who can sing well is expected to sing at the wedding.
An Irish bride uses a different road home than she took to the church. This may have been started to thwart merrymakers intent on delaying the honeymoon, but it is also a symbol of her new life that begins with her marriage.
Your wedding earrings will always bring you luck when you wear them.
Many Irish brides favor wildflower wreaths over elaborate veils...and also carry wildflower bouquets. Lavender is a favorite.
An Irish bride would braid her hair. Braiding of all kinds is traditional: braided trim on clothes, braided hair, braided wreaths.
Something old, something new, something borrowed, something blue, and an "Irish" penny for her shoe.
The Wedding Party
The wedding party should always take the longest road home from the church.
The bride shouldn't take both feet off the floor when dancing with her new husband. It gives the fairies an edge.
The wedding party gathers around the bride and groom. All fill their glasses with mead (or champagne) and the newly wedded couple recites an Irish toast: "Friends and relatives, so fond and dear, 'tis our greatest pleasure to have you here. When many years this day has passed, fondest memories will always last. So we drink a cup of Irish mead and ask God's blessing in your hour of need." The guests respond: "On this special day, our wish to you, the goodness of the old, the best of the new. God bless you both who drink this mead, may it always fill your every need."
The wedding party was generally celebrated at the home of the bride.
Colors
Marry in white, everything's right
Marry in blue, lover be true
Marry in pink, spirits will sink
Marry in grey, live far away
Marry in brown, live out of town
Marry in green, ashamed to be seen
Marry in yellow, ashamed of your fellow
Marry in black, wish you were back
Marry in red, wish you were dead
Marry in tan, he'll be a loved man
Marry in pearl, you'll live in a whirl
The Food
The wedding cake in modern Ireland is often a rich fruit cake, iced in white, though other cakes are also used.
Wedding Cake Recipe
The top tier of the wedding cake should be an Irish whiskey cake which is saved for the christening of your first baby. A slice of the cake is saved to be eaten on your first anniversary.
Honeymoon comes from the honey wine known as mead, in the old days it was consumed at weddings because it was thought that it promoted virility.
Couples also drink mead from special goblets for a full month following the wedding. This was thought to protect the couple from the fairies coming to spirit the bride away.
Gifts
The chime of bells reminds a couple of their wedding vows. That's why giving a bell as a gift has become an Irish tradition.
Salt and pepper shakers are a lucky gift.
Wine glasses are lucky as well, though it's more common to see very tall toasting flutes.
One thing that has always been certain, there will be some Waterford Crystal and some Belleek Parian China. It's inconceivable to start out married life without them. And a bit of Irish lace. And some fine linen tablecloths. All these things represent solid commitments.
Toasts and Blessings
"Slainte," pronounced SLAWN-cha, is a familiar Irish toast. But, as the toasting generally continues, here are some more to dedicate to the happy couple:
May your troubles be less,
And your blessings be more,
And nothing but happiness come through your door.
Long live the Irish!
Long live their cheer!
Long live our friendship, year after year!
Of course, every couple should have a pair of
Waterford Crystal Engraved Love & Romance Toasting Flutes
to commemorate their day (and to use on the anniversarys for many, many years to come!)
Here's to the wonderful life you will have together.
Sláinte!
Irish Love Poems
Pack a copy in the honeymoon bag and read to each other to start the marriage off in true romantic style.
Books on Traditional Irish Weddings
The Waterford Unity Candle.
Two candles burn separately during the ceremony, and a taller pillar is lit at the closing that signifies the two becoming one. This is a stunning diamond and heart cut Waterford crystal three-piece candlestick set that makes a wonderful gift for any wedding.
You Should Also Read:
Irish Wedding Cake
Claddagh Rings
Irish Wedding Music


Related Articles
Editor's Picks Articles
Top Ten Articles
Previous Features
Site Map





Content copyright © 2022 by Mary Ellen Sweeney. All rights reserved.
This content was written by Mary Ellen Sweeney. If you wish to use this content in any manner, you need written permission. Contact Bee Smith for details.