Get into that Halloween spirit by decorating your front door with this wreath made from orange tissue paper flowers. When done in assembly-line fashion, this project can be completed in one afternoon.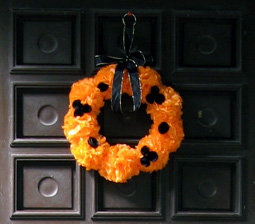 You will need:
* Orange tissue paper, enough to cut 54 pieces of 5x10 inch rectangles (equivalent to nine tissue paper flowers)
* Nine pieces of wire wrap
* Black text weight paper, enough to cut twelve 3-inch circles
* Corrugated cardboard, measuring 11 square inches
* Black ribbon, 1 inch by 42 inches
* Loose-leaf ring, 1-1/2 inch in diameter
* Templates for 3-inch, 7-1/2-inch, and 10-1/2-inch circles (jar lids and dinner plates are fine!)
* Needle and black thread (or stapler)
* Pencil
* Scissors
* Craft glue
Make nine tissue paper flowers based on the
instructions here
, but use wire wrap instead of pipe cleaners to hold the paper together. Set the flowers aside.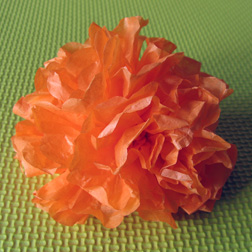 Make 12 roses from black paper, following the
instructions here
. Set them aside.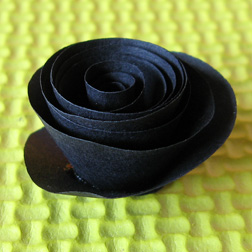 To make the base, you will need to cut out a donut shape from the corrugated cardboard. Using the larger dinner plate as a template, trace a circle onto the cardboard. Take the smaller dinner plate and trace a circle inside the bigger circle, centering the circle as much as possible. Cut out the donut shape using the scissors. Now picture the cardboard as a clock face, and then mark the cardboard at the 2, 6 and 10-o'clock positions with a pencil. This will help you space the flowers evenly.
To assemble the wreath, glue a tissue paper flower onto the cardboard, at each of the points you marked earlier. Then glue two more tissue paper flowers in each of the spaces between the flowers. Let dry. Using the picture as a guide, glue the black roses in place. You can arrange the flowers any way you wish, actually, or you can make more black roses for a fuller effect.
To make the hanger, take an 18-inch length of black ribbon, and loop it around the top of the wreath. Take the end that's in front of the wreath and carefully pass it between two flowers, underneath their petals. Join the ends of the ribbon, fold them about an inch down the back, and stitch together with black thread, creating a loop to hold the ring. (You can staple the ends together if you're not comfortable with sewing.) Secure the stitching and trim off any excess thread. Open the loose-leaf ring, pass it through the loop on the ribbon and close it again. You're just about done!
To finish off, take a 24-inch length of ribbon and tie a bow around the hanger, leaving the ends of the bow hanging down. Trim the ends of the bow either diagonally or with a notch. Now hang your wreath on your front door and get ready to welcome those Trick-or-Treaters! Happy Halloween!