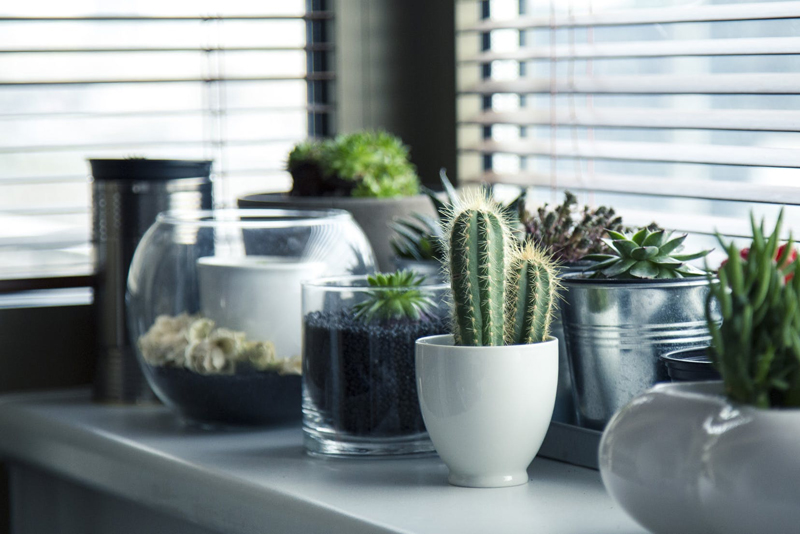 Elephant Ears are one of my favorite types of tropical plants and make excellent houseplants. Most types grow very large quite quickly and so are great for large planters on the floor. They grow heart-shaped leaves on long petioles and have a corm from which the leaves grow. The corm is used as a food, in some countries, that goes by the name �Taro�.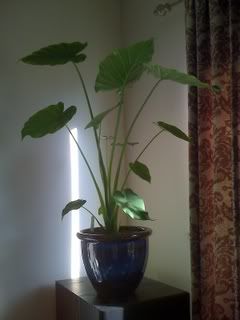 Elephant Ears are all Arums, that is, they are all in the plant family Araceae. Plants of the genus Colocasia, Alocasia, and Xanthosoma are all considered Elephant Ears and it my not at first be easy to pick out their differences. There are subtle differences in the way the leaves are shaped and how they are held on their petioles. Most of these plants grow 4 to 6 feet tall, but of course there are varieties that are outside of this range.
Arums are flowering plants so you may occasionally see your Elephant Ear in bloom. Plants in this family have a spadix and spathe type flower, like a Calla Lily.
Elephant Ears can be found in all sorts of eye-catching colors, from a lime green to almost black. The petioles can match the leaves, or they can be violet, red, or even spotted. There are several very pretty varieties of Colocasia esculenta: some being variegated, some with rich iridescent foliage, and some that even have concave leaves.
Shade is necessary for these plants, as they will scorch, but that is a great thing for those of us who wish to grow them as houseplants. Bright to nearly full shade will work for these plants, but different cultivars may have their own preferences. Pay attention to how your plant acclimates to the place you select for it. If it looks dull, try a brighter area; just keep it out of direct sunlight during the hottest sun of the day, usually 10 a.m. to 3 p.m.
Be sure to keep your Elephant Ears evenly moist, not allowing them to dry out fully between waterings. This is important because Elephant Ears are native to moist, swampy areas and will die quickly without ample water.
Fertilizer is also important because Elephant Ears are very heavy feeders. If your plant starts to droop a lot and the petioles snap, or if the leaves start to go yellow in between the veins, it is a sign that the plant isn�t getting enough nutrients. These plants grow very rapidly, and need a lot of Nitrogen to fuel them on! I use a standard all purpose fertilizer at every watering for these plants to keep them strong.
Elephant Ears are very simple to propagate. Propagation is done by division of the corms or separation of the pups from the mother plant. Pups are small side-shoots and are easily dug up and separated. These are one of those plants that are easy to share by giving away plant-lets.
To sum it up, Elephant Ears are large, leafy plants that are easy to care for. Give them a protected area that still receives some sunlight and make sure they stay watered. Use a slow release fertilizer if you don�t like to mix water soluble fertilizer often, because these plants love to eat. Follow these guidelines, and you will have a touch of the tropics gracing your living area for a long time to come!
This site needs an editor - click to learn more!

You Should Also Read:
Spider Mites
Repotting a Plant
Summering Houseplants Outdoors




Related Articles
Editor's Picks Articles
Top Ten Articles
Previous Features
Site Map





Content copyright © 2022 by Lisa Beth Voldeck. All rights reserved.
This content was written by Lisa Beth Voldeck. If you wish to use this content in any manner, you need written permission. Contact BellaOnline Administration for details.