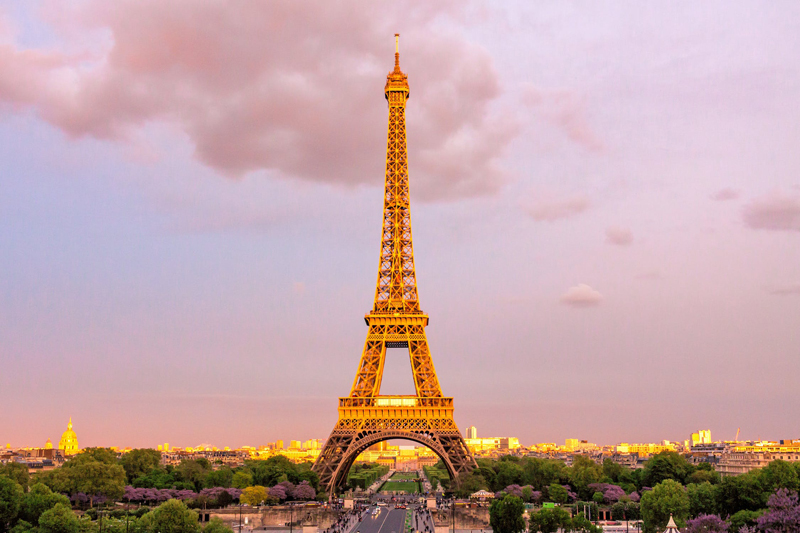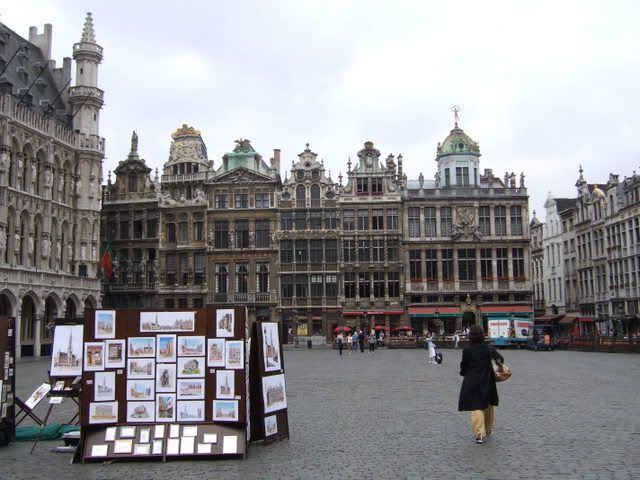 Aboard the TGV Belgium is less than an hour and a half from Paris. Lured by their reputation for the confection of chocolate and beer, wealth of Art Nouveau architecture and proximity, my husband and I seized the weekend in Brussels to celebrate our first wedding anniversary.
I struggled to sprint, suitcase in tow, hopping on board the train before it pulled away from the dock. Catching my breath and cursing our constant tardiness I shifted my focus to narrowing down a weighty itinerary to the choicest of museums and sights. For such a miniscule country, Belgium has a wealth of interesting things to see.
The train deposited us at the subway which shuttled us to the centrally located though generic Thon hotel. Settling our affairs and setting out on foot, chain stores and sex shops shared pavement with the likes of the Metropole hotel. A beautiful historic remnant of the late 1800's, the gilded chandeliers and dark stained wood set the perfect backdrop for coffee and dessert.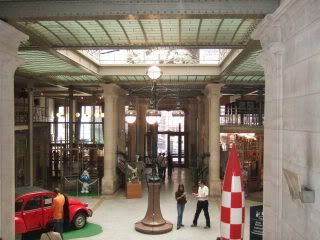 Navigating by hotel map, we found our way the Musical Instruments Museum. Inside the Art Nouveau façade a globe spanning collection of old and new pieces are housed within glass casings. Upon approaching each instrument, it would spring to life in serenade with the help of a synchronised headset.
Pressed by closing time, we hurried downhill to the Comic Strip Art Museum. Not having been raised on dessine animé as my husband like most French children was, I myself was more interested in the architecture of the building than the walls papered in comic book pages. A feeling of the outdoors brought in radiated through Horta's curvilinear design scaled like a fish in stained glass and mosaic.
The sunset saw us at the park before we freshened up to step out in search of a dinner splurge. We ate lobster wearing starched white bibs tied around our necks. Fingers coated in the warm buttery sauce were wiped clean to pick at dainty plates of shrimp among other courses, seven total, savoured between sips of chilled wine over the course of an evening.
The next morning the Grand Palace was abuzz with street performances, tourists snapping photos, milling in and out of chocolateries and lace shops, and buying sugary Belgium waffles hot off the iron from street vendors. Irresistibly delicious, inside their crunchy shells, the waffles maintain a perfect doughyness. I glimpsed at the many époques worth of garments, painstakingly embroidered tapestries and handmade lace assembled at the Museum of Costume and Lace. Farther down a street laden with souvenir t-shirt shops, the outrageously famous Mennekken Pis is perched behind iron gates, a little statue of a boy peeing.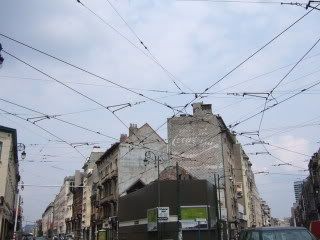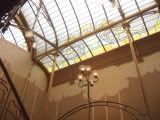 We lunched on mussels, "moules" steamed with celery, tomatoes and spices served with French fries, then ordered the largest box of dark chocolates Leonidas sells before catching the trolley outside the city center.
After riding a half hour or so, we found ourselves knocking on the door to Victor Horta's residence, now a museum. We walked through stroking the graceful curves of the furniture and handling knickknacks, feeling almost like invited guests in his home. Everything down to the doorknobs and radiator grills was designed by and created for him with an eye for aesthetic appeal. I loved the reflection of nature in knobs shaped like insects, weighted blooms carved into the cabinetry and hand painted floral wallpaper.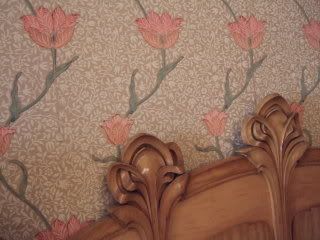 Farther a field, frozen in time like a clock stopped ticking, the residence and gardens of the Musée Van Buuren reflect a decadent life in the early 1900s. Nearly alone inside wandering about the house, I admired artefacts amassed, an imposing stained glass chandelier casting light on an oil painting of children sitting aaround the table, photographs and the modern geometric furniture from the now dusty époque of art deco glamour.
Only enough time remained for a quick glimpse of the Atomium, a relic of 1950's modernity, before recollecting our bags. Waiting for the train I sipped a pint of sweet Belgian beer before departing, back in Paris in a flash with another week lying ahead. Escaping the mundane, taking full advantage to "partir en weekend" is a favorite past time of the French that I've been perfecting.
To read more about the Art Nouveau movement...
You Should Also Read:
the Atomium
the Horta Museum
Musée Van Buuren


Related Articles
Editor's Picks Articles
Top Ten Articles
Previous Features
Site Map





Content copyright © 2022 by Melissa Demiguel. All rights reserved.
This content was written by Melissa Demiguel. If you wish to use this content in any manner, you need written permission. Contact Melissa Demiguel for details.