Guest Author - Vivienne Oestergaard
This tutorial came about from a challenge originally posted at the DigiChick (thedigichick.com) and I created the challenge using ViVa Artistry's products (http://www.thedigichick.com/shop/manufacturers.php?manufacturerid=107&sort=&sort_direction=&page=2). The papers came from ViVa's Paul's Room digital kit. You will need a notebook a little larger than 5x7 inches in size.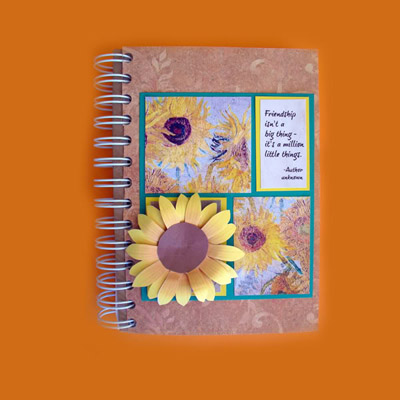 The template was designed by Dalis from the Hybrid Chick (http://www.thehybridchick.com/2010/09/a-template-hybrid-challenge/).
Here are the sizes of paper to cut:
Background paper 5x7 inches
Green background 4.25x5 inches
Yellow background 1.25x2.25 inches and 1 7/8x2.25 inches
Sunflower paper 2.5x2.25 inches and 1 7/8x2.25 inches
Text is 1x2 inches
You can download and use the template in Photoshop or a graphics program to arrange the papers as it is a good way to see your design before you print it. At that point, you can then drag each piece over to a new document that is sized for your printer. I print onto an A4 size (similar to Letter size) paper. Make your new document your printer size. Drag the sunflower paper pieces and the text onto that document. Print your page. I use photopaper because I like the sheen and the wight. Trim the pieces with a paper cutter for straighter edges. Adhere the pieces to the background paper as in the previews above.
If you use the template as a guide, cut your papers as measured above and then adhere them to the background. Make a paper flower or purchase a flower to adhere to the bottom left (mine came from http://cp.c-ij.com/en/contents/3202/arrangement13/index.html).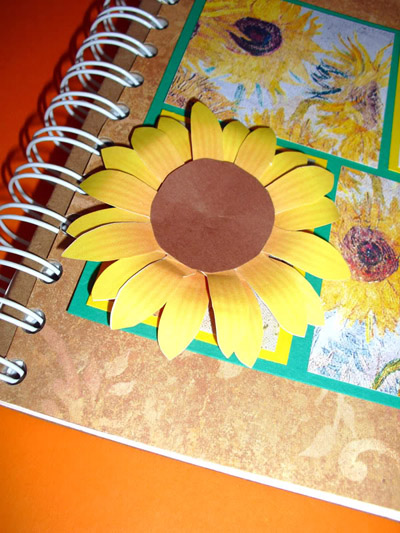 If your notebook is much larger than the art you have just created, adhere it to the center of the notebook. If is similar in size, you can tear a sheet out of the notebook and use it as a template for the hole punches. Adhere your art to the notebook. That's it! Enjoy!