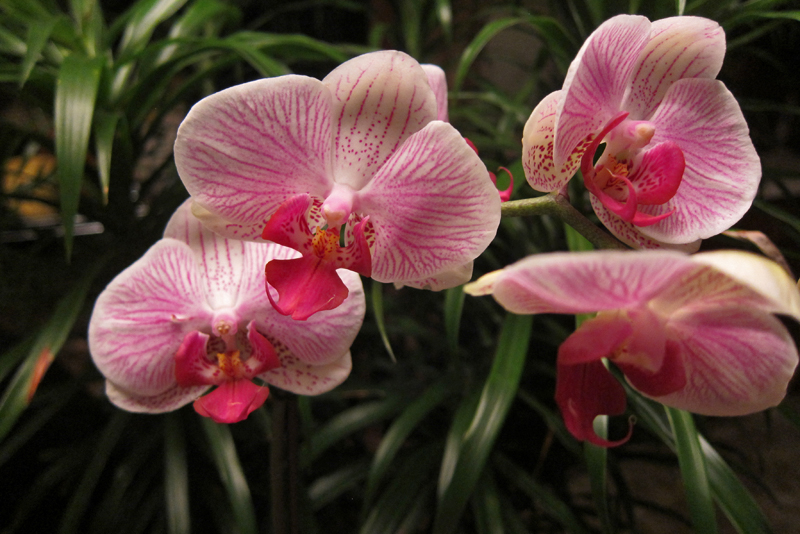 The original
Paphiopedilum Maudiae
was a hybrid of
Paphiopedilum callosum x Paphiopedilum lawrenceanum
first registered in 1900 by Charlesworth & Co. Ltd. of Great Britain. Since that time there have been approximately 2,700 crosses made with this great breeder registered. Today the term Maudiae Paph is used to group a number of hybrids which have this breeding in the background or look and grow like the hybrid. They are a member of the slipper orchid family with the lip formed into a pouch.
According to many experts, these are the most popular variety of Paphs in cultivation today. Their mottled leaves are attractive even when the plant is not in bloom and the light requirements allow many of these plants to be grown easily in home conditions where a Phal would be happy. They do require higher humidity than in the normal home so humidity trays are a good investment if you plant to try one of these plants.
There are a number of different types of these Paphs, but the most common are
1. Vinicolor which you might guess from its name is a dark red color all over, sometimes with striping on the dorsal sepal. Some of these flowers can look almost black they are so dark.
2. Coloratum which in general resembles
Paph. Calosum
and has white on the upper part of the dorsal with red and green or yellow on the pouch.
3. Flame Vinicolor which has both dark red and pink in the flower and can be very attractive.
4. The Alba version is all green and white, often with green striping on the dorsal.
These hybrids are generally accepted to be fairly easy to grow and are fast growing for Paphs. They develop into blooming size plants in a much shorter period of time than many other varieties. They are also some of the least expensive of the Paphs as a result of their good growth habits.
These plants are considered to be among the warmer growing Paphs and require night time temperatures of 60-65 degrees Fahrenheit, or 15-18 Centigrade, and daytime temperatures of 80-85 degrees Fahrenheit or 26-29 Centigrade. Light requirements are approximately the same as Phals with no direct sunlight on the leaves. They should be grown wetter than other orchids and never allowed to completely dry out. They are particularly well suited to hydroculture. Be careful with fertilizer as you can easily burn the roots of these plants—use approximately ¼ of the strength recommended. Repotting should be done annually as they seem to like to be moved.
For a photo gallery of Maudiae hybrids visit
Slipper Orchid Photo Gallery
. The Maudiae types are found at the bottom of the page.
You Should Also Read:
Paphs
Mini Slippers
Paphiopedilum or Slipper Orchids


Related Articles
Editor's Picks Articles
Top Ten Articles
Previous Features
Site Map





Content copyright © 2019 by Susan Taylor. All rights reserved.
This content was written by Susan Taylor. If you wish to use this content in any manner, you need written permission. Contact Anu Dharmani for details.