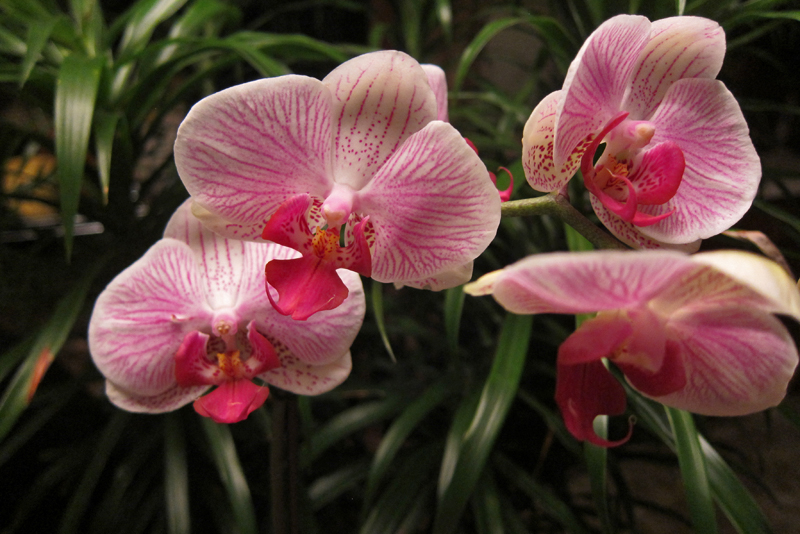 Paphiopedilum, pronounced paff-ee-oh-PED-ih-lum, are a form of the well-known Lady Slipper Orchid. They come in warm growing and cool growing as well as single flowered and multi-floral varieties. The single-floral varieties are better for home growers since the plants generally remain fairly small while the multi-florals can reach quite impressive sizes. Here is a link to a picture gallery (about half way down the page) of Paphs:
Paphs on Orchid Closeups.
I like the mottled-leaf varieties because the foliage is attractive when the plant is not in bloom. Many of these plants will have a reddish cast to the back of leaves as well as nice markings on the fronts and can be mixed in with other houseplants to achieve an attractive grouping. They are well known for being perfect for indoor windowsill growing for a number of reasons. Most are not particularly large, they prefer the lower light ranges but will still flower, and are not hard to grow. Their flowers can last for up to eight weeks with proper culture.
When looking for a Paph, you are better off getting one where you can see the flower open before purchasing. These orchids are so individual that in many instances that it is the specific flower which is beautiful to a grower while another doesn't like it at all. If a grower has many plants of the same plant, pick one that is budded and just about ready to open so you can enjoy the flower for the greatest length of time. Once the bud is ready to open it is already matured and is fairly strong. Don't subject it to sudden changes in temperature such as cold and heat when transferring from the grower to your environment. Direct sun in its growing area will cause the buds to dry up and lack of humidity will also cause the flower to fall more quickly.
Paphs are terrestrials and need soil which retains its water so that the plant never dries out totally. They have very fine roots that cannot be allowed to dry out or they will wither. Most people water twice a week in the summer months when there is plenty of light available and once a week during the winter months when there are fewer hours of light for the plant. The best test is the "pick up the pot" test. If the pot feels light, water. If not, then give it another day.
Paphs are sensitive to salt buildup so if your water is hard, water with rainwater or with distilled water. After the plant has finished flowering, go ahead and repot on a yearly basis. They are well known for liking to be repotted and some growers do it several times a year.
For more information on Slipper Orchids, join
The Slipper Orchid Forum
which has experts to help with your questions.
You Should Also Read:
Enough Light for Orchids
Repotting Your Orchids - Paphopedliums
Water Quality


Related Articles
Editor's Picks Articles
Top Ten Articles
Previous Features
Site Map





Content copyright © 2023 by Susan Taylor. All rights reserved.
This content was written by Susan Taylor. If you wish to use this content in any manner, you need written permission. Contact Anu Dharmani for details.