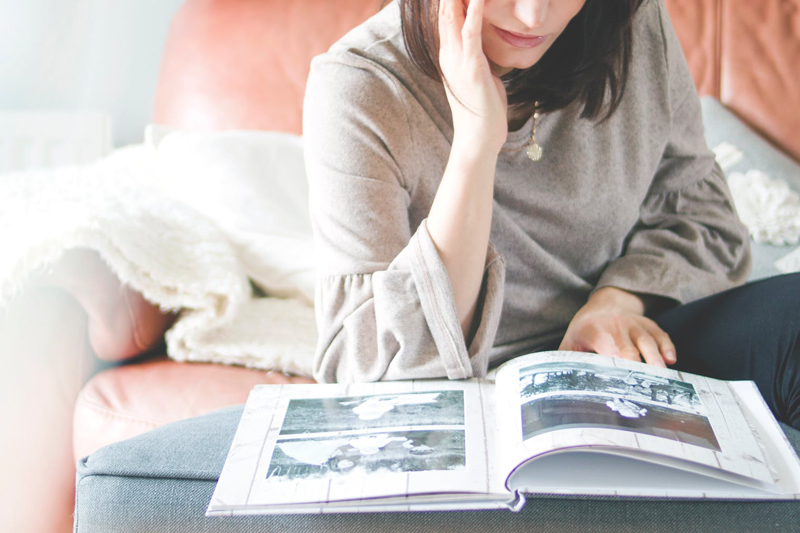 Scrapbookers take photos of their family, friends and events. But who takes photos of the photographer? Many scrapbooks are made with very few photos of the person who created the album. So the creator should add a scrapbook (or at least a layout or two) about themselves.

The photos should be of the scrapbooker. They could ask someone to take their picture or they could do selfies (photos taken by the same person as is in the photo.)

What kind of layouts should a scrapper do for their self-album? One suggestion might be a day-in-the-life type layout. The scrapper would write out what they do in a typical day (or maybe a not-so-typical day.) They could ask someone to take a photo of them at work or at their kids' school. Or, they could do a layout about their favorites. If someone would take a photo of them in a favorite place, that would be perfect to add to a self-scrapbook. Another example, they could have someone take a photo of them (with or without their scrapbook group) as they scrap or holding a special layout. Any of the above could be a series of layouts if there are enough photos.

If there is no one to take photos, the scrapper could always try to find or take photos that represent their favorites. They could add photos of the things, like coffee cups or places, like the office, that are part of that typical day. They could also use a photo of their scrap space or tools. They could add a poem or other journaling to describe how they feel about their craft.

What are some other examples of things that could be self-scrapbooked?

1. Personal statistics – age, birth date, location of birth, marriage(s) including date and place

2. Special events – wedding, birth of children, special job event, a special trip, awards ceremony, or milestones reached.

3. Feelings and thoughts – scrapbook about feelings that are important to you, maybe write a letter to the children, why they scrapbook, or collect meaningful thought or quotes. Some scrapbookers create layouts about their faith or even sad events. The point is to capture the feeling.

4. Lastly, anything that they might save for someone else in their album. It may be the important, the funny or quirky, events, songs, photos of friends (girlfriend time), sports, travel, etc. The list could go on forever. If they would save it for someone else, they should save it for themselves also.

Why would anyone want to self-scrapbook? Think about this, if the album is made for children, which many are, and there are no photos or information about their mother (typically the scrapbooker) what will they have to remember memories of and with her? It is important to include the scrapbooker as part of the history!

Also, add journaling to everything in the self-scrapbook. It is better to add more journaling in this type of album than other albums. Let the person looking at the pages learn something about the scrapbooker. If it is a more personal album, the scrapbooker may want to try hidden journaling or even keep the album away from public viewing.

Remember as scrapbooking is a hobby that records memories, even history, it is important to include the scrapbooker in the albums! How funny it would look to have a family album with one of the children missing? That's how it looks when the scrapbooker or photographer is missing too.


Related Articles
Editor's Picks Articles
Top Ten Articles
Previous Features
Site Map





Content copyright © 2022 by Kathleen Rensel. All rights reserved.
This content was written by Kathleen Rensel. If you wish to use this content in any manner, you need written permission. Contact Michelle McVaney for details.