Guest Author - Kerry Estey Keith
You've seen the pictures: the water looks like cotton candy and there is a gentle mist lying on the rocks. Capturing soft flowing water or motion blur is easy in shutter priority or manual mode. With a neutral density filter or two, a tripod, a cable release and a manual camera you can create beautiful photographs worthy of being hung on the wall.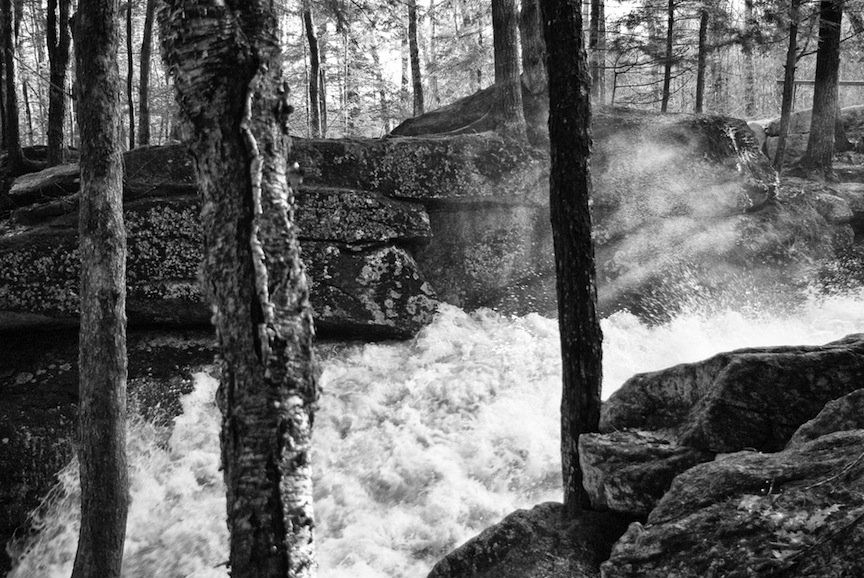 Above is a picture of flowing water taken with a fast shutter speed. The light was fairly low (late afternoon). The lens being used was a 28mm lens. There were no filters involved and the aperture was opened as wide as possible (f/4 for this lens) to increase the light and allow for a quick shutter speed. The camera was set to manual, aperture adjusted (f/4) and shutter speed set at 1/180 of a second. This photo was taken with a tripod, but at this speed one would not be necessary. As you can see the water was stopped and droplets are visible. This is generally what you get if you take a snap shot.
The photo below was taken within minutes of the first photo. The light was the same: low. The tripod was in the same position.
To capture a photo with soft water, you will need a neutral density filter of ND4, ND8 or greater. What this means is that you want to block out as much light as possible. You will also need to set your aperture at its tiniest opening: between f/28 and f/38 depending on your particular lens. You absolutely must have a tripod for this exercise to work. Use a cable release if possible.
When your camera is set up on your tripod, your ND filter is in place and your aperture is set, you will consult your light meter. If you are on shutter priority, the meter will pick the shutter speed for you. If you are on the manual setting you will now adjust your shutter speed. Depending on the strength of your neutral density filter and your existing light, your shutter speed could be anywhere from 5 seconds to a minute or more. The above photo was taken with a 28mm lens, an ND8 filter, and an aperture of f/27. The shutter speed was set at 30 seconds.
Shooting good long exposures takes some time. One of the most wonderful things about shooting with a digital camera is the ability to check in with the results immediately. This above tutorial will work with a film camera as well, but the results cannot be checked until the film is developed.
I encourage you to explore new ways of capturing images. As a photographer, the more techniques and experiences you have to fill your tool bag, the better. I also urge you to share your results or experiences on the forum created for this very thing! Please share we love to see photos.