Good Luck Goldfish - Art of Samantha Lockwood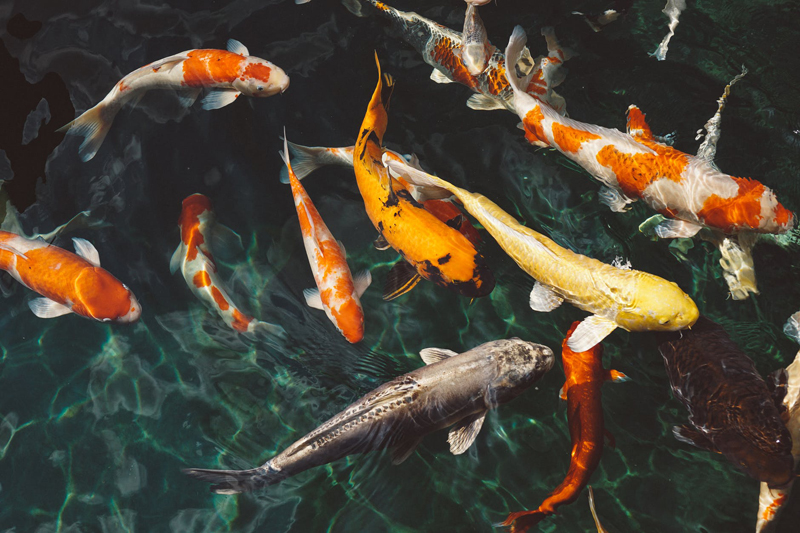 Goldfish make the best pets! Well, and also Angelfish, Cyclids, and Betta Fish - according to Samantha Lockwood, our celebrity artist of the week! She has a deep love for wet pets and has had a passion for marine biology and for breeding and caring for fish for many years.
She also creates marine-themed fine art. Her painting entitled "Good Luck Goldfish"(see image of painting below), which you can see on her gorgeous website at https://www.samanthalockwoodart.com/ is a wonderful example of her love of goldfish and other fishy friends. She told me that there is a story behind each one of her beautiful paintings. In the case of "Good Luck Goldfish", the story is one that we fish-enthusiasts know all too well. It's the story of the love and appreciation of a beloved fishy. There are two incredibly beautiful fancy goldfish in the painting and one of them is sick and cannot get to the top to eat. The amazing true story of friendship is that the other goldfish bumps the sick one up to the top to get food! This is such an encouraging story of hope and friendship and the goldfish are profoundly and strikingly lovely and will touch your heart.
We know how heart-breaking it is when one of our fish is sick. This is an all-too-common problem with our pet fish. Many times, this happens and the fish cannot get to the top to eat. Thank goodness that Samantha Lockwood had the vision and the tenderness of heart to paint that exact moment that communicates the power of love and friendship and shows that our fishy friends feel love, too. We know that in our hearts;but, this story proves it. Take a look at Samantha's website for more marine-themed fine art and art items. For anyone who is a fish lover, this is a great collection of aquatic art created by Samantha, who has a deep interest in marine biology and a lot of experience with fish-keeping. Her passion for this subject shines through her art and touches your mind and emotions if you love fish, too.
In fact, a bit of useful advice from Samantha in what she calls her "secret to most sick fish" is to have a "sick fish tank" - a hospital tank! She suggests that you can "fix" several fish at once because "A lot of sick fish stuff they sell fixes several things at once." I agree, and some more common sense advice from this charming artist, Samantha, is to "raise the temperature [in your hospital tank] to 80 - 82 degrees fahrenheit." She adds that this "makes their natural immune system better." In my interview with Samantha, she also said that in the hospital tank, be sure and use a sponge filter - it makes it "bubbly" - definitely do not use biological filtration because it has the opposite effect.
Please check out her fish art on her art website. She's a friend of fish and fish-lovers, as all of us are here at the Fish Site at BellaOnline.com. Water, water everywhere - even on your earlobes! (She also has created some water-themed earrings that are fabulous!) Samantha attributes much of her success in life to her devotion to Bikram yoga and is an accomplished Yogi. Relax in front of your fish tanks and repeat after Samantha and me: Ooooooohhhhhhhmmmmmm... Fish-keeping is a very Zen way of life and will help keep you living in every wondrous moment of your life!
Check out Samantha Lockwood in her new film "Shoot the Hero" making its world premiere at the Palm Springs International Film Festival! Click on the Film Festival link below for a film clip of the movie.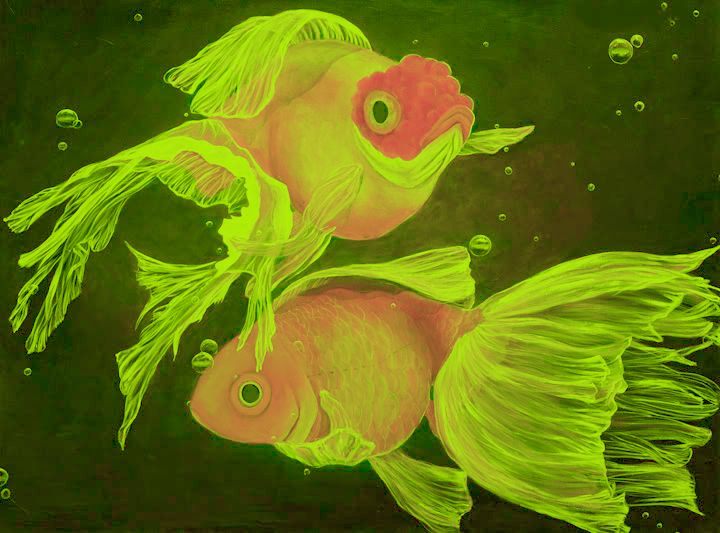 You Should Also Read:
The Importance of Clean Water For Betta Fish


Related Articles
Editor's Picks Articles
Top Ten Articles
Previous Features
Site Map





Content copyright © 2022 by Mary Brennecke. All rights reserved.
This content was written by Mary Brennecke. If you wish to use this content in any manner, you need written permission. Contact Mary Brennecke for details.