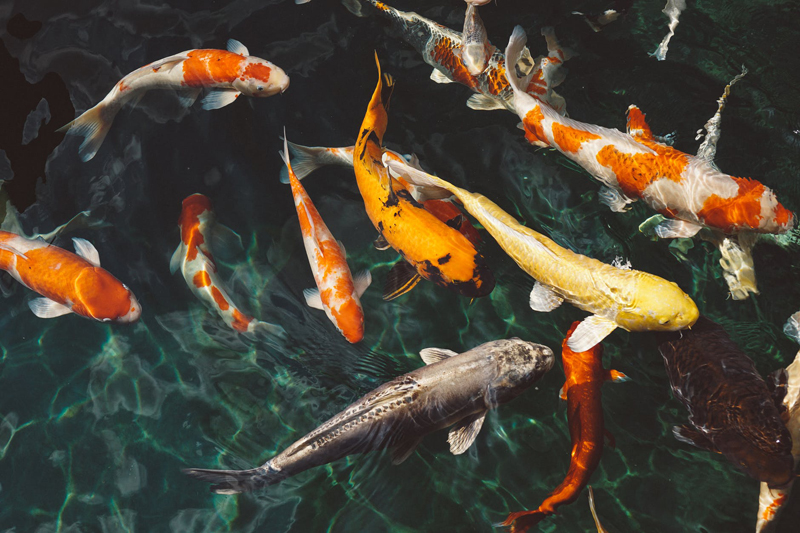 Would you keep Koi fish in an aquarium? It's possible, but there are some things to consider.

Please realize that Koi can eventually grow to be as large as 3 feet long. It would be unreasonable to keep a fish that large in an aquarium unless you had an aquarium that was quite large.

For example, for a one-foot-long fish, you would need a 100 gallon fish tank.

That said, you could have small Koi fish in a tank. That's how they raise Koi fish in Japan before they are shipped out to be placed in ponds.

If you have a 200 gallon tank, you could keep 2 12-inch koi fish. Of course, you would need to make plans for their habitat when they grow to be bigger. People who keep their Koi in ponds outside - depending on where they live - do make other arrangements for their Koi in winter.

Your beloved fish will need a water filter that is the right size for your aquarium. Clean water will allow you and your Koi to avoid many fish diseases that will cause heartache for you and possibly death of your fish.

Koi fish eat a lot and produce a lot of waste. This is why you need to keep the water very clean for the health and safety and happiness of your Koi.

You will need an external power filter or you will have a cloudy tank.

You will also need to use granular activated carbon in your filter.

A biological filter is also necessary. Your underwater filtration system should be cleaned weekly with a gravel vacuum.

Remember that Koi fish are jumpers. You must have netting over your tank to avoid disaster.

With a few basics in mind about your beautiful Koi friends, you can enjoy their shimmering swimming as they dance through your aquarium until you have their pond ready.






You Should Also Read:
The Importance of Clean Water For Betta Fish


Related Articles
Editor's Picks Articles
Top Ten Articles
Previous Features
Site Map





Content copyright © 2022 by Mary Brennecke. All rights reserved.
This content was written by Mary Brennecke. If you wish to use this content in any manner, you need written permission. Contact Mary Brennecke for details.