Building a Tatting Library - Lady Hoare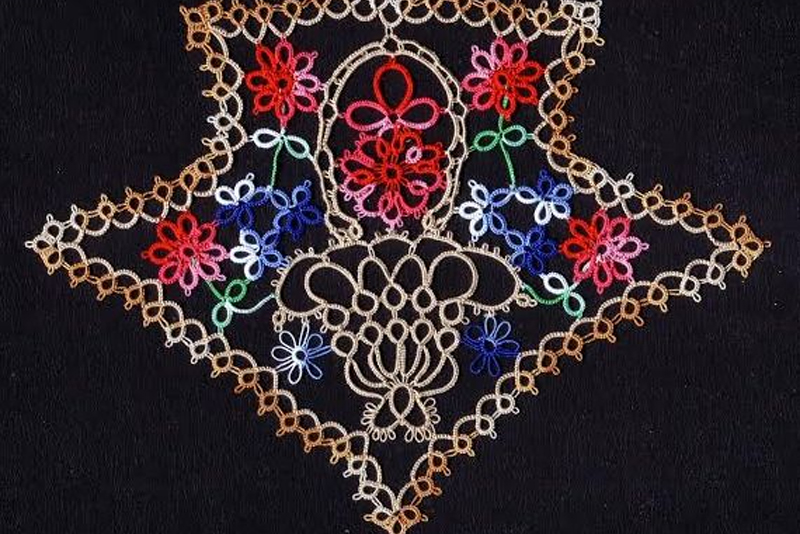 The Art of Tatting...A Tatting Book without Patterns
Lady Katharin Hoare's book, "The Art of Tatting" (1910), stands out among the vintage tatting books because it has no patterns at all. It is instead filled with 54 black and white plates of inspirational tatting. The tatting was accomplished both by Lady Hoare and her friend, Carmen Sylva, a pseudonym for Her Majesty, Elisabeth Queen of Romania. The tatting styles are varied. There are samples of card cases, collars, christening gowns, and bed coverlets vying for attention next to religious pieces such as chalice covers, altar veils and bible covers.

At first glance a tatter will marvel at the work, especially the tatting done with real gems and pearls and silk threads. A moment of wistfulness follows as the tatter longs to be able to achieve such delicate work. Too often the book is closed at that point and the tatter goes on to other books with contemporary patterns, written directions and diagrams. But this book deserves a second look.

A closer examination of plates 21 - 24 will bring a smile to the tatter's face as some familiar patterns are recognized. Hen and Chicks and other one shuttle patterns are shown nestled next to the common cloverleaf. A standard snowflake floats by an insertion of faux split rings. The classic wheel tumbles across a page filled with ring and chain edgings. Delicate mignonette contrasts with tatted squares and points heavily outlined with the humble chain.

Any tatter who has mastered the ring and chain could tat these designs. Indeed, the designs can be improved upon by using modern tatting techniques such as the split ring, mock picot, split chain and self-closing mock ring.

I found myself drawn to several examples of tatting appliquéd to net. The tatting is very free-form, fluid and flows across the netting like a tree branch laden with flowers. The lace was sewn down and then the netting was cut away. Some samples have two styles of netting joined by the tatting and others have additional embroidery or lace darning on the net itself. But no matter how complex the design appears, it all begins with the humble ring and chain.

Samples from the book, "The Art of Tatting."

R = ring
CH = chain
- = picot
+ = join
clr = close ring
rw = reverse work

From plate 23, the mignonette edging:
Using one shuttle, Row 1
R 2 - 2 - 2 - clr Leave 1" space.
Do not join rings, repeat for length desired, turn
Row 2
R 2 - 2 + (join to the bare thread space between the rings of previous row) 2 - 2 clr. Leave 1" bare thread space.
Repeat row for width desired.

From plate 23, an appliqué motif:
Using two shuttles, Cloverleaf
R 4 - 4 - 4 - 4 clr Leave no space, do not rw
R 4 + (join to last picot of previous ring) 5 - 5 - 4 clr
Leave no space, do not rw
R 4 + 4 - 4 - 4 clr do not rw
CH 6, do not rw
using shuttle 2 R 5 + (join to last picot of previous ring) 5 - 5 - 5 - 5 clr
do not rw
CH 6 - 6 - 6 - 6 - 6, do not rw
using shuttle 2 R 5 - 5 - 5 - 5 + (join to first ring of cloverleaf) clr
CH 6 and attach to base of cloverleaf.

Ed. note. I acquired this book for my private reference library nearly 30 years ago.
You Should Also Read:
Building a Tatting Library - Standards
Building a Tatting Library - Techniques
Changing Tatting Shuttle Styles (Lady Hoare shuttle shown)


Related Articles
Editor's Picks Articles
Top Ten Articles
Previous Features
Site Map





Content copyright © 2019 by Georgia Seitz. All rights reserved.
This content was written by Georgia Seitz. If you wish to use this content in any manner, you need written permission. Contact Georgia Seitz for details.