Cut Flowers from Containers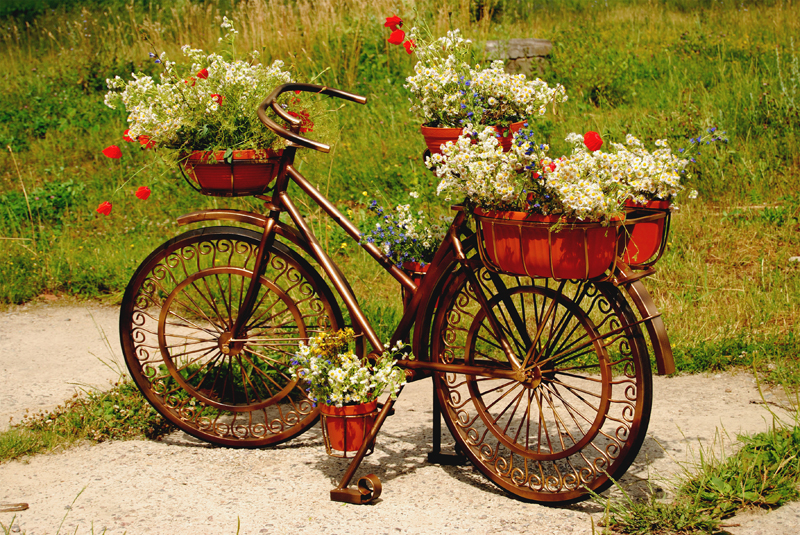 One of the pleasures of your 'cut' container garden is to have fresh cut flowers in your home just because. And why not? It makes it even more special when you can say that you grew them yourself!

As a kid growing up on a farm in Zimbabwe my mom used to go around her garden just picking bits of everything so each (or most) of our rooms in the house had a vase of something … always. These were not fancy or formal flower arrangements but an array of scents and looks and textures and colours and leaves and all and all. I remember daisies tightly packed around the mouth of a glass with a spray of bougainvillea sprouting out from the middle, or a single arum lily with a rubber plant leaf as backdrop. Of course there were times when the pickings were slim, but then dry grasses with a single available bloom or rosemary stem looked good.

Having one or two or more containers filled with plants that will offer you flowers for a vase is a nice idea and because your containers are not massive beds with swathes of plants (!) you want to be careful not to diminish the deck by cutting too many – leave some for the outside, just share is what I mean.

And then how do you make those cut flowers last longer?

Well; there are commercial products available from florist shops and supermarkets but there are also actions you can take and substances you can use readily from the kitchen and bathroom that may work just as well. Always cut your flowers very early in the morning (sap pull is at its best then) when flower stems are usually turgid. Cut, don't pull or break or tear or up-root; cut the flowers and leaves neatly with clean kitchen scissors or secateurs. Have a bucket of water with you as you cut and plunge the cut flowers straight in. This stops the flowers from 'sealing' up and thusly preventing water intake. You want to avoid fresh cut flower wilt. Before arranging your blooms in the vase, treat the stems again but cut them at an angle so that they do not stand at the bottom of the vase thereby preventing water intake.

The water you use is an important factor as is the preparation of the stems of the cut flowers, and as much as a lack of time often dictates that we just plonk them in a vase and run on to the next home chore, if you want them to last longer then read on…

I have used 1/3 Sprite/lemonade to 2/3 tepid water with much success. My Gran used to put a teaspoon of sugar or honey into soda water too. Am not sure the bubbles were necessary but the sugar/honey acted as an anti-bacterial medium which helped stop breakdown and clogging of the stems. A crushed Disprin or aspirin also works though I am not sure why and there are those who just smile at this suggestion. If you know, please go to the forum and tell us all. Thanks. I have also heard that a good splash of vodka (no smell, unlike gin or bleach) also does the trick and this is because the alcoholic vodka keeps the water 'clean.'

Other actions include snipping the stems underwater daily to reopen any that have sealed themselves off; placing specimen plants like lilies and roses in water right up to the flower; changing the water daily; allowing only stems underwater, no leaves to decompose and 'dirty' the water … ethylene gas emitted by dying plant material will affect other blooms in the vase, so remove these daily as you tidy up. Pricking soft stems with a pin all the way up allows even water intake and stops air bubble locks too.

A friend of mine changes flowers in her house weekly and whether or not she gets flowers from a florist or from her patio garden, in preparation for her new fresh cut flowers; the day before she will place a tin bucket of water in the hot sun to roast (her term). She says her Solarsun water is energised in this way and her cut flowers thrive in this naturally treated water. I think I will try this next time and see.

You can slit/cut the bottom of the stems as well; keep your flower vases out of the wind, touching 'hot' glass windows or in direct sunshine. Also keep them away from heat sources like heaters, electrical appliances like the TV or fans. Do you have any spare marble or granite stone tiles left over? These are cool coasters for vases and work a treat. Elastic bands put around base of carnations will retard their opening out too quickly; and they say to crush woody stems will allow for good water intake too.

For a bit of whimsy you can get a magical effects by adding harmless food colouring to the water and see what happens! The kids'll love it. Warmish or tepid water is better than freezing; and of course using clean vases and receptacles is a given.

You can extend the vase life of flowers that ooze a milky 'sap' (like poinsettias or poppies). By immersing the bottom two inches/5cms or so of their stems in boiling water for 10 seconds before use you will seal off further leaking, as you do not want this sap to get into your vase water. It will upset other blooms and you will lose your vase'o'flowers very quickly. Some people use oasis (green gardening foam) cut to the size of the base of the inside of the vase to help blooms stand up straight and ensure water availability.

What do you want your container garden to do?



Related Articles
Editor's Picks Articles
Top Ten Articles
Previous Features
Site Map





Content copyright © 2022 by Lestie Mulholland. All rights reserved.
This content was written by Lestie Mulholland. If you wish to use this content in any manner, you need written permission. Contact Lestie Mulholland for details.