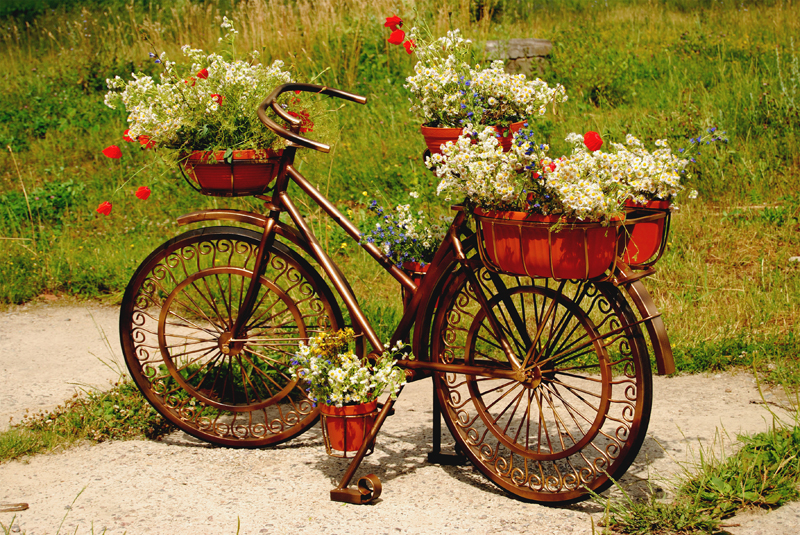 Essentially Climbers are plants that have modified parts of their leaves or stems to use other plants or things for support. This is done of to get their flowers off the ground and out of the pot so that they can reach the light and grow. Thusly, the stem of any climber is usually soft, flexible, maybe twisty and turny but strong, and the way they climb or cling will affect your choices of plants and their uses in your container garden.

Basically, there are five ways that climbers climb.

AERIAL ROOTS
These plants, like your common or garden ivies, can adhere to rough surfaces such as brick walls or concrete surfaces and once they are established they do not need any other support. They can also climb up (and fall over) trellises or tree trunks as well as long as the trellis is strong and well placed. They use aerial shoots to cling and climb but they also make nice spillers as the varied leaves and leaf sizes and colours cascade over the edge of containers, out of tree trunks and embankments too. Aerial root creepers find themselves all over the place (yay) and seem to have their own homing device built in. They are usually fast growers and to get them growing upwards, unless you can thread them through trellis slats, you may need to support them with removable garden tape, cable or stocking ties until they find their feet.

Self-clinging SUCKER PADS are what the Virginia Creeper uses to climb all over the surface of something. As beautiful as this creeper is, it dies back completely in winter so you would need to think about this carefully for your small garden plan and make sure you have an alternate idea in place for the 'ugly' months. For this reason a Virginia creeper would not be my choice. Besides, their sucker pads leave marks behind on walls that you cannot get rid of and they can damage said walls especially those with soft mortar. Still, our local health clinic has one of these growing along the entrance wall walk away, and it really does look bushy-green and calming for all. They repaint this stretch of wall during the winter so they keep up with maintenance regularly and this plant does look spectacular in the Autumn.

Tightly wound TENDRILS
Tendrils are actually modified leaves that twist tightly around thin supporting wires, fencing and even other nearby plant stems, especially when they are young. There are many plants to choose from in this category, such as mutisia, vitis and sweet peas. Have you seen a granadilla creeper lately? I have seen this used to hide an ugly wall. The lady in question has two large open square cedar wood containers on either side of her 30 foot patio with a supported trellis set slightly away from the wall. Her granadilla plants grow towards each other and give such a great backdrop to her other tiered containers in front. And then there is the fruit for picking, a delicious double-up plant to have on your verandah. I think tendril climbers and creepers are very pretty and the choice is zone-friendly, wherever you live.

TWINING STEMS
Twiners are plants that have thin young shoots that twist around other plants or supported thin wire/wooden trellises. If you want them to grow over something wider, they will need a bit of extra help (gardeners twine/plastic clips) to start, but will then need careful pruning and tidying up regularly so that they do not fall down. Convolvulus, wisteria and runner beans fall into this category. Watch out for convolvulus though; keep it in good trim and check. I grow it with much success and I love it, but it is not called bind weed for nothing!

SCRAMBLING CLIMBERS (aka Scandent plants)
These fast growing plants are those that produce shoots which grow through or over other woody plants (rocks and bumpy surfaces) using them for support. They often have thorny shoots like rambling roses or clematis. For instance Clematis uses the stems of its leaves (petioles) to anchor itself to a support plant while scrambling to grow over in-between or outwards; so if you are going to choose a clematis for any reason for your container garden, make sure that the supports you provide will allow for this kind of scrambly clinging. The plants in this group need a bit more maintenance than the others (pruning and tidy ups) as they can 'take over' in their enthusiasm to strut their stuff. They are excellent plants for pergolas and archways and such.

The containers that are better suited to climbers are large enough to support their growth, sturdy and square. Square? Helps with creeper balance and retards plants getting root bound 'too' quickly in the sense that the roots do not grow round and round on themselves in ever-tightening circles.

There will other articles on creepers and vines where we will speak about their other attributes for the container gardener, because as with everything, there are advantages and disadvantages to everything.

What do you want your container garden to do?



Related Articles
Editor's Picks Articles
Top Ten Articles
Previous Features
Site Map





Content copyright © 2023 by Lestie Mulholland. All rights reserved.
This content was written by Lestie Mulholland. If you wish to use this content in any manner, you need written permission. Contact Lestie Mulholland for details.