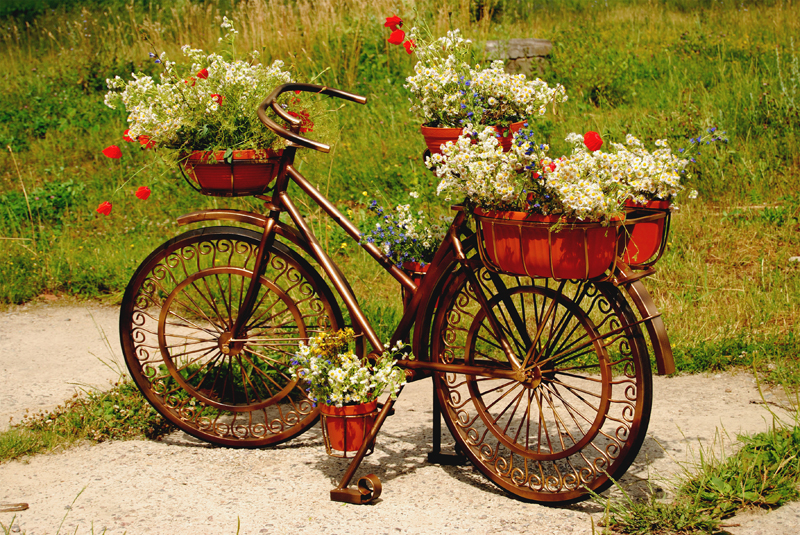 A friend of mine had a blocked drain outside her kitchen just next to her one herb container. She brought drain cleaner, cursorily read the instructions, determined how much to use and what to do. Well she threw a bit more than the tin said (the drain was really blocked) and then followed it with a pot of boiling water to wash it all down thus to clear the drain. As she was standing up and looking towards her dog the drain exploded all over the one side of her face and shoulders. The medical people at the clinic said she was lucky not to have lost her eyesight and she nursed some really mean chemical burns which will leave scars.

Turns out she was not supposed to use hot water but COLD water. The instructions specifically said so. Now what has this got to do with gardening in containers? Not much I suppose except that we may use chemicals and other hazardous substances in our gardens and anyone could make a similar mistake. I guess I got the shock and certainly learnt a sharp lesson through her misfortune. In general, I do not think it is because we think we know better, I just think we may become careless and perhaps a little complacent. Here are some things to keep in mind which may make your gardening actions and environment more safe.

BOUGHT NEW GARDEN TOOLS? Maybe you just got a new spade or cutters or loppers. Read the general care commentary and instructions. Make sure your tools are in top condition or replace them. Watch out for sharp edges. The manufacturers' warnings and advice and instructions are important guides and anyway will affect guarantees and warranties.

USING ELECTRICAL APPLIANCES? Are you thinking about using your drill to make a planter, set up a water feature, make holes in a container or putting up a shelf for your herb pots? Are you building a raised planter and maybe using a sander? There are so many tool examples and questions I could ask but have you used one of 'these' before? Are you familiar with the action, the weight, the end result you seek? Have you unwound the extension cord fully? Are your electric plugs correctly wired? You already know that water and electricity don't go together so don't use power tools in wet places or in rainy weather. At the end of your day? Too tired to concentrate? Leave the job until tomorrow.

WEAR THE RIGHT PROTECTIVE CLOTHING. When doing your DIY projects make sure you have the right gloves for the right job (if you have pruned your roses without protection you will remember the thorns). What about eye-goggles for spraying? Or a nose/face mask when planting or mixing or using any toxic substances. Do you have a protective apron? A hat for hot summer days. Use a garden seat and/or knee protectors when weeding and so on.

SPRAYING ON THE BALCONY? Good gardening practice notes that spraying in the morning to 10h00 and then later after 15h00 is best. Why, because the heat of the day affects the efficacy of many sprays and may make them harmless and or burn leaves. When spraying, do not inhale the spray and look away to protect your eyes. Watch what the wind is doing. Never buy odourless sprays.

USING FUNGICIDES and HERBICIDES? If you can't go green then please use the least toxic chemicals you can; consider short-lived toxins that breakdown easily. Always follow exact measurements. Don't guess. Don't say or think "that's about right." Always follow safety instructions carefully, the manufacturer knows best. Always read the inserts and dosages required, always work in the open air, and always use the right products for the right reasons.

DISPOSING OF CHEMICALS and fungicides etc. that are past their 'sell by' date is really important, doesn't matter what they cost. Do not throw them away with normal refuse and garbage. Recycle them properly. Many garden centres will do this for you. Batteries? Old oil? Same thinking.

STORING CHEMICALS? This will include good housekeeping in your garden shed or wherever you keep paints and thinners and paraffin and turpentine and all. Watch out for leaking containers. Cracked plastic. Store in correct conditions (usually cool and dark) and do not leave them outside in the sun, under the deck or wherever, where they could leach into the soil; who knows how this can affect your surrounds or edible garden pots?

LIFTING HEAVY THINGS like moving your pots and containers around? Lift from your knees, do not use your stomach, and protect your back. Use a wheelbarrow, a garden trug or a drop-nose trolley. Get help. Don't be impatient, plan ahead.

I know you know all of this, it is just that we may not always follow out own good judgement. Minimise your risks. Follow simple safety measures and use common sense. You have this in abundance, just think. Watch out for yourself, your children and your pets. Please do not become careless or complacent or cavalier. It is so easy and can catch you when you least expect it.

What do you want your container garden to do?

...............................................................................

CASUAL VISITOR … and just browsing? Why not sign up to the Container Garden newsletter? It won't matter what space or how many pots you have or even how much time you have to spend in your container garden; what will matter is that you get our reminders hot off the press and get good advice and ideas all in one easy read.

Join now, it's easy and your privacy is guaranteed.






Related Articles
Editor's Picks Articles
Top Ten Articles
Previous Features
Site Map





Content copyright © 2022 by Lestie Mulholland. All rights reserved.
This content was written by Lestie Mulholland. If you wish to use this content in any manner, you need written permission. Contact Lestie Mulholland for details.