CD review - Julie Christmas - The Bad Wife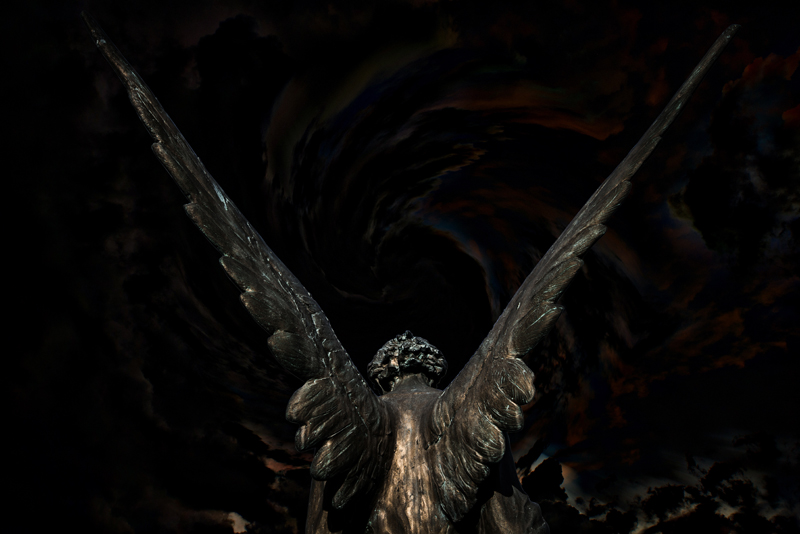 I take my music pretty seriously --- if I'm not watching the tube, there will always be something blasting in my ears. And I listen to a wide range music for a lot of reasons. Hard rock and metal usually gets me through an extended trek on the treadmill. If I'm in a nostalgic mood, I'll throw on some of the songs of my youth. Reggae helps me focus for an accounting-type task. Hip-hop keeps some of the more repetitious jobs at work from swallowing me up. Even some trashy, bouncy pop drivel will do the job to make a wait in traffic go by faster.
Then there's that select small selection. It's the one which makes music the most important thing in my life; the material that I don't simply want to listen to, but rather the music I
need
to keep my time above ground in the black and away from the red. I'm not talking about "something that feeds the soul" or some other yuppie/new age mantra. I mean the special stuff that Dr. Frankenstein used to breathe life into the monster --- an electrical charge in the guise of notes. The music that usually escapes category, not by choice but necessity. Don't bother trying to cage or corral it; it's just too elusive. It's the color that fills up the black and white drawing of every day life --- the computer code that makes static stick figures on a screen become animated.
I don't mean just plain weird music. There is a lot of stuff out there which is intentionally bizarre because
some
people have an aversion to conformity. No, I'm talking about music that is left of center because that's what its creator's musical DNA dictates; artists whose internal metronome beats with a synchronicity seemingly stolen from an unconscious wish list crafted in one of my most inspired deep-sleep moments. People like Bjork, Tom Waits, and Deep Forest. And especially
Julie Christmas
.
Julie is one of those people who doesn't merely write music. She just assumes the position and emotes. It's like grabbing a bicycle in the Swiss Alps and going for a ride minus the helmet. Without thought of directions and safety, she knows this won't be a mere ride but an adventure. Devil may care, indeed. Home may be the ultimate destination but the path to get there is not predicated on a road map. There is no intent --- there just
is
. "Do or do not. There is no try." OK, that was Yoda but you get the idea.
Her band Made out of Babies set her on the path and instantly she shed the training wheels, branching out even further into the abyss with Battle of Mice. By the time Made out of Babies gave birth to the bawling offspring that was
The Ruiner
, it seems that Julie may have had a realization. By throwing in the occasional traditionally melodic vocal line, it actually created a heightened sense of dynamics, in turn increasing the potency of the venom coursing through an increasingly large snake-bitten fan base.
A fascinating expressionist, Julie is not always simply singing. Sometimes it seems she is just pushing her energy out of her body. It may come out in words. Other times it can take the shape of growls, screams, or whispers.
Which brings us to
The Bad Wife
, her first solo record. Eager to expose parts of her that didn't fit previous projects, this collection is a musical Joan of Arc. Intrepid as Magellan, Julie set her ship into the swirling brine, anxious to discover new shores. Using her compass to find all the best ports, she was able to trade goods with the natives.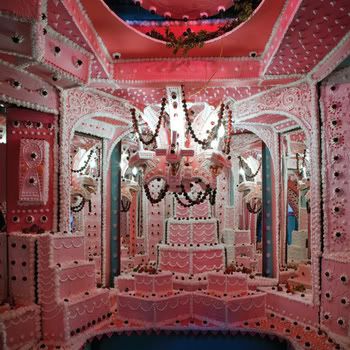 First stop Paris, where Jacques Brel's "If You Go Away" (it was actually written in French and translated into English for other artists) finds Julie tackling a song that is seemingly out of character for her. The line "For what good is love, without loving you" especially sticks out.
The sentiment is sort of chilling if you're familiar with Julie's previous work. Who'd be crazy enough to leave Julie Christmas? Ever see the movie "Fatal Attraction"? I get that vibe. Need more proof? Check out the lyrics from "Bones in the Water" by her ex-band Battle of Mice: "Every time I think of pushing you down the stairs, I lick my lips. But don't be upset. It's the only way I know how to show you that I really care." (shudder) Fortunately the melancholic melody of "If You Go Away" tugs at your heart and you forget the dangerous side of Julie and instead want to rush to give her a hug. Don't succumb folks. I don't think the payoff is there.
"If You Go Away" is actually the second on this nine-song set and preceded by the haunting "July 31". The tranquil intro makes you drop your guard for a minute before you enter the minefield. Julie explores both ends of her voice here to great effect. The quiet parts really pull you in and then when she turns it on you just want to dive deep into each note.
Fans of Made out of Babies will revel in "Bow" which is one of several songs most like that band…aggressive. The song is matched by a terrifically entertaining video as well. You can witness a real live sasquatch-type creature and Julie sacrifices herself allowing the monster to absorb her goodness, sparing the rest of us. Don't agree with my interpretation? OK, you make up a premise from this Alice in Terrorland tale.
One of the two highlights of the record is next. "Secrets All Men Keep (Salt Bridge Part II)" sounds like a sober look at a soured relationship. The melody lines are absolutely gorgeous and show that Julie has quite an impressive sense of beauty within the beauty rather than just the beauty within the horror.
"Six pairs of feet and one pair of legs" is clunky and wonderfully awkward, musically-speaking, building almost military-style towards the end. The conclusion is as dramatic as the ending of the movie
Dancer in the Dark
where Bjork's character is hanged although up to the moment you had still expected her to get a reprieve.
"Headless Hawks" features Made out of Babies on this track and the Tobin/Cooper combo is a familiar rush of sound. "The Wigmaker's Widow" is dazzling with an accordion and piano (that's right) leading the way. The emotion emitted from this song is almost palpable, making this song another of the high points.
In a bizarre move, Julie covers a Willie Nelson song "I Just Destroyed the World" and turns it on its head. This is nowhere near country, making it a really inspired transformation. Although the lyrics to this song talk about verbal destruction, you almost get a mental black and white picture of Julie sitting outside a pile of smoking rubble, flicking a lighter case open and closed while tears are streaming. That may just be me however.
The curious "When Everything's Green" closes the set. Slow and deliberate, this is an interesting piece that allows Julie to both sing and wail. As a closer, it's as perfectly odd, yet statuesque as the monolith in the movie
2001: A Space Odyssey
.
The Bad Wife
is kind of a rush. Sort of like letting your blind friend drive home after a night of shooters. Julie definitely stretches her wings on this record, taking in the kinds of songs that you haven't heard her do but have always wished she'd tackle. Proving that the scenic route isn't always the most interesting, she drives home the point that she is one of the most fascinating artists of current times, capable of holding your attention by more than screaming. True enough, Julie is not for everyone and for that I am very thankful.
For people who, like me, who view music as essential components for living,
The Bad Wife
is required listening. We're also reminded that there are three main elements needed to sustain us: oxygen, water and Julie Christmas.
* Editor's note: In the interest of full disclosure, I received this CD free of charge from the record company.
You Should Also Read:
Made out of Babies review


Related Articles
Editor's Picks Articles
Top Ten Articles
Previous Features
Site Map





Content copyright © 2019 by Morley Seaver. All rights reserved.
This content was written by Morley Seaver. If you wish to use this content in any manner, you need written permission. Contact Morley Seaver for details.