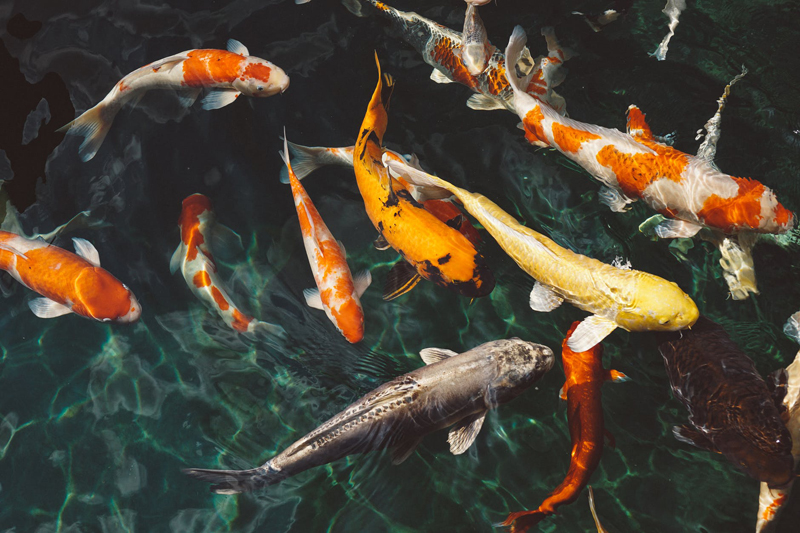 Chinese Goldfish, which have a history of being cultivated for over a thousand years in China, are beautiful and have been described as being known by people as being admired for their colorful appearance, gracefulness, and charming way of appearing to dance when they swim!

Some varieties are the Fantail Butterfly, the Fantail Pearlscale, Fantail Ryukin, and the Ranchu.

The Fantail Butterfly has protruding eyeballs which are also called "Dragon Eyes" because they are similar to the eyes of the Chinese dragon in Chinese legends. The dragon eyes can be pear shaped, cylinder shaped, and grape shaped. These beautiful fish, unfortunately, because of the globe shape of their eyeballs, have poor eyesight. The caudal fins of the Butterfly's tail have two lobes on each side on which there appears to be a Chinese character that resembles a butterfly's wings! Truly lovely and delicate as a butterfly!

The Fantail Pearlscale is famous for its silvery-white, shiny, pearly scales which cover its body! It has a pointed head and tail, but a rounded abdomen, so it is also called the "ball shaped pearl fish". This spherical goldfish which appears to be covered in pearl is considered to be very precious because they are so beautiful and at the same time, it is not easy to care for them since their pearly scales will drop off with the slightest neglect in their care.

The Fantail Ryukin has a pointed head, a short fat body, and a humpback that begins immediately after the head. According to the Chinese professor, Chen Zhen, teacher of Japanese culture, Chinese goldfish were shipped to Japan in 1502 during the Ming Dynasty for the first time from Quan Zhou. They passed through the Ryukyu Islands which lie between Taiwan and Japan. Today, they are a very popular fish - especially the bright red and white ryukin.

The Ranchu came from China, but has a long history of cultivation in Japan. Its Japanese name is the same. It is also called "egg insect". It has a short, egg shaped body and a big head growth. It has a smoothly arched back from the back of the head then takes a sharp downturn where the head meets the caudal peduncle. Very few actually have the prized form for which it draws a large price. To be considered the perfectly shaped Ranchu the tail and axis would form a 45 degree angle, all the fins would be short and small, and the caudal fin would have three or four lobes and sometimes can be the shape of the Japanese flowing cherry. From the dorsal view, it is dignified and clumsy, yet noble.

It's fun to learn about the culture and history of another country by studying their aquarium fish!






You Should Also Read:
The Importance of Clean Water For Betta Fish


Related Articles
Editor's Picks Articles
Top Ten Articles
Previous Features
Site Map





Content copyright © 2022 by Mary Brennecke. All rights reserved.
This content was written by Mary Brennecke. If you wish to use this content in any manner, you need written permission. Contact Mary Brennecke for details.