In the early days of his life my Dad was a cowboy. He grew up in Montana, the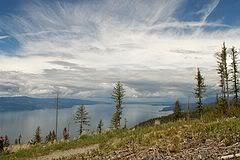 Big Sky Country. His folks had a large homestead and a passel of kids! Dad, although he loved his family, was a wanderer. He never went far from his home, maybe a day or two or three out on the range, riding over the beautiful country, the mountains and plains. He loved Nature and being a part of it. He always managed to get back home to the folks before long. From the time he could ride a horse and shoot straight he would take off on his own and explore.
Some of the stories he used to tell us kids when we were little were fascinating and kept us on the edge of our seats, or usually huddled together on the floor, staring up at him and hanging on to every word. Now that is real folklore, the kind your Ma, Pa, and other elders told you. Dad was a storyteller, the great old-fashioned kind and loved an audience. As we grew older, we realized that most of his stories were embellished a lot, but, boy! were they ever good! These stories live on in our hearts and keep Dad close to us with the memories of his voice, his laugh, his way of acting out his stories with just the right moves and tone of voice. When he was sneaking up over a hill on his belly to find out what was going on down in a gulch after he heard growling and sounds of fear it was as if we were right there with him. We could see what he saw because of the way he put his whole body into the story. There he was, crawling up towards the top of the little hill, his horse tied up below at a tree, his rifle cradled in his arms so he could use his elbows and knees to inch up. We could see the look of fear and curiosity on his face.
We could see the look of shock as he was finally close enough to peek up over the top and see a pack of wolves surrounding a buck. The wolves growling and circling. The buck, with his massive set of antlers turning this way and that to ward off each wolf that came too close. The fear in the buck's eyes as he went down, the final agony and kick of the majestic animal. The snarling of the wolves and the act of the young ones backing away as the alpha took his rightful place of first at the feast.
We were watching the whole scene with Dad, hearing all the sounds and feeling all the fear as he quietly slid back down the hill to his horse and left the area to find a safer place to bed down for the night. We stayed with him through the night on his ventures. We watched as he watched, lying on his back rolled up in his blanket, staring at the stars up above through the pine trees. We felt safe, knowing his rifle was by his side, his horse not far away, and his campfire slowly crackling as it faded away for the night.
We were there when he woke in the early morning, the last star fading away as he packed up his bedding and got the fire going again, started his coffee and got out his pancake mix, added water to it, sliced up some of the bacon he had carefully wrapped in brown paper. We could almost taste the coffee and pancakes and smell the bacon as he sat in the quiet half darkness of the early morning, eating his breakfast and watching the little curious animals peeking at him from behind brush. Saddle Cakes, he called them, his pancakes. Our mouths would water when he told us how good they were. It was a "cowboy on the go breakfast".
The "Saddle Cakes" were a mix his Ma made. She kept the mix in a big old crock jar with a heavy lid. She always used buckwheat flour and oatmeal and it was a filling breakfast with bacon, eggs and coffee. Of course, Dad had to forego the eggs when riding, but the pancakes were just as good without them.
1 cup whole wheat flour
1/2 cup uncooked oatmeal (the old fashioned rolled oats, there was no "instant oatmeal" in Dad's time)
1/4 cup cornmeal
1/4 cup buckwheat flour
2 teaspoons baking powder
1/2 teaspoon baking soda
1 teaspoon salt
2 eggs (now if you are out riding a horse, eggs are not practical to carry along, so you can omit them)
1/4 cup oil (Dad used bacon grease)
1 teaspoon vinegar
1 cup water (you can use milk if you prefer and you are not out on the range)
Mix together all the dry ingredients. (this can be kept in a tin or jar and stored till ready to use). Add vinegar, eggs and oil to the water and mix with the dry mix till batter is of desired thickness. Make sure your fry pan or griddle is hot enough, add a little oil and pour batter in. Fry till top side is bubbly and the holes stay open when the bubble pops. Flip and brown the other side.
*******
Image Credits:
Flathead Lake, Montana
September 26, 2005
GNU Free Documentation License
retrieved from: http://en.wikipedia.org/wiki/File:Flathead_Lake.jpeg
*******
For camp cooking:
, ,