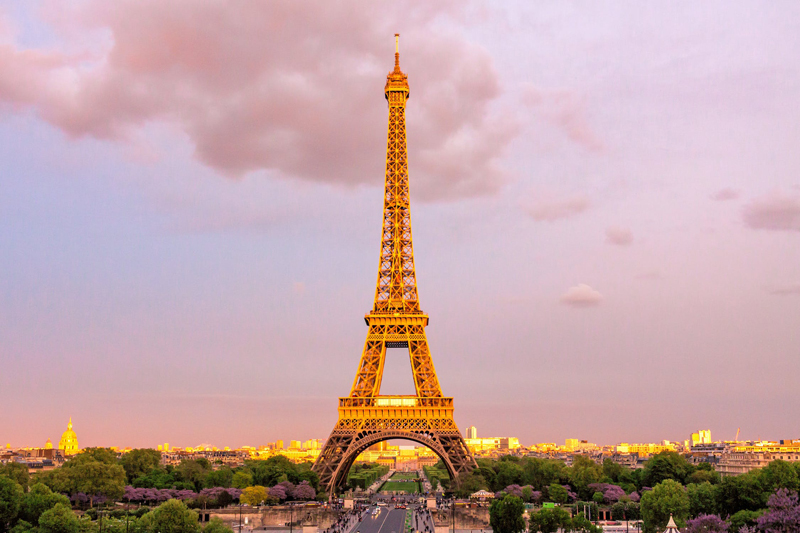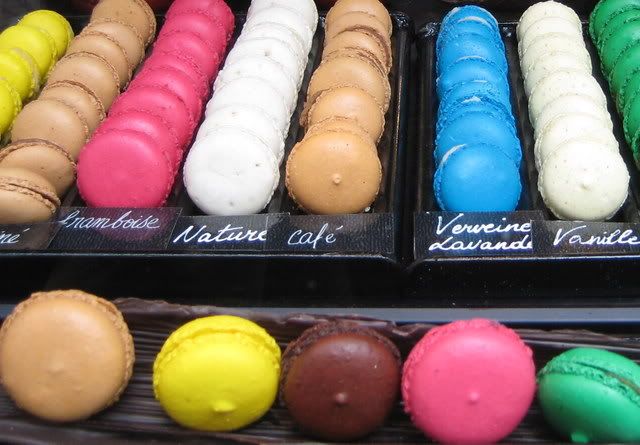 Since living in France, no meal is complete without a dessert après. With smaller portions distributed into actual courses, there is always a place left for something sweet. Though, I had avoided macarons for some time remembering the coconut texture of their American counterpart and labeling them too artificial in their brilliant Easter basket hues. But arm in arm with a friend, gazing through the dessert counter glass at the rows of fragile cookie sandwiches Alegra said, "I'll have a macaron." And I though to myself then chimed in, "I'll try one too."
So there at the patisserie counter we eyed and deliberated on dozens of flavors, finally choosing a white paper sackful of several which we carefully halved. Sharing cookies in perfumes like violet, spice bread, vanilla, pistachio, raspberry and chocolate, we enjoyed a makeshift picnic at the café counter of the Bon Marché's Grande Epicerie where we ordered milky teas to water down the sweetness. And just like that, the macaron was added to my laden list of favorite French patisseries.
I decided to apporte some macarons to share with my mom and popped into the pocket-sized Ladurée inside my favorite department store, Printemps, to collect the ganaches. It was Ladurée himself who invented this variety of cookie in 1930's Paris. Join your pointer finger and thumb together to make an O and that is about the size of a petite cake. At about a euro each, a little mint green rectangular box full is roughly 20 dollars, not cheap, but no expense spared for mommy dearest. Arriving in sunny Texas with the little birthday cakes fit for any Marie Antionette, I cracked the lid and pressed one into each open hand with enthusiasm. Eyes wide, I questioned, "So, what do you think?" The response was a little less enthusiastic than I'd foreseen. "They taste kind of like marshmallows," mom said. She likes marshmallows but something about the look on her face gave away the fact that this was not a compliment. Looking around for someone to share my delight, I had no takers, I placed the box in the fridge. There they sat in darkness until the point of expiration.
They are not for everyone but something about me must shout MACARON. Is it the garish colors? My husband arrived with a thin package the length of his arm, proudly wrapped in reflective Christmas paper. Gifted with a giant book of macaron recipies I thought, "I can't bake to save my life. What an odd gift." Though this often crosses my mind after opening presents he gives with such anticipation. Included in the repertoire are savory macarons which I can hardly imagine, as marshmallow and saltiness do not belong in the same bite.
No sooner had a year passed and I was presented with yet another book. I guess it must be written in my destiny that I cook macarons or at least dirty the kitchen in the name of cooking them. I'm going to gather the ingredients: egg whites, almond powder, powdered sugar, and sugar and do my best not to meander off recipe, which is what usually gets me into trouble when baking. If I begin asking, "Does this cake really need a whole cup of sugar, butter, or other fatty caloric ingredient?" I know I'm in trouble. I'll let you see the results, though, I expect catastrophe when marked with the description "they have continued to be in short supply due to to the difficulty in making them well," on Wikipedia.
Much easier than baking is buying them by the suitcase at the grocery store. We eat the whole lot in the car on the way home, slowly opening the plastic, carefully choosing a favorite, then resealing the oyster package, only to be reopened again in minutes time. They also come surgelé at every French women's favorite frozen store, Picard. The popular boulangerie Paul sells them small or large alongside their case of cheesy quiche tarts. Try one the next time you're in Paris or bake up a batch. Bon appetite!
You Should Also Read:
Ladurée Tea room and Patisserie


Related Articles
Editor's Picks Articles
Top Ten Articles
Previous Features
Site Map





Content copyright © 2023 by Melissa Demiguel. All rights reserved.
This content was written by Melissa Demiguel. If you wish to use this content in any manner, you need written permission. Contact Melissa Demiguel for details.