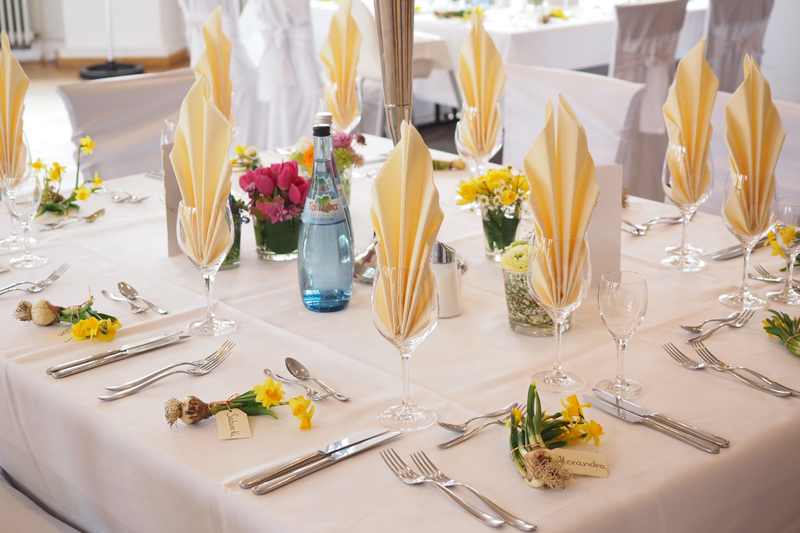 If you are going to a person's home it is quite likely that their TV will be on when you arrive. Many people watch TV a dozen or more hours in any given day. Most don't always actually watch it – some just leave it on for background noise. So, like stated, the TV will probably be on.

If you are an invited guest and you're going to watch a game or sport or movie, or say, the Royal Wedding, then having the TV on is an aobious yes. If you aren't there to watch TV, though, the TV needs to be turned off.

There's nothing more annoying than trying to have a conversation with the TV on. Televisions are distracting and loud and quite tough competition to keep people's attention.

When you are the host and people are in your home don't insult them by implying that you'd rather watch TV thatn talk to your guests. Music is great. Food is a given. Conversation is expected. And how can you possibly have some decent conversation when the Television is blaring in the background?

If you have kids and people come over the TV really needs to be turned off. Kids need to be acclimated to society. They need to learn how of converse with people. The won't learn any of that if the TV is on. And you can't expect them to. As stated, television is distracting. It captivates their audience – more so when you are under the age of 10. This meakes it hard for the children to notice that someone else in in the room. Rather than make your guests compete for their attention, turn off your TV and eliminate the competition. Explain to your child that it's time to visit now and they can watch television later.

There are times in life for all things. A time to watch, a time to visit, a time to read and a time to turn off the TV. Dinner parties and TV just don't mix. It distracts. It hinders conversation. The food will taste different or not at all. You want people to enjoy the food and conversation. You don't want them to ask. What did we eat and what did we talk about because we were too busy watching TV.



Related Articles
Editor's Picks Articles
Top Ten Articles
Previous Features
Site Map





Content copyright © 2021 by Lisa Plancich. All rights reserved.
This content was written by Lisa Plancich. If you wish to use this content in any manner, you need written permission. Contact Lisa Plancich for details.