A Day at Chaco in New Mexico
Being of Native American descent is something that I've always held close to my heart. Thanks to a great-grandmother many generations past, my childhood imagination was always filled with "what would it have been like" questions: how did they live, what did my ancestral grandmother do growing up, how did she see life and - the most important question in my mind - who were her grandmothers?
So when I'm looking at vacation destinations, I usually check out National Parks and Historical Sites. Luckily enough, I recently found myself in New Mexico, and that gave me an amazing opportunity to see Chaco Culture National Historical Park.
As recounted on the
website for Chaco
, "[f]rom AD 850 to 1250, Chaco was a hub of ceremony, trade, and administration for the prehistoric Four Corners area--unlike anything before or since. And it is a fascinating place if you enjoy beautiful places full of mystery, history and reverence.
First, you will want to plan an entire day for your Chaco adventure because getting to Chaco is an adventure in and of itself. From Albuquerque, it's an easy 3 hour or so drive until the last 20 miles when the road turns to dirt, which their website tells you is infrequently maintained; from my experience, it's fairly typical but if you didn't grow up driving on dirt roads, keep to 35 MPH and take it easy. There are other routes which require either 12 or 33 miles of dirt road, so you're not going to avoid it. Also, don't rely on your GPS telling you how to get to Chaco - you will need to watch for the road signs. Your cell phone reception will die about 6 miles into the dirt road drive.
Second, take sturdy walking shoes, a hat and plenty of water if you're going in the summertime, and a walking stick if you desire a little extra stability.
Third, when you get to Chaco, stop by the visitor center to pay your park entrance fee and find out when the tours are. There are regular tours at many of the sites in Chaco, and if you're a history buff, you will appreciate the information they impart.
Fourth, if you don't have time for every stop at Chaco, I recommend 3 stops: Una Vida, Pueblo Bonito, and Casa Rinconada. At Una Vida, you will see some wonderful examples of ancient American petroglyphs (be prepared for a hike on rocky trails to get up to them). You can then catch a tour at Pueblo Bonito and learn how there are 4 styles of brickwork that make up the ancient buildings there and get a taste for what Chaco life was like, and have enough time to rest for a bit and have a quick bite of a picnic lunch before heading to Casa Rinconada - an ancient kiva (spiritual site), the largest in Chaco.
Native American civilizations had an amazing grasp of astronomy and the cardinal directions, and their sites still whisper their mysteries to us from the past. Casa Rinconada is aligned nearly perfectly with the North Star, as is the kiva at Pueblo Bonito, which may point to their religious significance during the solstices and equinoxes each year.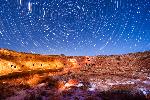 If you have an opportunity to visit New Mexico, add Chaco to your list of must-do.
Safe travels.
This site needs an editor - click to learn more!


Related Articles
Editor's Picks Articles
Top Ten Articles
Previous Features
Site Map





Content copyright © 2022 by Christine Wilcox. All rights reserved.
This content was written by Christine Wilcox. If you wish to use this content in any manner, you need written permission. Contact BellaOnline Administration for details.