Koi Fish in Public Places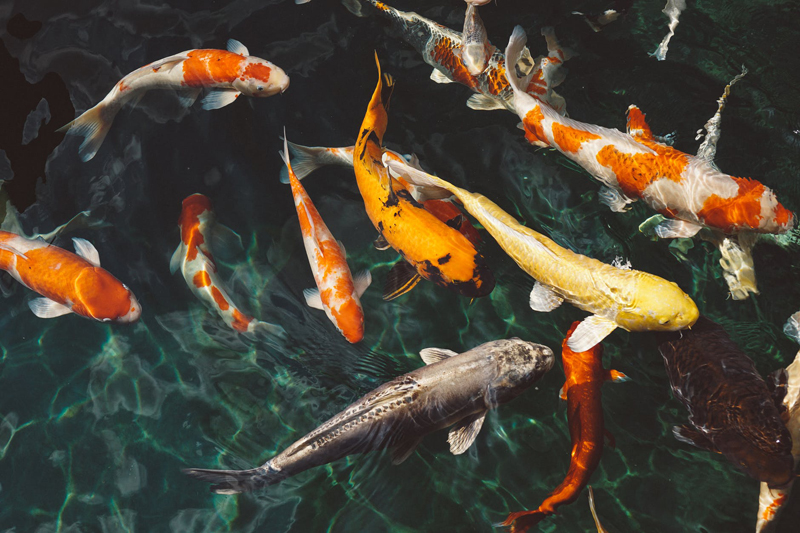 Do you have a favorite shopping mall, library, or restaurant that has a public Koi pond? This is so enjoyable to watch these beautiful fish! They are very graceful and colorful and you can watch their fishy drama play out as you stand there and observe their movements and response to each other and to you. They have their own form of communication that you will tune in to if you observe them long enough. This is a very calming pastime and can help keep your blood pressure down!

But, please, please, please, don't feed the koi in public places such as these! They have specific nutritional needs, and you may do more harm than good! Koi eat koi pellet food that is nutritionally balanced for them! So, if you have had that extra glass of wine with dinner at a restaurant where they have a koi pond, it may be in the best interest of the fish for you to avoid that area altogether because your judgment may be impaired! Let's not have any regrets the next morning when you are vaguely remembering some mishap at the koi pond from overimbibing. : (

In fact, the people setting up their pond should have put a safety net over them - or some such barrier to protect them from visitors who may unwittingly love them literally to death! Motion barriers are also another good possibility for the owners to protect these wonderful fish from humans and other wildlife! Just look, don't touch - for their own good. Of course, if you do witness any abuse of these beautiful fish, please take on the responsibility of reporting it to the person in authority at that business to prevent any such incidents in the future!

Also, please do not throw anything into the koi pond! Some people think it's o.k. to throw in coins as if it is a wishing well! This is dangerous to the fish! You may poison them! Save your coins for an actual fountain that is apparently used for this purpose! The fish beg you and thank you in advance for your courteousness and respect and love! : )

Koi are believed to be symbols of love and friendship and are believed to bring good luck and fung shui . They have an average lifespan of 20 years, so if we treat them with care and respect, they will give us years of joy!






You Should Also Read:
The Importance of Clean Water For Betta Fish


Related Articles
Editor's Picks Articles
Top Ten Articles
Previous Features
Site Map





Content copyright © 2022 by Mary Brennecke. All rights reserved.
This content was written by Mary Brennecke. If you wish to use this content in any manner, you need written permission. Contact Mary Brennecke for details.