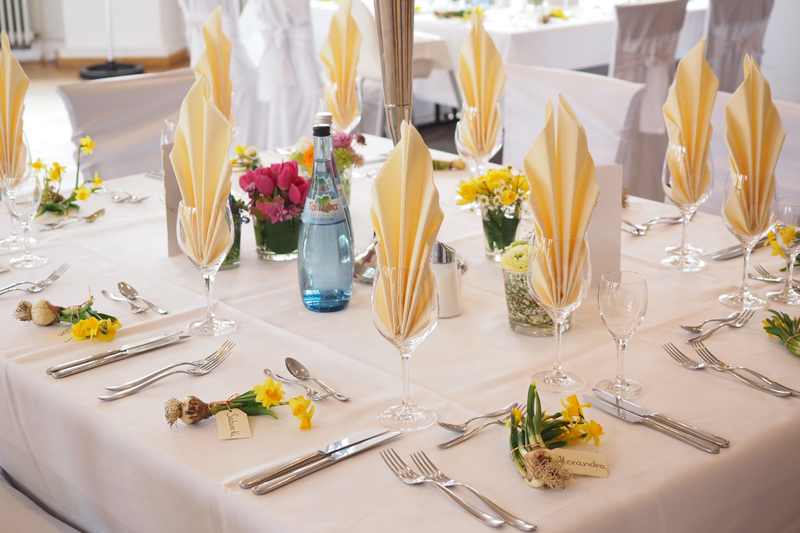 A party that is formal is much like any other party you attend. Although your attire is more decked out, your attitude should be the same as that of any gathering. Whether you are watching football with friends or dining with the President of the United States, you are still going to be considerate, engaging and enjoyable. Donning a formal gown or tuxedo does not mean that you automatically put on airs, stop smiling or act differently than you would at any other party.

First and foremost, thank the host/ess. You are their guest. They took the time to invite you and include you in this gathering. You need to be sure to thank the person(s) who chose to put you on the guest list. Much like you would at a wedding, this might be made easier with a receiving line. If there is one, be sure to introduce yourself, smile and thank them for including you. You can comment on her pretty dress or his nice tie. You could also mention how nice the venue looks.

This is a formal party, not a snobby gathering. You need to smile and be polite. Say hello to others. Smile at people you don't know. If someone is standing off to the side by themselves, include them in your conversation by saying hello and inviting them over to your group.

Next you don't ever want to complain. Again, this is no different that any other type of gathering. There is not a party where it's appropriate to put down others, complain about the food, point out problems or generally criticize. Parties are an opportunity to enjoy one's self by being enjoyable.

Finally, introduce yourself. Say hello to those you have never met. Every gathering is an opportunity to be social. A formal party is no different. You want to say hello to others. If you don't know them introduce yourself. Ask them how they know the host. Ask them who else they know there. Inquire about their work or what they do in their free time. Your hobby may be similar to those and you may have made a future comrade. But you would never discover this if you opted to be anti-social and stoic.

A formal party is the chance to be dressy and have a nice time – usually at a venue you would not typically go to. You can sip (not guzzle) drinks. Dinners will be nice but not one where you will ask for seconds. Your plates won't be paper and glasses will be crystal. These are party enhancers. You too can enhance the atmosphere by being social, smiling and remembering that consideration and style happens everywhere – not just at formal occasions.




Related Articles
Editor's Picks Articles
Top Ten Articles
Previous Features
Site Map





Content copyright © 2022 by Lisa Plancich. All rights reserved.
This content was written by Lisa Plancich. If you wish to use this content in any manner, you need written permission. Contact Lisa Plancich for details.