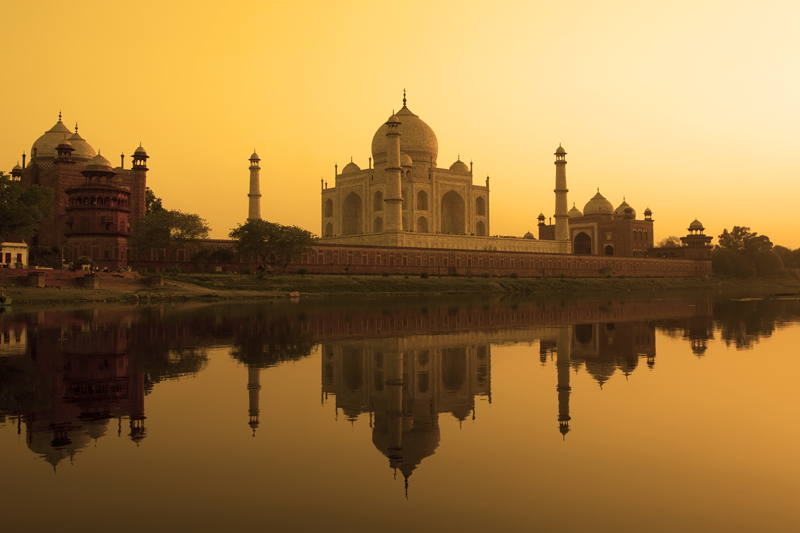 Tiramisu is a very delicious creamy layered dessert from Italy. It is a wonderful combination of Italian biscuits, espresso (very strong Italian coffee) and mascarpone cheese. It may seem very simple at first, but I assure you - the delicate balance & harmony of all the flavors involved makes this dessert quite unique & extraordinary on so many tasty levels.
Hmm… so you may ask – but what exactly does it have to do with Indian food? Well, this is my version of tiramisu – made with a strong chai instead of espresso. I have also added some lovely warm Indian spices that make my Chai Tiramisu absolutely "outta this world" heavenly. For those of you unfamiliar with chai, it is basically Indian black tea. Now when it comes to tea, I always prefer loose leaf tea to tea bags but I do understand the convenience factor so go ahead and use whatever good quality Indian tea you have on hand. My personal favorites are either Darjeeling or Assam black teas.
Now most traditional Italian tiramisu recipes usually call for the use of raw eggs but no need to be concerned here, my recipe eliminates any risk of consuming any raw eggs.
My delicious Chai Tiramisu can be made well in advance especially when entertaining and is always a favorite with both family & friends.
CHAI TIRAMISU (aka Chai-misu)
Ingredients:
18-20 (savoiardi cookies or crisp Italian ladyfingers)
2 tbsp confectioners' sugar + 1 tbsp dark chocolate powder + 1 tsp ground cinnamon powder, for garnish
For the Chai (tea):
3 tsp good quality Indian loose leaf black tea (or you can use 4 Indian tea bags)
1" stick of cinnamon
1 star anise
2 cloves
2 cardamom pods, gently crushed
pinch of freshly grated nutmeg
2 tsp sugar, to taste
For the Cream Filling:
1 cup whipping cream
1½ cup mascarpone cheese, softened
½ cup sugar, to taste
1 tsp vanilla extract
½ tsp almond extract
¼ tsp ground cinnamon
pinch of ground cardamom powder
pinch of freshly grated nutmeg
METHOD:
*To make the chai (tea)
In a small saucepan, make a strong chai by combining 2¼ cups of water with the sugar and whole spices (cinnamon stick, star anise, cloves, cardamom pods & nutmeg). Stir to dissolve the sugar, bring to a good boil and then add the tea - if you are using loose leaf tea, an infuser (mesh ball) makes this task much easier. You can even add the whole spices to the tea infuser. Then turn off the heat completely and allow the tea to steep for 4-5 minutes. Simply remove the infuser or if you don't have a tea infuser - strain completely and allow the tea to cool to room temperature, you should have around 2 cups of very strong chai. Set aside until needed.
*To make the cream filling
Now the quickest way to do this is to actually chill the mixing bowl & the beaters for at least 30 minutes before use. Then beat the whipping cream on high speed until you get stiff peaks & set aside in the refrigerator until needed. Now in another mixing bowl, cream together the mascarpone cheese with the sugar until smooth. Next add in the vanilla & almond extracts along with the spices (cinnamon, cardamom & nutmeg). Now gently fold the whipped cream into the mascarpone/sugar mixture.
*For the assembly
You could make the Chai Tiramisu in a large 10" glass baking dish (2 qt size) or use wide stemless wine glasses (or martini glasses or pretty decorative glasses or bowls – be creative in your presentation!).
Now pour the chai (tea) into a shallow bowl for dipping the ladyfinger cookies. Dip each cookie into the chai for about 4-5 seconds/side. Do not soak as the ladyfingers will get too mushy & fall apart. Then simply arrange the ladyfingers in a single file layer on the bottom of the baking dish. If you are using fancy glassware, you can add a dollop of the cream filling on the bottom first & you may need to cut the ladyfingers in half so they fit the bottom of the glass or bowl.
Then carefully had a layer of the cream filling, now add another layer of chai dipped ladyfingers & the remaining cream filling on the topmost layer. Then dust the top with the confectioners' sugar/dark chocolate/cinnamon mixture. Cover with plastic wrap & let chill in the refrigerator for 2-4 hours. Serve chilled & enjoy!
You Should Also Read:
Coconut Lychee Granita Recipe
Kashmiri Chicken Curry Recipe
Masala Chai Recipe


Related Articles
Editor's Picks Articles
Top Ten Articles
Previous Features
Site Map



Follow @SadhanaGinde
Tweet



Content copyright © 2022 by Sadhana Ginde. All rights reserved.
This content was written by Sadhana Ginde. If you wish to use this content in any manner, you need written permission. Contact Sadhana Ginde for details.