Citrus Squash & Double Red Fire Onions Recipes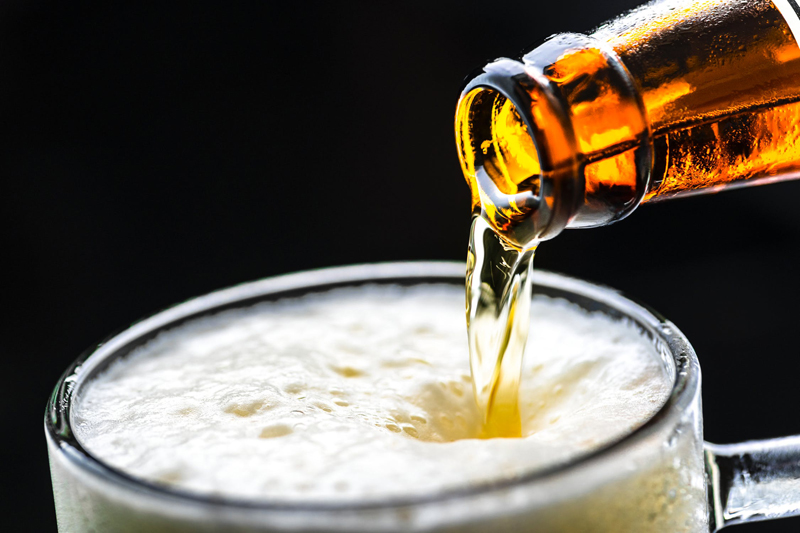 The whirl of the holidays can set our brains spinning, making it difficult to focus on some of the small parts of holiday meals. Side dishes often get ignored, taking a back seat to the prime rib or holiday cookies. You may like to add a bit of pizzazz to your table with some side dishes that dazzle. Instead of serving up a bowl of corn or peas with pearl onions, the bold sweetness of acorn squash or the heat of fire onions can add a new twist to that oft-ignored part of the plate. While you're at it, add a splash of beer.

Citrus Dressed Squash

Acorn squash with the bold sweetness of orange citrus is simple and elegant.

Recommended Beer: New Glarus Wisconsin Belgian Red, New Glarus Brewing Company, New Glarus, Wisconsin, 4% ABV

Style: Fruit/ Vegetable Beer – Copper-red body with a chunky pink head – A refreshing brew, characterized by big cherry flavors, light tartness and almond.

Ingredients:

2 acorn squash, halved and seeded
4 tablespoons butter, melted
¼ cup firmly packed brown sugar
¼ cup orange juice concentrate
¼ cup New Glarus Wisconsin Belgian Red
1 teaspoon salt
¼ teaspoon cinnamon
1 orange, sliced thin in curls

Method:

Preheat oven to 350 degrees.

Pour 2 tablespoons melted butter in bottom of baking dish. Arrange acorn squash, cut side down, on butter. Bake in 350 degree oven for 40 minutes, until soft when pierced with a fork.

In small saucepan, combine remaining 2 tablespoons butter with brown sugar, orange juice concentrate, New Glarus Wisconsin Belgian Red, salt and cinnamon. Bring to a boil, stirring constantly.

Turn squash in baking dish so cut side is facing up. Pour sauce in the center of each half. Return to 350 degree oven for 15-20 minutes, until edges of squash are lightly browned.

Remove squash halves carefully from baking dish, taking care to keep sauce intact. To serve, garnish generously with orange slice curls.

* Health Benefit: Rich in vitamin A, B-complex vitamins, vitamin C, potassium, magnesium, zinc, copper, pantothenic acid

Double Red Fire Onions

Seeing double? Seeing red? The flavors and aromas of double-red butter-baked onions are good enough to coax angels to earth.

Recommended Beer: Maudite - Unibroue, Inc., Chambly, Quebec, Canada, 8% ABV

Style: Belgian Strong Dark Ale – Russet red body with medium off-white head – Infused at several temperature levels, creating a robust brew and with a pleasant hop taste and nose; effervescent and seductive.

Ingredients:

6 medium red onions
12 oz. Unibroue Maudite
6 tablespoons butter
garlic salt
1/8 teaspoon Tabasco sauce
fresh ground pepper

Method:

Wash and skin red onions. Marinate them for 30 minutes in Maudite. Cut a 1-inch criss-cross in the top of each onion. Melt together butter and Tabasco sauce. Place 1 tablespoon butter mixture in the cross of each onion. Sprinkle with garlic salt and fresh ground pepper.

Wrap each prepared onion in foil. Grill on coals 10-12 minutes or in 400 degree oven for 25 minutes. Serves six.

* Health Benefit: Rich in B-complex vitamins, vitamin C, magnesium, zinc, copper, pantothenic acid

Cheers!

Roast away in this easy-to-maintain pan:
Cuisinart 7117-16UR Chef's Classic Stainless 16-Inch Rectangular Roaster with Rack


A reliable baster is an absolute essential:
Tovolo Clear Dripless Baster
You Should Also Read:
Counting Calories in Beer
Chef Mick Hug's Oatmeal Stout and Cheddar Soup Recipe
Da Vinci Chicken Maximus Recipe


Related Articles
Editor's Picks Articles
Top Ten Articles
Previous Features
Site Map





Content copyright © 2022 by Carolyn Smagalski. All rights reserved.
This content was written by Carolyn Smagalski. If you wish to use this content in any manner, you need written permission. Contact Carolyn Smagalski for details.