Native American Spirituality and Dreams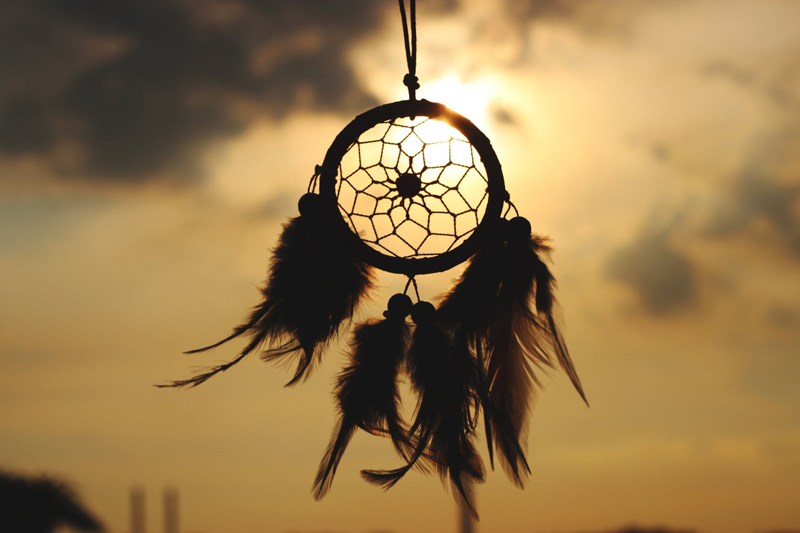 Native American culture has always regarded dreams with great respect. Native Americans saw dreams as a means of obtaining sacred wisdom and guidance for life. It is also said that visits from ancestor spirits occur between midnight and 2:00 a.m., which corresponds with the general belief that prophetic dreams occur between 2:00 and 7:00 a.m., during the deepest stages of sleep.
Each individual has their own
totem
, or special animal. This could be a wolf, a bear, an eagle, or any other creature. All animals have meaning. For instance, coyote is the "trickster" and things will go wrong, often in a humorous way, when he is around. A totem appearing in a dream would indicate that something of special significance is being examined. The totem might be trying to guide the person to a decision, or perhaps warning the person of a danger.
Totem animals
have distinct purposes, such as "message" totems or "journey" totems. Different totems may appear during different phases of one's life. It is also believed that the totem animal will continue to appear until the dreamer deals with the problem or issue.
Most Native Americans also believed in dream spirits which helped watch over all dreamers and provide assistance. One of these spirits is the white deer. The deer was extremely important to many Native American tribes, providing both food, clothing, and material for tools. Native Americans respect all animals and if an animal must die, a prayer is said over its body and no part is wasted. The dream spirit of the white deer would help guide the dreamer to a destination or action.
Another common dream symbol was the white wolf. The wolf was seen in a protector role, watching over the dreamer and keeping him from danger. The appearance of a white wolf could warn about a danger that the dreamer had not paid ample attention to.
Excellent resources for in-depth learning about the meanings of animal totems are
Animal Speak
and
Animal Wise
by Ted Andrews.
May all your dreams come true!
---
Parthena Black is a professional social worker and ordained minister with experience in tarot and runes. For private spiritual counseling and intuitive readings via e-mail, please visit her at
oymygoddess.com
.
---
---


Related Articles
Editor's Picks Articles
Top Ten Articles
Previous Features
Site Map





Content copyright © 2022 by Parthena Black. All rights reserved.
This content was written by Parthena Black. If you wish to use this content in any manner, you need written permission. Contact Lori Chidori Phillips for details.