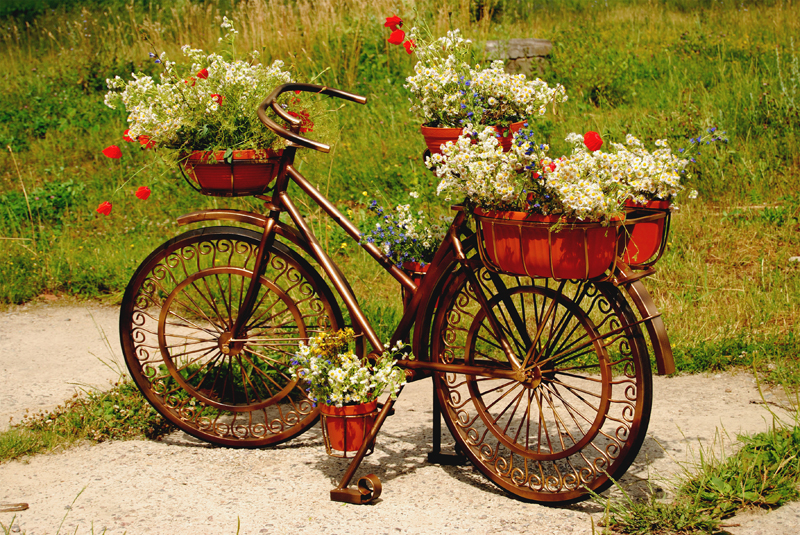 And now for something different! Yes, a stand alone urn container garden with minimal planting, low maintenance needs, a fine and calming personal space and altogether beautiful! And all that can be yours easily.

"Beauty is truth, truth beauty," – that is all
Ye know on earth, and all ye need to know."

With these immortal words Keats ends his Ode on a Grecian urn which is arguably one of those quintessential sentences in the language. When you think of it, it stretches and travels well into any area of our lives and thinking … no matter where those thoughts may roam. Now, and with that in mind, together with an idea I picked up from one of the show gardens I visited recently, we can all capitalize on such beauty by making up a container space that will certainly offer much delight to friends, family and busy gardeners … and you.

Just starting out? Looking for a new season idea or two? Just sold up? Downsized? Moved zones? Moved to the city? Well this idea may suit. Now, if you have been running a container garden for a while and are settled, then you will know the space you have to use, the light and sun availability, the orientation of your containers and of course you have grown many of your favourite plants, flowers, vegetables and herbs.

Of course too, there is a lot of discussion in all sorts of places and magazines etc. about what one can use for containers in the 'garden', but this article is highlighting the URN only and not specifically the plants – though those have their role to play as well.

The garden I visited had a side porch area facing onto a medium-height ivy–covered wall of a narrow walkway leading to the back of her home. Here Marla grew herbs and vegetables in profusion though contained in her kitchen garden. When discussing her porch idea, she told me that her light was not as good as it could be, so she chose stand alone urns there with little extra for gardening chores and where she grew shade-loving plants. And the urns were chosen for their beauty and 'timeless elegance.' She said they had been inspired by a holiday trip she took to Italy and the gardens of Villa d'Este … and that she was pleased to sit there and reminisce about this trip – nice story and use not so?

URNS and PEDESTALS
What a great feature this combination makes! Thinking of it, urns come in all sorts of shapes, sizes, materials, colours, designs and uses. They are called in various circles vessels, ornamental vases, amphorae and pitchers and date back as far as the classical and elegant gardens and forecourts and kitchens of Greece and Rome. Today, they seem to find their ways into modern minimalist gardens just as easily as a formal garden space and just as readily onto our balconies, so it is easy to be adventurous and experimental. Last time I looked there was no rule book!

Carved out of earthenware they may have been used for storage of olive oil and wine and water, but today we get many reproduction designs made out of more modern materials, aged to look similar or the same but not that difficult to move around – unless they are made out of concrete or marble. Today you can get them in cast iron to fibre-glass, pressed metal, porcelain, plastic and terracotta earthenware.

Have some fun, work out your space and choose an eclectic mix or go for a standard theme set by your favourite design or colour. Pedestals come in all sorts of designs too – they can be ornate or plain Doric/Ionic/Corinthian etc column style – just ensure that the base size of the urn is right-sized for the plinth or pedestal you choose … you do not want your urn to be unsteady and crash down on a windy night or when you walk past watering them.

For an optional touch, Marla had a concrete cupid water feature in front of her urn garden which was a finishing touch for her that lent charm and the cooling sound of water dribbling over an ivy covered base. This tied her space into the wall opposite, very clever I thought and it would easy to copy this idea.

DESIGN and PLACEMENT
Light is important of course and will have a lot to do with the choice of your plants, so that is an easy enough decision to take. It's the look you are after, so heights and widths of urns, how you display them, the colour scheme you may think of and how they may work with a piece of wall art or two will also need your attention. Some wrought iron wall art may work, but keep it simple so as not to detract from the elegance by making the space overcrowded – remember that less is usually more! Placing matching urns up a stairway, or as entrance sentries or just leaving them to speak for themselves without being planted are other ideas you can think about as well.

CARE
The maintenance of your Urn garden will depend on all of the above of course, but seeing as we started out with the idea that we wanted a low maintenance porch, then the accent will be on your design and display rather than the plants which can all be water-wise and low maintenance choices. Thing is there are no NO-maintenance plants that I know of, so choose to suit the time you have to spare to 'stand and stare' in your garden minus the sitting and enjoying time!

Use your gardening notebook to record the optimum care requirements of your plants, how often they need to be watered, the tidying up of straggly spillers, the trimming back of the over enthusiastic fillers, the clipping of any topiaries; the replacement of any herbs and other edibles that get 'finished.'

And don't forget the urns themselves. You are showing these off to their best, they will be at different heights so make sure they are clean and standing to attention for your royal walk past.

PLANTS
Topiary-style trimming lends itself well here – you can grow a shrub into a convex half moon shape to fill the urn's planting space which can give an interesting detail without detracting from the beauty of the container – and there are many shrubs that would lend themselves to this look - like Buxus, Sheena's gold, Plumbago, Privet, Euphorbia and/or Star Jasmine.

Then you could also do up an edible urn, again understated, but f'rinstance, how about growing a collar of parsley around a central single bright lights spinach plant – that would look pretty and if harvested carefully, will serve both for looks and food for a long time.

For another feature plant try an asparagus fern, or a pony tail or some tall grasses for the centre surrounded by a multi-coloured circle of flowering vygies or sedums to spill over or nasturtiums would work and give colour. A mixture of full sun and shade/sun plants would do well unless you know your chosen space is a shade only patch. So then you go for the shady ladies and there are many to choose from; just ask at the garden centre, they will be stocking what is in season right now.

Looking for colour? Then how about Bizzie Lizzies, or Vinca or Allysum or Lobelia or miniature lemon drop Marigolds or Dianthus? Then there are the ground cover style creeping plants like creeping Jenny, Penny Royal. and the other herbs like creeping Rosemary or Thyme with colours from which you can choose too. Oh and don't forget all the Mondo grasses, so many styles and colours here as well. Think also about a miniature or patio rose ... ah the fragrance! Another idea that depends on space you can have an urn kind of 'growing' out of a round container covered with colour or stone patterns or just bark mulch to balance the shape and size. It's the choice that could drive you crazy!

I am going to put in a couple of urns myself next weekend and they will take their place with pride I say and add a touch of elegance to an area of my back garden.

"Beauty is truth, truth beauty," - that is all
Ye know on earth, and all ye need to know.

Indeed.

What do you want your container garden to do?

................................................................................

CASUAL VISITOR … and just browsing? Why not sign up to the Container Garden newsletter? It won't matter what space or how many pots you have or even how much time you have to spend in your container garden; what will matter is that you get our reminders and good advice and ideas all in one interesting article.




Related Articles
Editor's Picks Articles
Top Ten Articles
Previous Features
Site Map





Content copyright © 2023 by Lestie Mulholland. All rights reserved.
This content was written by Lestie Mulholland. If you wish to use this content in any manner, you need written permission. Contact Lestie Mulholland for details.