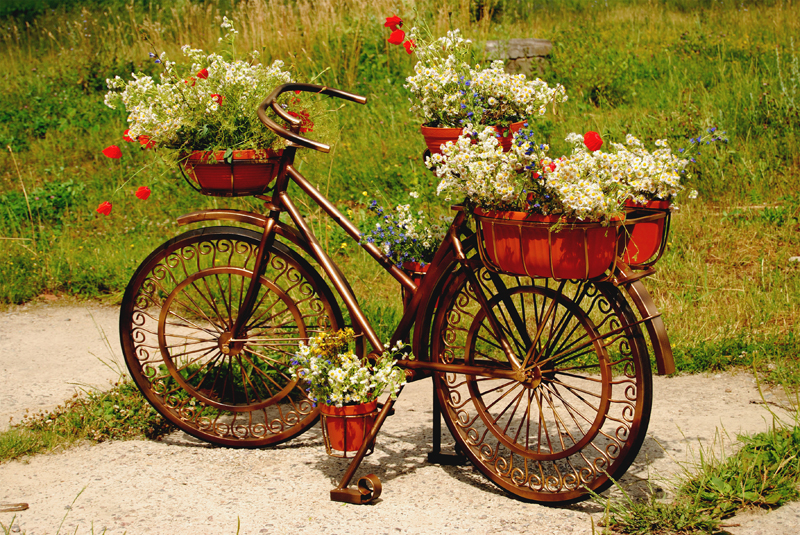 "Strawberries cherries and an angel's kiss in spring … my summer wine is really made from all these things …" - can you sing along with Nancy Sinatra and Lee Hazelwood? Well, you will be able to make your own 'summer wine' when you grow your own strawberry containers.

Strawberries are, as with many other plants and fruits, easy to grow in containers and/or hanging baskets if you just follow a few good guidelines and gardening practices. You will certainly reap what you sow, so let's go grow some.

Strawberries like space, well-draining loamy soil; sunshine; regular watering, good natural mulch (straw is best). In fact that is apparently one of two ways they got their name! One of the Cries of London included youngsters selling berries on sticks of straw crying into the streets of early London "Berries on a Straw, Berries on a straw!" Either that, or the fact that today the best mulch is a straw one, you see … berries grown on what looks like a straw bed.

PLANTING OUT SEEDLINGS
Do you have space for three or so pots? Any type, any size really, hanging, raised somehow even if you just stand them on bricks against slugs and other hungry things that may spoil your fun. Space them at least 10 inches apart and plant so that the crown (the bit in between the roots and the leaves) is not completely covered but just sticking out above soil level. And in fact the crowns should always stick out a bit during the growing season so don't cover with soil when you are tending your plants.

WEED CONTROL
This is very important for your strawberry plants – you should remove these regularly (at least weekly) so that the roots of the weeds do not compete with your strawberries roots for nutrients. Here too the straw mulching helps.

FEEDING
10 10 10 Fertiliser is a good one to buy and it is good practice to feed small amounts and regularly. You do not want to burn the roots or upset the soil balance (good composted ordinary potting soil is good to go) so use your Gardening Notebook to record when next feeding times are. I go with the moon days here and feed all my containers on the same days so that I get into a pattern and do not have to remember too much – I want to enjoy my garden and not be overwhelmed by all I have to do so that it becomes choreful and awful.

WATERING
Strawberry containers must be kept moist at all times, not wet, moist and the plants should not be allowed to dry out. You will more than likely lose them in drought conditions and be disappointed, so watch your watering.

MULCHING
This protects your plants in several ways. The fruit is low growing and hangs down from the crown as it were so the straw will keep your berries clean. It will suppress weeds, deter creepy crawlies like slugs and will help offset quick changes in temperatures. Mulch conserves moisture and as it is natural, gradually breaks down and add humus to the soil. The straw mulch is also good as it allows air to circulate so do not use other wet composty leaves as mulch here – as this can smother the crowns of the strawberry plants and you will lose a lot more than harvest; the fruit may become soggy too.

CARE
Besides the caution to keep the soil moist and feed small measured amounts and consistently, when the fruit starts to show, if your containers are in the garden or in an open areas where the birdies are, cover them with black nylon netting to keep the birds away – see they love strawberries even more than you do and your losses will be heavy if they get there first. Also, strawberries are frost tender and like full sun so be sure to place your containers in a good place – and out of the strong winds. You want insects like bees to be able to pollinate your plants and in strong winds this will not happen easily if at all.

HARVESTING and HEALTH
Check your plants regularly and only pick red 'n ripe fruit off the plant (try not to gobble them though this is when they are really so tasty!) Strawberries juice up well of course and contain so much that is healthful and good. They are a good source of vitamins A, B, C and E and there is folic acid, potassium, fibre, calcium, iron, antioxidents and phosphorus. You can even add honey to some pulp to relieve sunburn. Just spread it over the skin, leave a while then rinse off with lemon water. This sure is a heavy-weight fruit to have in your space!

Nature is kinder than you think, so do not get fussed by all the do's and don'ts above, just read the article, make a few notes and grow some strawberries. Container Gardening is not only a science – it is the hands of the Gardener (that's you) and that little piece of your heart you plant alongside that will make them grow for you. Try it and see. Just get going; the universe favours action!

William Butler once said:
"Doubtless, God could have made a better berry; but doubtless God never did." Perhaps you agree with him?

What do you want your container garden to do?

................................................................................

CASUAL VISITOR … and just browsing? Why not sign up to the Container Garden newsletter? It won't matter what space or how many pots you have or even how much time you have to spend in your container garden; what will matter is that you get our reminders and good advice and ideas all in one interesting article.





Related Articles
Editor's Picks Articles
Top Ten Articles
Previous Features
Site Map





Content copyright © 2023 by Lestie Mulholland. All rights reserved.
This content was written by Lestie Mulholland. If you wish to use this content in any manner, you need written permission. Contact Lestie Mulholland for details.