Edible Flowers for Containers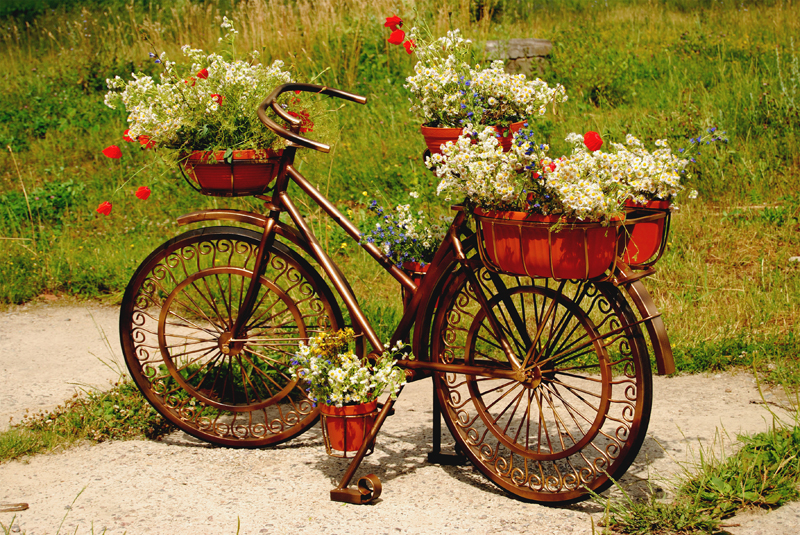 Well of course we grow herbs and vegetables to eat and enhance, flavour and decorate too - so why not add flower options ... why not indeed?

Now, not everything from the garden is edible, and for several reasons too. It could be they just don't taste of anything special but often all or some of the parts of a single plant can be plain poisonous. Still, when it comes to our list below, while not exhaustive, there are so many edibles to choose from that you won't need to look too far for others. Those mentioned are tried and tested and true to the extent that they can be eaten. Remember, if you are not sure, rather not try, for unless you are sure, my best advice is to stay away and/or use them in a vase or the garden and "please, please don't eat the daisies!"

Experimentation carries on as new hybrids and varietals are tested and checked and sorted and given a place on which ever list suits best – edible or not edible.

Let's start off though with a standard caveat which is a sound commonsensical reminder about edibles we have made previously here on the Container Gardening site.

Now if you have read it before, no matter, read it again to remind yourself or skip it, as it's your choice.

• Watch out, err on the side of caution and do not eat or use produce where soil has been mixed with animal excrement (this does not include store-bought treated manure);
• Do not harvest for eating any flowers etc. sprayed with non-food safe and/or chemical fertilisers;
• Don't use flowers and herbs that have been growing wild or next to roads and highways or exposed to rubbish or petrol/gas fumes or car emissions like carbon monoxide;
• Know where your 'food' comes from, don't eat flowers that have come from the florist (who knows with what they have been sprayed?);
• Do not eat flowers and berries that show signs of disease or have been eaten by garden pests like beetles.
• Are you sure it is edible? If not, leave it alone and of course, if you are allergic to anything, do be careful too.

WHAT IS EDIBLE?
Here is an alphabetical list … do you know of any others you can add? I must say that there are many flowers that I have not tried so I cannot tell you what they taste like, and anyway, I don't set out to eat the flowers for food per se, but rather to use them to enhance in some way; the look for instance, or to decorate or to flavour the dish I have cooked or am serving. Now if you have eaten any of these and have an opinion, please go to the forum to add your notes – thanks!

Remember please that it's the petals we are talking about here and you must not include the stamens and stems and roots or berries etc. except where noted particuarly. For instance, with cilantro/coriander all parts are edible or in the case of crocus, it is the stamens which produce saffron. Sometimes nature can have a sense of humour I think, as it will allow us to eat the pretty petals but not the poisonous roots of a single plant. Seems odd but there it is. For now, just use the petals for eating. Some of the more common EDIBLE FLOWERS and HERBS that you will find in the garden, and which you can grow in your containers include:

Angelica, Anise, Hyssop, Apple Blossom, Arugula, Bachelor Buttons (Cornflowers), Basil, Bee Balm, Borage, Burnet, Calendula, Carnations, Chamomile, Chives, Chrysanthemums, Cilantro/Coriander (roots and berries too) Clover, Dandelion leaves (weed?), Daylilies, Dianthus, Dill, Elderberry flowers, English Daisies, Fennel, Freesia, Fuchsia, Gardenia, Geraniums, Gladiolas, Hibiscus, Honeysuckle, Hollyhocks, Hyssop, Iceland Poppies, Impatiens (Bizzie Lizzies), Jasmine, Johnny Jump Ups (Pansies), Lavender, Lemon Verbena, Lilacs, Linden, Marigolds, Marjoram, Mints, Mustard, Nasturtiums (also pickle the seeds in the place of capers), Oreganum, Okra, Orange Blossom, Pansies (Johnny Jump Ups), Passion flowers, Pineapple Sage, Primroses, Rose petals, Rosemary, Rose of Sharon, Safflower, Sage, Savoury, Scented Geranium, Snapdragons, Garlic, Squash Blossoms, Sunflowers, Sweet Marigolds, Sweet Williams, Thyme, Tulips, Violas, Violets, Winter Savoury, Yucca.

PREPARATION
The water content of flowers is best in the early mornings so this is a good time to pick them. Rinse them off in a salty solution (removes any dust etc.) and drop them into an iced water bowl for a minute or so. You can use blotting paper if you have some but I find kitchen towels quite adequate or even tissue – just don't use recycled paper products that have been treated with chemicals or those that disintegrate with water, you do not want your petals to be mixed with bits of drying tissue.

If you are not ready to use them straightaway, then keep them in the fridge, but plan it so that you do use them – it's the flavour you want now and these are subtle enough without losing more of this by delaying.

RECIPES and USES:
There are many to add here and below are just a couple of generic ideas to start. I am sure you have your own too, so please go to the forum to share if you can!

* Flower Petal or Herb ice cubes.
This is the simplest and prettiest idea and for several reasons too. Just place a small flower in an ice tray and freeze. Use to pretty up a summer cocktail or long drink for a party or

Chop fresh herbs finely such as mint, rosemary, parsley, sage, bay/laurel leaf (whole just bend over), thyme then freeze in ice cubes. There are all sorts of uses for these from soups to smoothies to pesto and so on. Some soft-leaved herbs are not suitable for this, but experiment and you will see – it will hardly cause you any heartache to lose a few herb leaves like basil for you to learn about what will work.

* Flower Liqueurs
These are lovely home-made gifts to give away to hostesses and to serve at a casual friends afternoon like a barbie/braai or picnic. They belong to the Punch and Sangria 'family' of drinks so use them where you might serve these. I add pansies to non-alcoholic Punch for decoration only along with the fresh fruit slices (as served to those who do not drink or to children and so on). It is easy to make and you can pretty up the bottles you collect on your way.

To make your liqueur, take around 4 cups of vodka or cane or brandy or even white rum, 1 cup of sugar and around two cups of flower petals. Bruise the flower petals lightly (not squished, just bruised) in a pestle and mortar, or use the back of a knife etc. and add to your spirits of choice (I mainly use vodka). Let it soak/marinate/steep in the alcohol for 48 hours or so then add the sugar and let this steep further for as long as it takes for the sugar to dissolve – around two weeks.

Shake your liqueur enthusiastically morning and night and when ready, strain through fine muslin or cheese cloth, discard the spoilt petal mix and bottle the liquid prettily! I do not use plastic to steep, only glass, and I only use interesting clear glass bottles to serve from or for gifts. I have much fun making up names for them too!

I make small batches so they will be drunk quickly – I can't tell you what would happen if you kept them for long – my flower liqueurs never last that long anyway and neither will yours I bet! But, I might suggest that you keep it in the 'fridge anyway and consume within the week. It's great served with lemonade or tonic or soda water, or even over some fresh fruits and icecreams. Yoghurt too can be yum.

Amongst my favourites I have made rose petal only liqueurs, lavender and mint, carnation and nasturtium together is interesting and dry, peeled fresh peaches with lemon verbena; peeled pears with ginger and raspberries with lemon grass or lemon balm. I have tried others but these are my standard combinations.

In future articles we will speak about other recipes and uses like making flavoured sweet and savoury oils, flower butters, flower honey, flower syrups, creams, salad dressings and more ... using our container-grown flowers and herbs.

Oh for sure, there really is more! Pesto ideas anyone? Want to know what to do to grow them? Keep reading and much will be revealed as the weeks roll by.

What do you want your container garden to do?



Related Articles
Editor's Picks Articles
Top Ten Articles
Previous Features
Site Map





Content copyright © 2022 by Lestie Mulholland. All rights reserved.
This content was written by Lestie Mulholland. If you wish to use this content in any manner, you need written permission. Contact Lestie Mulholland for details.