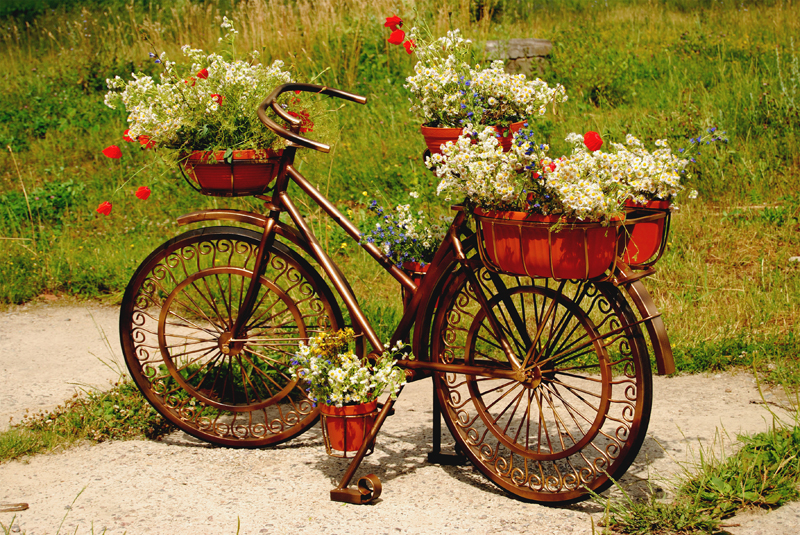 Living in the city and in high-rise apartment blocks has its advantages and its disadvantages as with any situation in life. When you just have a small urban balcony and little space left for a container garden, then making the most of it really does make a lot of sense. Of course we want to extend our living quarters as much as we can by being able to use our balconies for sitting and lounging and just plain relaxing – especially if there is space to invite a friend or two to share that view.

I had a query the other day from a friend of mine for some advice on how to achieve a clear view and still have a garden box or two that would not block the extended vista that this suburban apartment had, being on the 5th floor of a smallish block of flats. The balcony space is about 35 feet by 9 feet wide and has big picture windows with container-wide window ledges from the unit, and then a brick wall boundary for the actual balcony.

There is an unencumbered 180-degree view over a large part of a tree-filled outer city area which is really beautiful, calming and even inspirational. I often visit and feel as if I am in a perpetual flight zone as my aeroplane circles round and round about to land. During the day the sights of clouds, sunrises, sunsets, weather and all are great, and then the night-view of those twinkling city and freeway lights and stars and the Moon is just too beautiful for me to be able to describe completely.

Okay … I hope I have described the setting and context enough for you to think about your situation which may be similar; and also enough for you to wonder how you can achieve bringing a garden 'inside and up' to enhance a green feel and look in your upper floor space.

After a lot of discussion and a visit or two to the garden centres, this is what has happened. For balance, he has planted two Alibaba pots, one with a philodendron which just loves the shady-sunny-shady conditions he has on the right hand side of his balcony and on the other he has a Ponytail palm which rustles in the breeze and teases as it allows you to see beyond your seated outlook. He has retractable awnings which are most usually up and out of the way, but he does drop these as needs be when the sun is too direct and hot. He has chosen not to plant inside the apartment presently (less is more he says) and has fixed brackets onto the inside balcony wall into which he has placed long rectangular planters (mosaicked in bejewelled colours of deep striking mustards, reds, blues and greens). Hold that thought please!

To harmonise his design he has chosen a variety of window box leafy plants that trail and spill and thrill and offer colours - as long as the colours are green and white. They are easy to grow and like the sun and will be easy and pleasurable to maintain as well. His best effect is that it preserves his views while enhancing them and softening the edges of the plain balcony walls. What is more, because they are not too bushy or full, they do no cover his colourful pots.

His unit faces the front of the building, is north facing and sunny and for communal living considerations, he didn't want to impose his choices on his neighbours either below him or next to him … so that also made him think hard about what plants to cultivate. He also had to consider what people from the street looking up would see as well as note that he would have to keep his window garden tidy and trimmed. All that plus grow what he liked!

What plants did he choose? Doesn't matter see, because they were his choices and you would want to make your own - your conditions of light and rainfall and vista and configuration will be similarly different. I suggest a visit to the nursery or garden centre and with a plan of your boxes in mind plus an understanding of your conditions and circumstances, just choose the prettiest and nicest for yourself!

To get you thinking, how about these for starters?

Ivy (all varieties), creeping Geraniums with their beautiful colours and leaves that can be fragrant and interesting; Lobelia and/or Alyssum to soften, Bizzie Lizzies (Impatiens) for impact and focus; Begonias for leaves and flowers and low-level growing; ferns of all sorts especially for shady areas where your boxes are not near or exposed to all day sun. What about other leafy gems like the coleus family? A suggestion I offer here with coleus is to plant it/them in plastic pots in then into the container so that you contain the roots and force the Coleus to stay small – remember, this is your window box, you do not want the view to be blocked but you may want the fantastic colours that these coleus plants can offer.

On your shopping list for your window box only put low growing plants and trailers and creepers which you will train to fall and not creep up. How about some Pansies or Petunias or Sweet peas? Then there are Vinca and Dianthus and Vygies and Jellybeans – oh dear, a person could go crazy for choice. You could go cactus only, or have a colour theme like white and green only, or green only or creeper only or ivy only or mix and match – it is never ending really and easily fixed and renewed and changed as the seasons go by.

See how easy it would be to grow some veggies and herbs too as these can look beautiful as well as be useful, edible and healthful. Ah Container Gardening – what a friend you are!

What do you want your container garden to do?

................................................................................

CASUAL VISITOR … and just browsing? Why not sign up to the Container Garden newsletter? It won't matter what space or how many pots you have or even how much time you have to spend in your container garden; what will matter is that you get our reminders and good advice and ideas all in one interesting article.



You Should Also Read:
Twilight Container Gardening
Sense-sational Containers
Window and Railing Boxes


Related Articles
Editor's Picks Articles
Top Ten Articles
Previous Features
Site Map





Content copyright © 2022 by Lestie Mulholland. All rights reserved.
This content was written by Lestie Mulholland. If you wish to use this content in any manner, you need written permission. Contact Lestie Mulholland for details.