Philly Beer Geek Basil IPA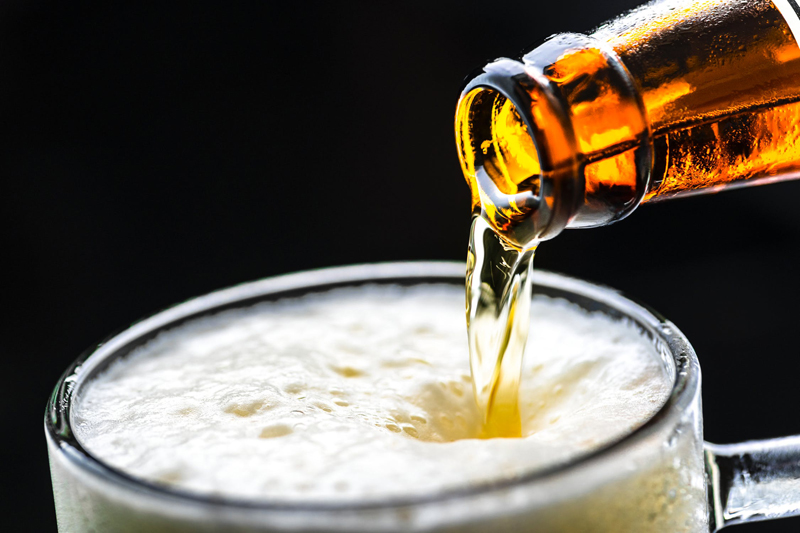 Natalie DeChico could pass as the poster girl for all that is right about beer. As her reign as Philly Beer Geek 2011 rolls into its final weeks, she has added a surge of creativity to a year filled with accomplishments. In collaboration with Doug Marchakitus, Head Brewer at Manayunk Brewery in Philadelphia, Natalie designed the first Official Beer of the Philly Beer Geek Competition. They named it Philly Beer Geek Basil IPA.

As an experienced homebrewer, Natalie loves the profile imparted by herbs and spices, especially when combined with an assertive bouquet of hops. She wanted to brew an unforgettable beer – one that would make a statement; yet, not enter into the "extreme beer" genre. "Basil!" she exclaimed. Doug was concerned. He thought it may be a little over the top.

Natalie was enthusiastic and confident about her recipe. She felt sure it would work. Basil, a culinary herb often used in Italian cuisine, is the magic ingredient that illuminates the soul of this beer at 58 IBUs and 6% ABV. Hops also take center-stage, with the addition of Centennial for bittering and Amarillo for flavor, followed by Amarillo, Styrian, Aurora, Cascade, and Basil for the aromatics.


With a backbone of caramel sweetness, there is plenty of breadiness to support the herbal finish. As an added ingredient, they used DeChico yeast, Natalie's specially harvested crop from Sierra Nevada. As a final finish, dry-hopping and dry-herbing was added to the process, allowing the qualities of freshness to emerge.

During the Philly Beer Geek Semi-Finals Competition on May 23, 2012, seventeen star-studded competitors gathered together at Manayunk Brewpub in a all-out battle to claim the six available spots in the Finals Competition. Along with six Illustrious Celebrity Judges from the beer Community, they witnessed the tapping of the first pin of Philly Beer Geek Basil IPA. Doug Marchakitus retreated several feet away, allowing Natalie the honor and pleasure of the first few whacks on the tap. As the beer initially shot onto her forearm, she finished the job; then immediately took her chance to inhale the robust aromas.

A smile came across her face. It was as she intended, a success for a Beer Geek who is passionate about beer. By the end of the competition, the pin was empty, making us covet the balance of the fermenting beer, all the more.


Throughout the year, Natalie has served as the New Jersey Sales Rep for Weyerbacher Brewing of Easton, Pennsylvania. She introduced Weyerbacher's new logo, and hosted a truckload of events, including beer festivals, beer & food pairings, dinners, and meet the brewer events. In the Fall of 2011, she did a presentation onstage at the Beer & Food Pavilion in the Colorado Convention Center, during the Great American Beer Festival, with Beer Fox and writer Carolyn Smagalski.

The 2011 Philly Beer Geek Competition left her with the moniker, Natty Eisbock. She promptly picked it up, marketing her presentation as "Trash the Salad Bar! This is Natty Eisbock's Sweet Bar." With Smagalski, she made cookies, nuts, and Chex Mix using beer; then paired it up with Weyerbacher Beer. The pairings sang, as did her year as Philly Beer Geek. She lives on as the role model for any woman who aspires to make her mark in the beer community.

Cheers!

Grow your own sweet basil:
Seeds of Change S10690 Certified Organic Genovese Sweet Basil, 175 Count


For Beer Geeks:
Periodic Table of Beers T-shirt Bwn L
You Should Also Read:
The Complete Homebrew Beer Book - Review
PBG 2011 Natalie DeChico Future Ambitions
Natalie DeChico Philly Beer Geek 2011 - Interview


Related Articles
Editor's Picks Articles
Top Ten Articles
Previous Features
Site Map





Content copyright © 2023 by Carolyn Smagalski. All rights reserved.
This content was written by Carolyn Smagalski. If you wish to use this content in any manner, you need written permission. Contact Carolyn Smagalski for details.