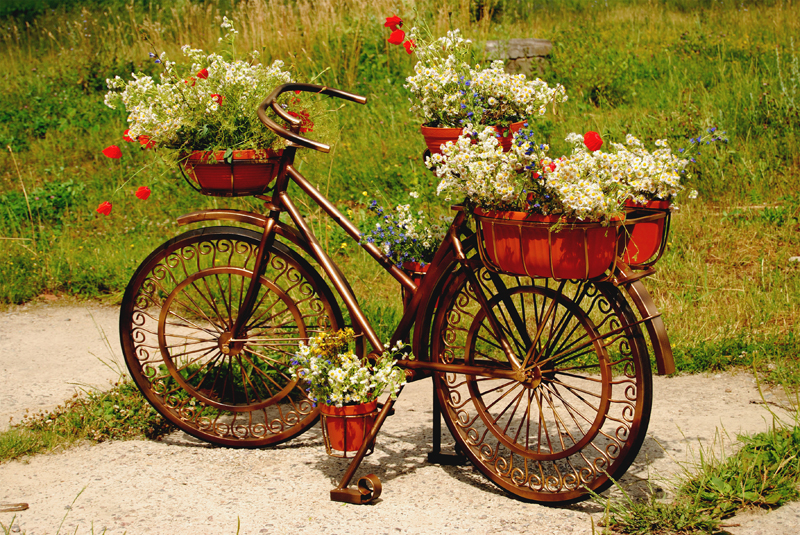 Not home much? Travel a lot? Work odd hours and weekends away? Treasure your black thumb but need something green to grow? If so then maybe a Cactus container garden will suit you? It would be an easy enough project to set up and something to come home to – they need low care and in exchange, can offer delights and colour and achievement that many other plants in containers can't. There's life on that thar balcony and Cacti are easier to care for than Goldfish! I know.

So for those who haven't considered this marvellous and wonderful cornucopia of plants which fall into the category of succulents ad cacti, you are in for a treat … and once you venture into this horticultural patch you may be hard-pressed to leave it!

We begin with a few words on Xeriscape (say zeriscape) gardening aka as Xerogardening aka Waterwise gardening; and for obvious reasons succulents fall under this heading.

Xerigardening covers smart water-wise garden practices and the use of those plants that do not need much water, or those that save water or those that allow you to use water with caution and wisely by smart placement or companion planting. And Succulents and Cacti belong here.

Anyway, it could be that you already know that there is more to being waterwise than just buying low maintenance plants that seemingly do not need much attention. Be mindful too that LOW maintenance is not NO maintenance so depending on your situation, you will need to choose carefully which plants to grow and where, as believe it or not, sometimes even a cactus garden may need watering twice a day. So, your particular needs and circumstances rule okay!

Why Cacti and succulents? See people really like this group of plants because:

•They are adaptable to heat, can take intense sunshine during the day and near freezing temperatures at night,
•They can thrive with little maintenance in dry climates and conditions, they are fascinating and sometimes challenging to 'watch' growing,
•They often have bright and wonderful coloured flowers and blooms,
•They come in all shapes and sizes, textures, and patterns, with and without thorns and are very often described as foundation plants in any garden space – they seem to steady the look,
•They are used actively in architecturally designed (minimalist) garden spaces,
•They can be and are fine examples of focus and feature plants too
•They can be eaten and used for many medical and healing purposes and
•They come in an almost infinite variety; your choice is nearly endless.

I am sure if we thought more we could come up with other reasons including that they are oh-so-pleasing and I-really-love-them. There are not many other whole groups of plants and flowers that have all these properties to offer the minimalist gardener so freely! So then, let's see what it would take to set up this type of container garden.

First things first – your CONTAINER/S.
I suggest and recommend ceramic pots which can be glazed or not depending on the look you are after. Plastic in this instance is okay, but only that, just okay. So if plastic is what or all you have then fine, use them, though there are other considerations with plastic. Ceramic lasts longest and look nicest for the longest time, properties you seek for cacti pots and containers.

Next - ask yourself some quick questions to determine the size of your containers and therefore the choice of plants you have and thereonwards, you can work out the maintenance and care regimen you need. How much time do you have to spend in your garden?

How big is your balcony or 'garden' space? Are you living in a high rise apartment block? Where will you place your pots? Can your balcony hold the weight (substantial in many instances)? What about the spread of your plant/s? What height? What light do you have? Can you move your containers during the winter and out of the snow? Can you protect them in other necessary ways? What about pot shapes – go for smaller wide tops for shallow roots or taller or thinner for larger and deeper rooted taller growers?

By the way, many a cactus likes to be pot-bound or shall we say likes a tight fit. They enjoy being really contained so repotting won't happen often unless you are cultivating cacti for size. In general they take a long time to need re-potting being slow growers and that is why you see how the prices differ between sizes of cacti plants in the shops. Essentially you are buying time for the bigger well established plants that really fill their pots, spikes and all! Protection is required when repotting one of those … and quite frankly, if you really feel you want to repot one, I would go to a specialist and pay for the service (unless you are one of those specialists yourself!)

Other considerations to do with growing cacti and succulents include:

SOIL:
Two aspects to keep in mind here is good drainage and not too much fertiliser. It does seem odd maybe but many plants in this group suffer if their soil is too rich or fertile or contains too much compost or water retaining mediums. Root rot happens slowly so you may not realise that you are watering too much so use your gardening notebook or remember to water only as much as you need to and no more – you will kill with kindness and a clay soil!

To a soil-less potting soil (available from the garden centre) add coarse river sand or crushed gravel in a 3 to 1 to 1 mix. I live in an area here around Johannesburg in Gauteng (province) with hot direct sun days but nothing that can be described as desert-like region like our Karoo, so for my succulent garden patches and containers I may add some light garden loamy soil to stretch it or I just use a measure of my quick draining Bonsai potting soil mix. I have a garden club colleague who happens to travel a lot and she adds water retaining bits of that green stuff called oasis or gardening foam or florists foam. She has a signature cactus garden so I can only say this tip works.

CARE:
Low care is not 'no' care and once you have set up your container cactus garden with care and forethought then your care-quotient is to ensure correct watering, and that's it really. That and keeping it/them tidy. Trim back ground covers, cut away dead and dying leaves and spent flowers. I like to show off my cacti, so a nice stone surround with clean white stone chips may be a cliché of sorts, but are clichés because they work and look good – I think cacti are proud plants (but then maybe they don't know it!) and should be gussied up accordingly.

You can get a wow factor here by using different coloured stones in patterns for mulch. Just do not let the stones touch the plant. Right next to the plant use a natural mulch like shredded bark or just leave the soil bare. This is because stones are good conductors of heat and cold don't you know.

FEEDING:
Well, under soil I suggested that cacti and succulent don't like a lot of pampering, and they don't, but that does not mean they can't do with some food sometimes. I say here then that my regimen includes some food for them every 4 to 6 weeks or so of organic and liquid seaweed or kelp-based food. As with other good governance in your container gardening, do not feed onto dried out soil … only feed when soil is still moist. After the rain is a good time.

THEME:
An idea may be to grow like with like for more than just xeri-watering reasons. Maybe only white blooming plants, or pricklies, or spreaders, or something connecting to make your collection interesting and challenging in some way. Even variety does the trick - just choose what you like, some tall, some middies and some low growing and or spreading.

Perhaps you will only grow plants endemic to your region, or maybe choose a mix and match approach by adding containers that soften the thorny cacti arrangements somehow like using flowering plants that need replacing more often. I saw a cactus garden the other day in which the house-owner had added small herb pots (parsley and fennel) into her cactus pots. It looked interesting and was one of the many little surprises she had on her patio.

WATERING:
For those just starting a cactus and succulent garden in containers, you will need to water more often to give your plants a chance to establish themselves and their roots a chance to set the plant as it were. Then once at home, a thorough wetting every 10 to 14 days or so (you be the judge in your area) will give them a real soaking with drip trays underneath to catch any extra water. Let them stand a while (say 20 minutes or so) in the water then use that water elsewhere in your pots (don't throw it away, water your other plants with it). Remember to that if you have marked seasons, less water is required when it is cold … so cut back end of autumn into winter and very early spring while things are still cool and only beginning to warm up and your plants are dormant. In general, let your established plants dry out between waterings.

Do you live in a very cold climate? Winter protection is required as plants can freeze solid and die – so please use your common sense and if you have a greenhouse (or similar) or can move your plants then do so, protect them … you must and they will expect it from you!

In future articles for the Cactus section we will be looking at specific plants that have captured many a gardener's imagination and give such individual joy – so be sure to visit again soon.

What do you want your container garden to do?




Related Articles
Editor's Picks Articles
Top Ten Articles
Previous Features
Site Map





Content copyright © 2023 by Lestie Mulholland. All rights reserved.
This content was written by Lestie Mulholland. If you wish to use this content in any manner, you need written permission. Contact Lestie Mulholland for details.