Gluten Free Beer in Local Markets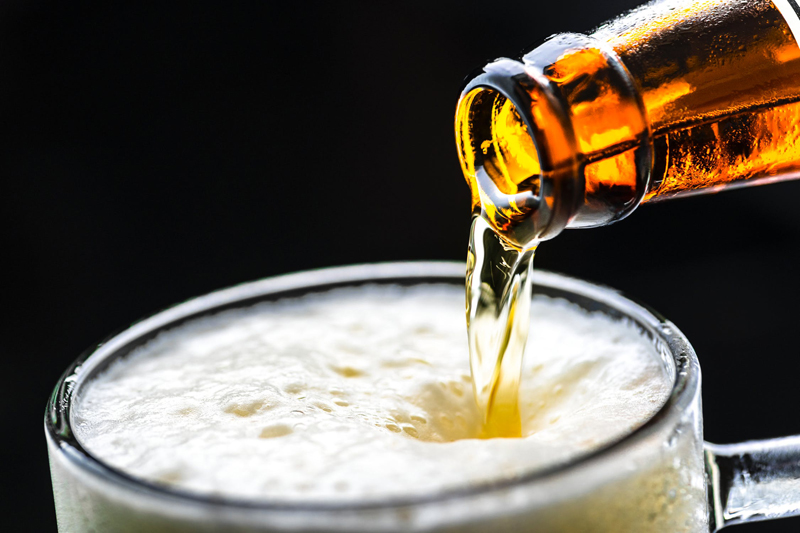 If you are living Gluten Free in America, your life is a daily challenge, a land of temptation in which wheat, barley, and often rye, are major parts of the average diet. Not only are these grains the dominant components in cereals, sandwiches, hot pockets, and beer, but they are also hidden in soy sauce, nuts (from floured belts), soups and chocolate.

With the growth of the craft brewing renaissance that began in the late 1980s, more and more brewers have become experimental in the beers they make. Although the biggest market share in the beer world still belongs to the macro-brewers, micro-breweries who focus on niche segments have become a valuable part of the beer landscape. They have become so well known that when you say "American wild beers", you think of Russian River or Jolly Pumpkin. "Barrel Aged" has always brought Rodenbach or Boon to mind. "High gravity" may make you think New Holland or Lost Abbey, and "session beers" pull up some classic favorites from Yards, Marston's and Fullers. "Gluten Free beer" has also grown into a stronger niche in an effort to serve a growing segment of the population who has recognized their need for a change in lifestyle.

These are the Celiacs, those with sensitivity to barley, wheat, oats (through cross contamination), rye, spelt, Kamut, triticale, and other grains of the same families. Those suffering from Celiac Disease have damage to the small intestine when exposed to the protein fractions in these "toxic" grains, with symptoms ranging from intestinal distress, diarrhea, and bloating to unexplained anemia, tooth enamel defect, and major health complications the longer it goes untreated. Conquering the effects is as simple as following a gluten free diet.

Some of the nationally/internationally-distributed beers to seek out include Bard's and Redbridge from the USA, and Green's from the UK. Most of the other Gluten Free beers have a more localized distribution, but the surprise to most people is that brewers are making gluten free beer in every corner of North America, from the states of Wisconsin, Pennsylvania, Delaware and New York, to Utah, Nevada, Washington and Colorado … and don't forget Missouri, New Jersey, Oregon, and Montana or the Canadian provinces of Ontario and Quebec. And this market continues to grow.

New Gluten Free Beers to Watch:

Nickel Brook Brewing Company creates the Better Bitters line of beer in Burlington, Ontario (Canada), headed by John and Peter Romano. Better Bitters Bull's IPA is a Gluten Free American IPA crafted with pear juice as a base, with sorghum, buckwheat, demerara sugar, and classic Pale Ale hopping. Malty and citrusy, with a bright fruit middle, it has a tartness at the end with a clean, dry finish.

Fox Tail Gluten Free Ale from Joseph James Brewing Company in Henderson, Nevada is the brain child of brewer Alex Graham. Available in cans, this pale-as-straw beer is crafted with organic rices, nectars and North American hops, and clocks-in at 5% ABV. Sake-like, light, and touched with apple notes, it is effervescent on the tongue with a prickly mouthfeel.

Epic Brewing in Salt Lake City, Utah created Glutenator in the Exponential Series of Beers, "for the accomplished consumer or the ever-curious." At 6.9% ABV, this fruit/vegetable style beer is crafted with millet, brown rice, sweet potatoes, molasses, and a boatload of American hops. Its golden color carries a gentle aroma of sweet potatoes, brown sugar and grapes in the nose, touched by floral notes. On the palate, a rich blend of layers combine to deliver the satiating sweetness of burnt brown sugar and graininess within a light wash of sweet potato and citrus. Mouthfeel is light to medium.

Harvester Brewing in Portland, Oregon is a dedicated, gluten free brewery headed in the right direction. As more brewers experiment with Gluten Free brewing, they are refining blends of ingredients that yield richer flavor and silkier mouthfeel, while capitalizing on the unique profiles in local hops from the Pacific Northwest. Chestnuts from RC Farms in McMinniville, Oregon form the base of these beers, toasted or roasted to various degrees, in much the same way that malts are roasted, adding color and specific flavors to each style.

The Harvester portfolio includes:

Harvester IPA – 5.8% ABV – Pale roasted chestnuts, certified gluten-free oats (sourced from an isolated region in Montana), organic tapioca and maltodextrin form the base of this assertive India Pale Ale, shot full of the piney and citrusy balance imparted by Horizon, Willamette, Cascade and Meridian hops.

Harvester Pale Ale – 5.8% ABV – Hand-roasted Oregon chestnuts, sorghum, certified gluten free oats, and pure cane sugar provide a rich, golden ale with creamy white crown of foam. The aroma is citrusy and nutty. The addition of cane sugar seems to provide a blast of nutrition for the yeast, allowing them to chomp and eat up any cider-like flavors that are usually associated with sorghum. Nice hopping with Nugget, Cascade and Meridian add a dry and citric quality that ends in a clean finish.

Red Ale – 5.8% ABV – A deep coppery color is achieved with the medium-dark roast of chestnuts, combined with certified gluten-free oats, pure cane sugar and sorghum. Willamette hops add an earthy quality beneath the nutty and grassy profile.

If you are seeking a luscious Porter in Gluten Free Beer, Harvester Dark Ale may be your choice. At 4.5% ABV, there is lower sugar content from the dark-roasted chestnuts, ovened to a near-espresso burn. Flavors of chocolate and dark fruit abound.

Raspberry Ale has emerged from the Experiment Ale Series, poised as the next possible addition to the year-round portfolio. Using the base of Red Ale, Harvester's brewer has added 80 pounds of raspberry puree for an abundance of flavor that adds tartness and a full fruit palate across the tongue.

Other Gluten Free Beers to seek out:

Round Guys Brewing from Lansdale, Pennsylvania: Glutenus Minimus Sorghum-based Gluten Free Pale Ale

New Planet Beers from Boulder, Colorado: 3R Raspberry Beer, Off Grid Pale Ale, and Tread Lightly.

Tweason' Ale from Dogfish Head Craft Brewery in Milton, Delaware

Nuendo Ale from Tired Hands in Ardmore, Pennsylvania

Lemon Pale Ale from Strange Brewing Company in Denver, Colorado

Seeley Axe White from Kettlehouse Brewing in Missoula, Montana

Cheers!

Grab some gluten free chocolate to go with that beer:
KIND PLUS, Peanut Butter Dark Chocolate + Protein, Gluten Free Bars (Pack of 12)


Treat yourself kindly with beautiful glasses for your Gluten Free Beer:
Spiegelau Beer Classics Beer Connoisseur Gift Set, Set of 4
You Should Also Read:
Celiacs Guide to Gluten Free Beer
Common Grains & Nuts for Brewing Gluten-Free Beer
Gluten Free Brewing - Malting Sorghum


Related Articles
Editor's Picks Articles
Top Ten Articles
Previous Features
Site Map





Content copyright © 2022 by Carolyn Smagalski. All rights reserved.
This content was written by Carolyn Smagalski. If you wish to use this content in any manner, you need written permission. Contact Carolyn Smagalski for details.