They say a picture is worth a thousand words, but it is up to the author to write those thousand words. (Richard Petracca)
Pictured below is a huntsman spider, and he is sitting ever so peacefully on a roll of toilet paper. Aside from the fact that I would not like to see this in my bathroom, the picture is awesome! What possible scenarios could we create from this picture? Can you look beyond the picture to see the possible stories?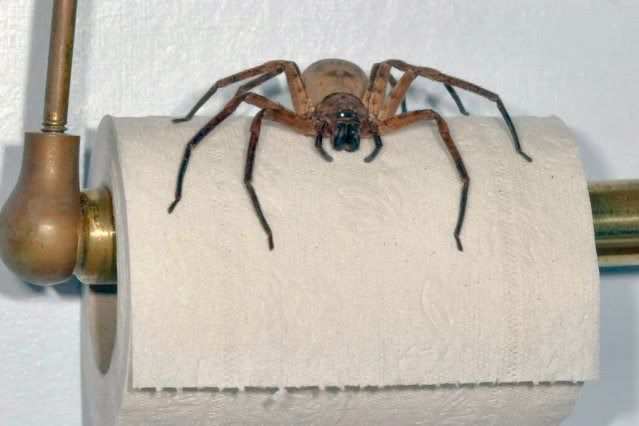 Picture by Jorgen Otto
First, Iíll tell you just a bit about the huntsman spider. This arachnid is native to Australia, so the chances of me running across one in Kentucky are extremely slim. These nocturnal creatures do wander inside peopleís homes quite often, and they will climb inside cars. But they are not aggressive, just really, really big and scary looking.
Regardless of what its name may lead you to believe, this spider does not hunt man. In fact, this arachnid prefers to eat small invertebrates and insects. Will they bite a human? Yes, they will, but their bite is not poisonous, just painful. Anyone bitten by one of these monstrous spiders may be subject to sweating, nausea, vomiting, and nightmares just from knowing one of these spiders was actually crawling on their skin.
I realize that in the picture, this spider looks huge! This spider can measure up to six inches across if you include the legs. Some of the spiders are banded, and some of the larger ones have a lot of hair.
How could we use the above picture as a writing prompt? The main focus of the above picture is the spider, not the fact that it is sitting on a roll of toilet paper in some unfortunate personís bathroom. What would your first reaction be if you spotted this huge spider in your bathroom? Scream? Climb the wall? Run? Throw something at it? Maybe a grenade?
You could have a character encounter one in the bathroom. It would be a good way to cause your character to have a heart attack, especially if the character has arachnophobia. But before your character's heart fails him, describe the terror that goes through his mind and body before the fatal moment.
What if a race of these giant spiders, even though they are said to be timid, have decided that they want to take over? Has this race of eight-legged creatures managed to fool scientists as to their true nature?
On the other hand, what if an evil genius has figured out how to control these giant spiders? He wants to take over the entire world, so has trained an army of these spiders to do just as he commands them.
What if a mama huntsman spider gives birth right outside your characterís home? Their mama is run over by a car almost immediately after she gives birth, and they are left orphans. The first female they lay eyes on is who they believe is their mama. This unfortunate female happens to be scared of spiders, but now she is followed around by them, and they want to crawl all over her. Does she get over her fear? How does she handle this problem?
What if a man wants to do away with his wife, and he wants to make it look like an accident? The only thing she fears is spiders, so he plans a special anniversary trip to Australia for them. He has a friend who lives there and arranges for this friend to plant a family of huntsman spiders in the hotel room where they will be staying. His plan is for his wife to see one or more of them and then make it appear she had a heart attack. Does his plan work, or has his wife been fooling him about spiders all this time?
You could also write a story for children in which you show that the huntsman spiders are really not dangerous to people. A family of these spiders has managed to live unseen in a little girlís room all summer long. They really donít like the heat, so this is how they escaped it. This little girl doesnít like spiders at all, so they donít want her to know they are there. One night, an even larger spider invades this little girlís room. This spider means to harm the little girl, and it also happens to be an enemy of the huntsman spider. This family of huntsman spiders has grown to love this little girl, even though she doesnít know they exist. Does this family of spiders rush out and save her from this big, mean spider?
However you decided to use the huntsman spider in your writing, please be sure and research this arachnid thoroughly.